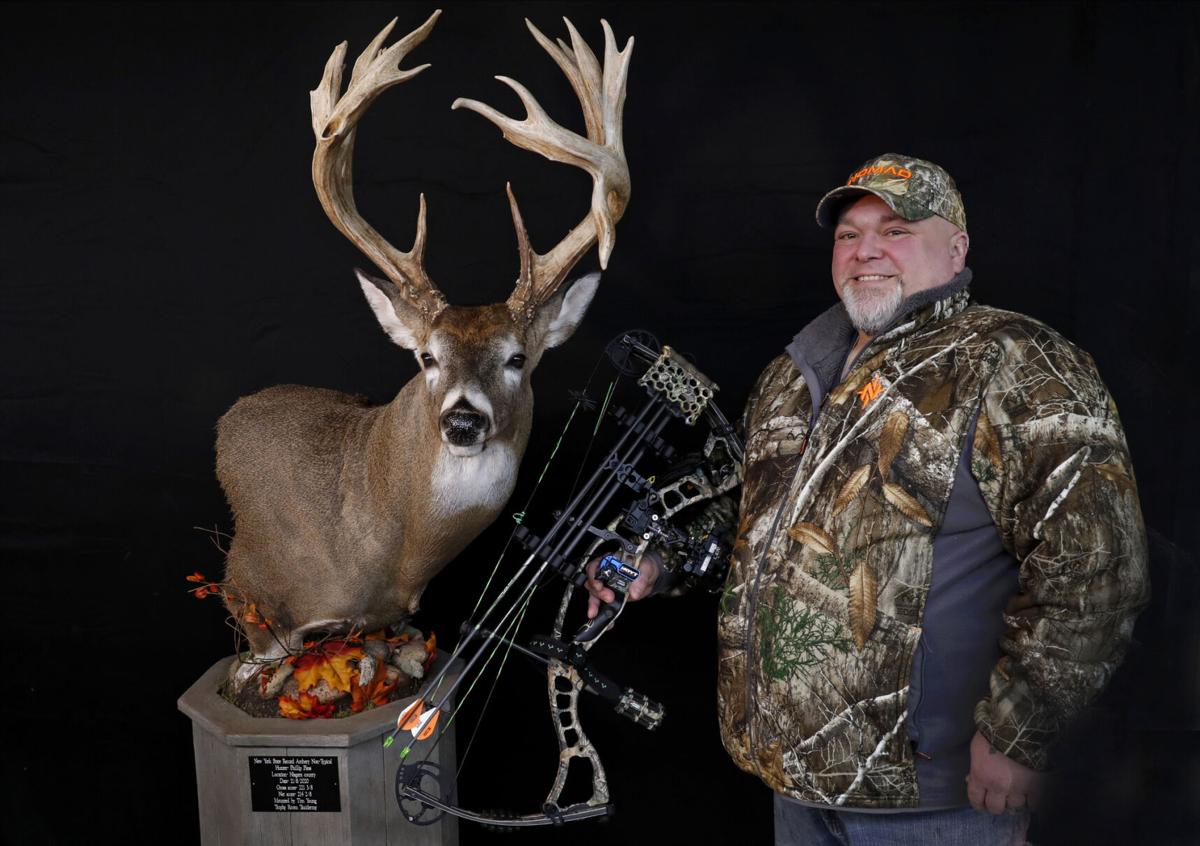 On a day when people are sharing the love with family and friends, deer hunters from around the state and the rest of the country have been sharing the love with Phillip Pless of Newfane.
His massive Niagara County whitetail deer tagged last fall officially broke the New York State record for a nontypical set of antlers taken by bow and arrow. He can finally breathe a sigh of relief.
After the 60-day drying-out period and a trio of official scorers working together to ensure the measuring was correct, Pless can finally lay claim to a feat few hunters can attain in their lifetime – a record buck. He is now the proud holder of the state record for nontypical archery buck with an official net score of 214 2/8 inches. The gross score was 221 3/8.
"I feel excited and blessed," Pless said after the scoring was made official in the shop of Trophy Room Taxidermy in the Town of Niagara on Jan. 23. "I still don't believe that this has happened to me. I realize it is the buck of a lifetime, whether it was the record or not. I still would have been happy either way."
Scoring the mass of antlers, which includes 18 scorable points, was not an easy task. In fact, it was originally listed at 19 points when it was first scored in November. However, a point must be at least an inch long and one was just short after the drying out process. The main scorer was Don Haseley of Sanborn. His accompanying panel included Dave Muir of North Tonawanda and Jeff Wetzel of Lockport.
"It was the most difficult set of antlers that I've ever had to score," said Haseley, who is no stranger to scoring antlers. He has measured and scored nearly 600 sets of antlers in his lifetime. Included in those racks was the New York State record nontypical muzzleloader buck taken by Keith LeVick in Niagara County in 2007.
Pless arrowed the huge 210-pound buck from the Town of Newfane on Nov. 8. It had a green score of 222 6/8 (gross) with a net of 213 7/8 inches at the time. The numbers did not change all that much two months later.
In addition to the record book buck, Pless saw the birth of his third child with his wife Elizabeth during the same time frame. In fact, had there not been a pandemic, he may not have tagged this trophy buck.
"If it wasn't for Covid-19 and me working from home," Elizabeth Pless commented, "he might not have been out hunting as much. He might not have gotten this record buck."
As the story goes, Pless was home watching the Buffalo Bills beat up on the Seattle Seahawks with his kids when Elizabeth came home a bit early from running errands around halftime of the game. As he sat there contemplating what he should do, he had a feeling in his stomach that he needed to be up in his tree stand. He grabbed his Hoyt Maxxis 31 bow set for a 65-pound draw weight and off he went. He was in his tree stand by 3:15 p.m.
After he was situated in his stand for about an hour, his wife texted him to see if it was OK to bring the kids to the farm where he was hunting. He said it was fine, but not to come past the ditch. He would wave from his stand. However, after he put his phone down, he looked to his left and he saw the big drop tine buck step from the woods into the field across from his stand with a doe. He grabbed his phone, took a photo and texted it to his wife. The text with photo read: "Don't come back. Drop tine is out."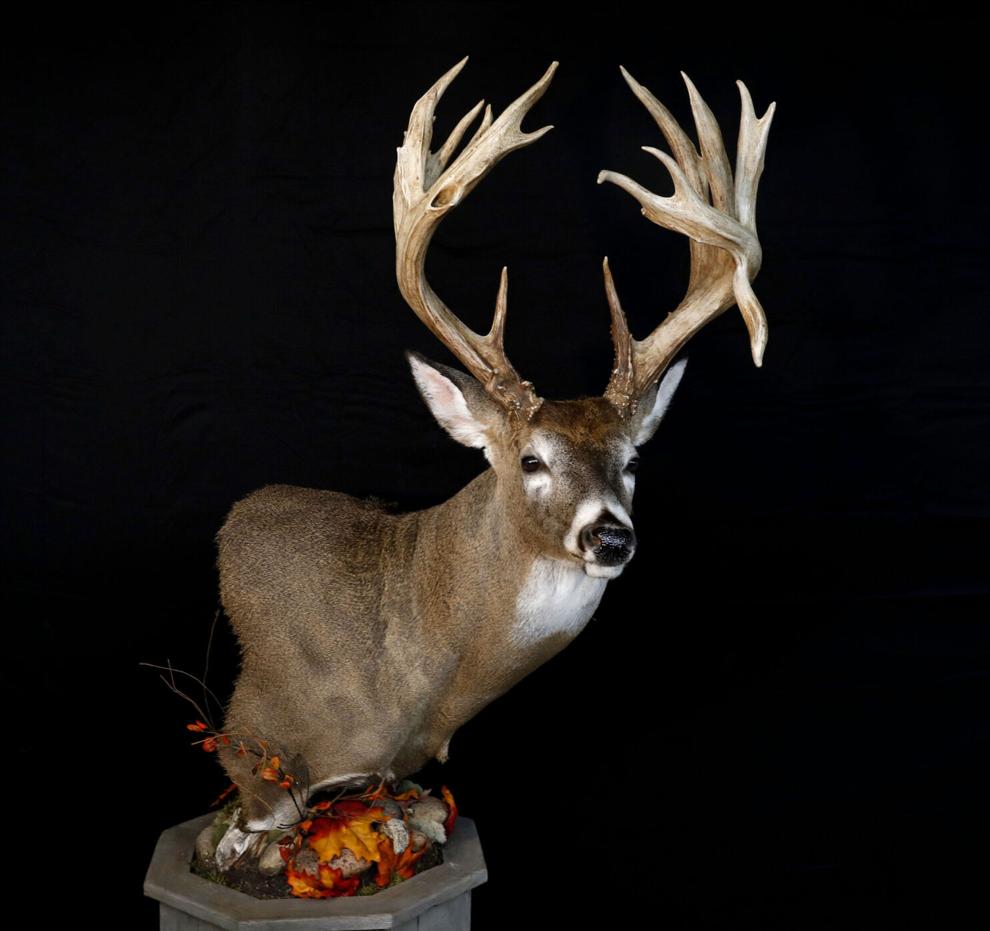 It is not the first time that Pless had seen the magical buck. In fact, he had been following the deer's growth history the last four years through trail cam photos. He knew that this buck was special. He watched three more does enter the field.
The original doe that came out with the buck moved closer to Pless. It appeared that the buck preferred that female. As the buck moved closer, he was hoping that the big deer would move into range before legal shooting time ended. It was about 4:45 p.m. when he let the arrow fly at 50 yards, hitting it solidly in the shoulder.
"I normally wouldn't shoot anything past 40 yards," said Pless, "but I had purchased a new Trophy Ridge bow sight and I have been practicing with it all summer long out to 70 yards. I was pretty confident that I could get the job done."
The trophy buck staggered away. Soon, the four does ran to the buck and surrounded him. They all moved away to a certain spot, but Pless watched the big buck drop about 80 yards away. Pless hesitated to climb out of the stand. He was shaking too much. And he realized he forgot his flashlight. He called family and friends. He also called his wife, but she did not believe him.
After calming down, he slowly walked to where he saw the deer drop. The deer was gone. Some friends and family – Kevin Austin, Scott Pipiles, his brother Jason, and his nephew Connor – arrived with flashlights. They found Pless' record whitetail just 25 yards from where he had disappeared.
Word of the record buck spread like wildfire on social media and traditional media circles. He has been featured in North American Whitetail and Fox News, not to mention around the state and the Northeast.
Not everyone was happy though. Rumors were circulating in other parts of the state that Pless was being investigated for shooting the buck at night, that he shot the deer on a game preserve and more. Of course, all those rumors are false, and jealousy is a big factor when it comes to why people would want to downgrade the accomplishment. Yes, it truly is the buck of a lifetime.
The memorable buck was pegged at 5 1/2 years old, sporting a 33-inch neck, by Tim Young at his Trophy Room Taxidermy shop. Young has completed the taxidermy work, placing the head mount on a pedestal stand. Pless was able to submit the paperwork to the New York State Big Buck Club, as well as Pope and Young and Boone and Crockett organizations, once the mount was finished. A photo of the completed mount must be turned in with the documenting paperwork.
The previous nontypical archery record was a 23-point buck taken by Mike Giarraputo of Suffolk County while hunting Nov. 3, 2011. The gross score of his deer was 218 4/8 inches, and the net was 210 4/8 after drying out.