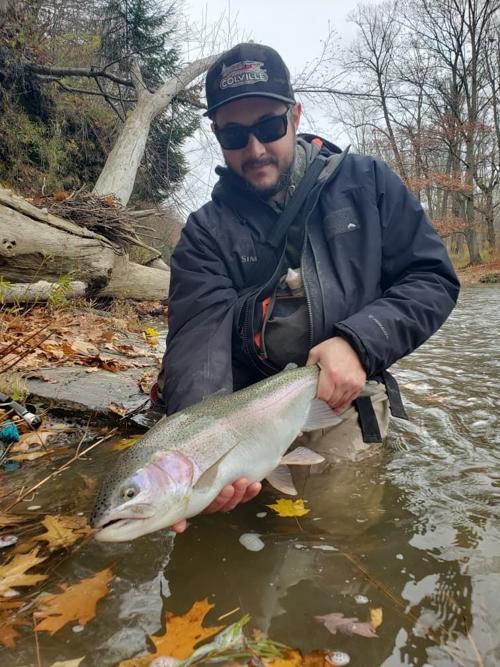 Through Nov. 14 – Expanded water releases begin for 18 Mile, Oak Orchard, Johnson, Sandy and Salmon tributaries.
Through Nov. 20 – South Zone crossbow season opens for big game.
Nov. 8 – West Central Canada goose season closes.
Nov. 8 – Tim Wittek Memorial Musky Tournament hosted by the Niagara Musky Association. Call Scott Kitchen at 939-0006 to register or for more information. You must be a member.
Nov. 8 – Final day to comment on a new holiday deer hunt proposal slated for Dec. 26 to Jan. 1. This would be for archery and muzzleloader (including crossbow) in the Southern Zone only. Comment at dec.ny.gov.
Nov. 10 – Virtual Public Information Session on Habitat Management Plan for Northern Montezuma WMA at 6:30 p.m. To register call 585-226-5383.
Nov. 11 – Veterans Day Free Fishing Day in New York State.
Nov. 11 -Veterans Day Free Waterfowl Hunting Day for veterans only.
Nov. 12 – Erie County Federation of Sportsmen's Clubs monthly meeting to be held at the clubhouse of Southtowns Walleye Association, 5895 Southwestern Blvd., Hamburg, starting at 7 p.m. Board of Directors meeting at 6:30 p.m.  
Nov. 12 – Managing Woody Invasive Species in Fall and Winter from 2 to 3 p.m. online through the WNY PRISM's webinar series. For more info contact wnyprism.org.
Nov. 14 – Buckhorn Island Birding with the Buffalo Audubon Society from 9 a.m. to noon along the Niagara River. Meet at the Woods Creek kayak launch. Preregistration is required by calling 585-457-3228.
Nov. 14 – Final day, woodcock hunting season.
Nov. 14 – North Forest Ladies Shoot N' Hoot event starting at 2 p.m. at 6257 Old Niagara Road, Lockport. Shotgun shooting and pistol shooting. Guest speaker Jim Emmick with Firearms Training of WNY. Preregister with Colleen Gaskill at 628-9023.
Nov. 14 - Free Waterfowl Hunting Day for veterans only.
Nov. 16 – Niagara County Fisheries Development Board monthly meeting starting at 6 p.m. Location to be determined. For more info call Chairman Bob Cinelli at 860-9774.
Nov. 19 – Emerging Aquatic Threats in WNY from 2-3 p.m. Join Finger Lakes PRISM's Hydrilla Project Manager Kathryn Monacelli on pressing concerns. For more info contact wnyprism.org.
Nov. 20 – Final day, Southern Zone Early Archery season and Crossbow season.
Nov. 21 – Opening Day, Southern Zone regular big game season.