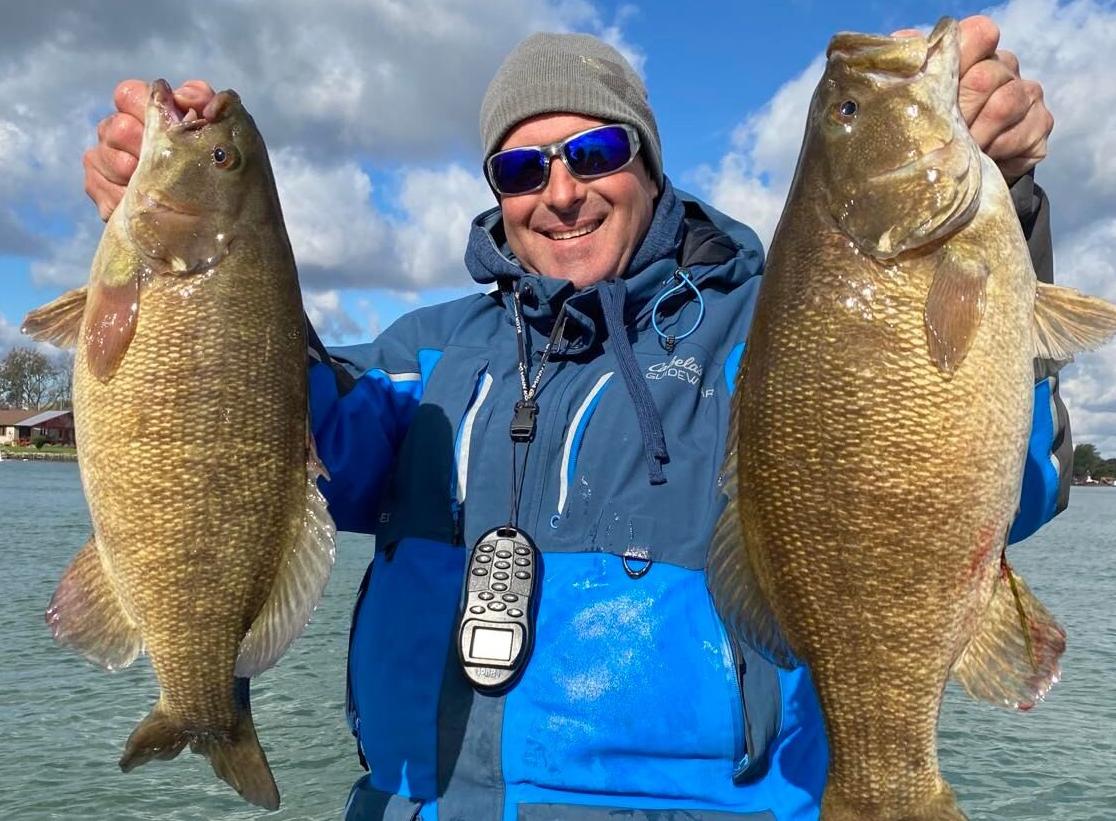 The final free fishing day of the year in New York is Nov. 11. Take a veteran fishing. Remember to abide by the regulations for the body of water you intend to fish.
Lake Erie and tributaries
Steve Brzuszkiewicz of Marilla has heard the stories of big jack perch being caught from Lake Erie by the old-timers. He now understands after his last five trips on the lake resulted in limit catches of monster yellow perch that stretch the tape from 12 to 15 inches long. Over the weekend, he returned to a favorite spot in 58 feet of water on the outside edge of Evans Bar. He launched from the docks at Sturgeon Point and the water about 5 feet deep if you stay to the east side when heading into the lake. He first dipped his own emerald shiners from the foot of Ferry Street in Buffalo before heading onto the lake. A few tackle shops have emerald shiners, a prime bait, such as Russ' in Buffalo and Lake Effect Bait, Tackle, Charters in Buffalo. Brzuszkiewicz found plenty of bait on the bottom with his sonar before he set up shop. After a short time fishing, he was ready to try another spot when he had his first touch. Jack perch started to fill his cooler. He had 45 in the boat before a high sun started to slow things. After catching a few white perch and smallmouth bass, he finished his limit and passed the emeralds to other boaters in the area. He also heard that perch were caught west of Sturgeon Point in 55 feet of water. Captains Frank Campbell of Lewiston and Mike Capizzi of Niagara Falls did an exploratory mission around Seneca Shoal to seek yellow perch schools at the tail end of last week and they found fish in 48 to 50 feet of water. However, the weather conditions were terrible and forced them in early. The best tip from Capizzi is to dress for the weather. Mike Fox of Lewiston was supposed to launch at Sturgeon Point and move toward Buffalo to seek perch, but he fished later in the day. He found them in 55 feet of water and boxed 78 perch for the day. In the tributaries, guide Scott Feltrinelli with Ontario Fly Outfitters reports that many streams were crowded with anglers, even his "secret" spot. Water was low and gin clear in many streams and fish were scattered. Hot flies on the Erie tribs are yellow woolie buggers, and egg patterns. Stream conditions will change with the next round of rain heading into the weekend.
In the upper Niagara River, bass are going on a fall feed as musky action struggles with warmer water temperatures. Capt. Chris Cinelli of Grand Island reports that some big bass have been coming to the boat. This is the time of year when big baits translate into big fish. He is using 6- to 7-inch suckers fished off three-way rigs or large golden shiners to catch 5- to 6-pound smallmouth bass. This is normally the time when Cinelli is targeting musky, but with water temperatures in the mid-50s, action has been sporadic. He would like to see those temps in the upper 40s or lower. Tommy Ortolano with Lake Effect Bait, Tackle and Charters in Buffalo reports that they are starting to get rainbows and big walleyes at the foot of Ferry Street and along the wall towards the Peace Bridge. In the lower Niagara River, trout action continues to improve from Devil's Hole to Artpark. According to Lisa Drabczyk with Creek Road Bait and Tackle in Lewiston, the action has been good for both shore and boat anglers. Eggs and beads are working from shore along with spinners. Boat anglers are pulling Kwikfish or MagLips, as well as chubs from three-way rigs. The target species is steelhead and brown trout, but you will probably catch some lake trout in the process. The laker season is closed but will open Dec. 1. Bass action on the Niagara Bar has been very good for bigger fish. Capt. Jim Gordon of Appleton reported catching some huge lunkers over the weekend. Bryan Greenwalt of Pittsburgh, Pa., reeled in a first fish that weighed 6 pounds and he followed that up with a 22-inch, 7-pounder, both caught on a golden shiner in 18 feet of water.
Lake Ontario and tributaries
Guide Scott Feltrinelli of Ontario Fly Outfitters has been locating "post-spawn" trout in many tributaries off Lake Ontario in Orleans County. He says the fish are just starting to slide off the redds, hole up and put on the feed bags. Most of the tributaries are fishing fair, with anglers complaining about the low numbers and late runs of fish. Hot flies on the tribs are yellow woolie buggers and egg patterns. Water releases from the Erie Canal continue to make an impact with higher water and turbidity. Smaller tributaries are running low and clear. That will change with the forecasted rains. Angling pressure has been up, but will probably subside with the increase in hunting activities in the next week or two. In Olcott Harbor, there salmon are still hanging around and taken at night according to Josh Dunkelberger of Olcott. Jim Evarts at The Boat Doctors in Olcott reports that there are salmon and brown trout at the dam with an occasional steelhead. Anglers also are catching pike in the harbors. In Wilson, there continues to be pier action for salmon and trout. Spoons, spinners and eggs, not necessarily in that order. The west pier is now open at Olcott.
The musky fishing has been slow on the lake according to Capt. Mike Sperry with Chautauqua Reel Outdoors. The lake has cleared up with recent cold nights and a couple of frosts. Walleye action is pretty good vertical jigging, but not many fishermen are on the water right now. With steelhead running the tributaries and the crossbow season open for big game, Sperry thinks many have put away the boats for the season. Crappies in the canals and walleyes are being caught after dark by fishermen wading in from shore and casting stickbaits. Water temperature was 48 degrees Monday.
Fishing continues to be good to very good in many of the Finger Lakes according to guide Jeremy Newman of Doc's Tackle in Honeoye. On Conesus Lake, smallmouth bass have been on fire. Newman has had the most success fishing the parts of the lake with a hard bottom as opposed to softer grassy areas. The first approach is using is a wobblehead jig with a 2/0 wide gap hook. Another hot technique is a deep diving jerkbait. Work the jerkbait with a faster, yet varied retrieve with long pauses to get more bites. Newman loves it when a smallmouth crushes the jerkbait on the pause. He also is seeing an increase in the pike and tiger muskie fishing on Conesus. Live bait is getting the most action, especially suckers and the biggest shiners you can find. On Honeoye Lake, the bigger crappies are showing. Most people are using live fatheads, or jigs tipped with spikes and waxworms. Another hot technique is using Crappie Sliders on a jig, staying in contact with the bottom. While you're on Honeoye, take a gold- or perch-patterned blade bait. Jig for walleye in 12 to 25 feet of water. Newman reports quality perch fishing on both the north and south ends of Canandaigua Lake with many anglers limiting on crappies.