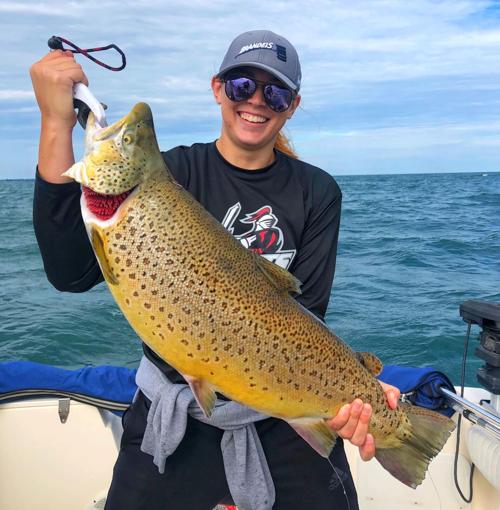 The Fish Odyssey ended last Sunday, but there is still Labor Day weekend for the Fall Lake Ontario Counties Trout and Salmon Derby, and fish have been snapping. On Lake Erie, the walleye bite continues to be consistent off Cattaraugus Creek.
Lake Erie
With fall fast approaching, it is time to stock up the freezer with walleyes for the winter. One place to find Lake Erie's gold is off Cattaraugus Creek in Sunset Bay, according to Capt. Jim Klein of Eye-Fish. The water temperature is uncommonly warm this year at 74 degrees from the surface to 80 feet down. This means you need to get your lures deep, according to Klein. Fish are on or close to the bottom. Start looking for fish straight out of the Catt or slightly west off the Silver Creek water tower in 75 feet. If you are not finding fish or you are not catching the fish you're marking on your electronics, try bumping out to 85-90 feet off Silver Creek, setting up on a northwest 2 mph troll. The fish are spitting up shad in live wells. Baits like Bandits, Bomber 15A or Renosky shallow divers run off 10 colors of lead core have been producing well. Remember, fish are deep, so if you are not catching, try adding a 1-ounce in-line weight above your lead core 50 feet behind your planer board. Try an Eye-Fish harness with glow beads off divers set on No. 3 back 175 to 200 feet. Off the riggers, smaller lightweight spoons or the Dreamweaver worm burners, again to match the Shad, have been productive for Klein. With a little work, finding active fish and changing your presentation to find what is working the best is producing limit catches. Captain Jim Klein's recent charter with media guys Steve Piatt and Todd Smith of Pennsylvania, produced limit catches that included a memorable 8.5-pound walleye. The top three lake trout for the Fish Odyssey came off Barcelona for three anglers on one trip in 100 to 120 feet of water. The top bass for the Adult and Junior Divisions came out of Lake Erie. Tube jigs and Ned rigs worked their magic.
Niagara River
Fishing has been inconsistent for bass and walleye, but when the fishing is on, it is tough to beat. Sunday morning was one of those times, according to Tom Wilson of Lewiston. Fishing with his 6-year-old son Logan, they caught more than 20 bass using different tactics. Young Logan was using a drop shot rig with a Berkley flat nose minnow on the hook when an 8-pound, 3-ounce walleye hit. It was his first walleye and his biggest, taking first place in the Junior Division of the Fish Odyssey with minutes to spare before the end of the derby. At the opposite end of the river, Tom Wilson had his sons Aiden and Trevor fishing for bass near the round house. While they caught some nice bass, the two youths took first and third in the Sheepshead Division of the Odyssey with a 9-pound, 14-ounce and an 8 1/2-pound freshwater drum.
Lake Ontario
For the hot bite, Capt. Tom Pearse has been running offshore about 15 miles (straight out and a west troll). His best spoon by far is Carbon 14. There are some fish straight out in 350 feet of water. That is where a 28-pound, 4-ounce king salmon was reeled in by Titus Bergey during the Odyssey. Those fish are a slow bite most of the time, though. Pearse has moved some inside fish in 70 feet of water with flashers and flies (white paddle Green Dot and 2 face) and meat rigs early in the morning. Offshore is the best bite by far, holding large steelhead and some big mature kings that have not staged yet. There was excitement on Saturday when Tim Anderson of Columbus, Ohio, hauled in a 31-pound, 5-ounce king salmon to take of the lead for the grand prize in the Fall Lake Ontario Counties Trout and Salmon Derby that ends Labor Day. A new Steelhead Division leader came this week out of Olcott, when Shaun Pinkham of Sanborn weighed in a 15-pound, 9-ounce fish on a spin doctor and fly. While Maria Jackson of Rochester is still the Brown Trout Division lead with a 17-pound, 14-ounce fish, Ray Mahtook of Youngstown came close to knocking her off when he caught a 17-4 brown trout Tuesday while fishing the Niagara Bar with a flasher and cut bait. For a leaderboard update, visit www.loc.org.
Chautauqua Lake
Walleye are being landed by slow-trolling worm harnesses in the north basin along the weed lines, according to Capt. Mike Sperry of Chautauqua Reel Outdoors. Trolling crankbaits in open water during the day is working well. Hot n Tots, Flicker Shads and other lures are getting fish, too. Running them off lead core line or by using downriggers is the key. Sperry has landed some fish by vertical jigging the edges of the north basin holes; however, the good consistent bite is a few weeks away. The best musky bite is trolling. Use 4- to 6-inch shad style baits like Tuff Shads or Wander Shads in the south basin. The casting bite should really kick in soon if past fishing logs are any indication.
Be the first to know
Get local news delivered to your inbox!