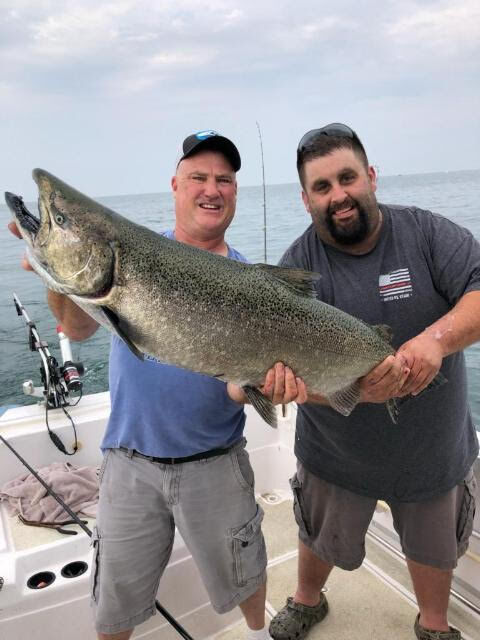 The Canadian border has reopened for fishing if you have a Canadian license, but do not plan on touching land, mooring/anchoring or physically contacting another boat. King salmon fishing on Lake Ontario can be very good if you are in the right place at the right time, and it appears the best spot is in the Western Basin. Lake Erie was the spotlight for a recent VIP Fishing Day out of Dunkirk involving outdoor media and local officials.
Lake Erie and tributaries
VIP Day for Erie and Chautauqua counties was held last week out of Dunkirk, and it was a beautiful day on the lake. Almost everyone caught fish as outdoor media, politicians and other VIPs were able to see firsthand what Lake Erie fishing is all about. Capt. Hans Mann of Buffalo Harbor Outfitters reports that more fish are making their way from the west. He hit a limit of walleye during the event. He reports that Barcelona has been the steadiest bite for him, though. Fish are moving to deeper, cooler waters out of all ports. However, people are finding fish in tight in certain areas. Mann mostly has been targeting deeper fish with divers and lead core, using stickbaits or spoons. Best depth has been 70 to 100 feet of water, but he hit fish in 60 feet last week. The bites off Dunkirk and Cattaraugus Creek have improved. Capt. Joshua Kane from Kobras Sportfishing participated in the VIP Day and fished a favorite spot around Brocton Shoal, 7 miles west of Dunkirk. His program was two riggers with spoons, two dipsy divers with Dreamweaver worm burners, two slide divers (one with a worm harness and one with a worm burner). He also ran 3, 4, 5, 7, and 10 colors of lead core line on Ninja boards pulling shallow stickbaits. They fished in 60 to 90 feet of water around the humps in Brocton Shoal and managed to catch walleye, sheephead and a 32-inch lake trout in 4.5 hours of fishing. Capt. Frank Schoenacker of Ashville reports that he got into a nice class of steelhead off Dunkirk out in 90 to 110 feet of water over the weekend off riggers, divers and lead core line using spoons and plugs. The best spoons were DW SS in Getter Done, Stinger Frankenberry, and R&R Mirage Diamond in black. Plugs were Bay Rat Emerald Shiner and Bomber Northern Lights. Shub Stevens with Catt. Creek Bait and Tackle also says that the walleye bite has picked up, with most action around 60 to 75 feet of water. Purple worm harnesses have been very productive. Steelhead and Lakers are being caught around 90 to 105 feet of water with small spoons. Perch have been caught out of Barcelona in 55 to 65 feet of water. Some perch were caught out of the Catt in 68 feet of water, according to Steve Brzuszkiewicz of Marilla. Walleye, too. Emeralds and goldens are working. Stevens noted that catfish are still active on the main lake. Slow trolling with cutbait in 30 to 40 feet of water is a great late summer tactic. Capt. Ryan O'Neill of Buffalo Wings Waterfowl Charters went offshore looking for bass this week, and he found a few everywhere he stopped the boat. He would hit two or three bass and a drum or two, then they would shut off. Meyers and Seneca areas were the best areas. He found that wind would be critical to success to move the boat along in 25 to 30 feet of water. He stayed inside the north end early in the week to fish the current breaks and faster water, and did well on the corners of walls and above the round house using crabs and Neds. Capt. Justin Warriner of North Tonawanda also did well on bass off Buffalo in 20 to 32 feet of water using Ned rigs and drop-shot set-ups. Big ones are mixed in with the smaller ones. Walleye action off Buffalo has slowed with the warm water.
Smallmouth bass have been hitting crabs around Peggy's Eddy and on the Niagara Bar at the mouth of the river according to Lisa Drabczyk of Creek Road Bait and Tackle in Lewiston. Walleye are available throughout the river and on the Bar, but you must work for them. Hair jigs and harnesses are both working to take walleye. Low light conditions like morning and later afternoon are best. In the upper river, Capt. Connor Cinelli of Grand Island reports that bass fishing has been very good with crabs around Strawberry Island. The outside of Donnelly's Wall has also been on, as well as above the round house. If you want to fish the Canadian side of the river, it was announced this week that fishermen can cross the line if they have their Province of Ontario fishing license. You cannot touch the shore, anchor or contact another vessel.
Lake Ontario and tributaries
The Niagara Bar action was good on Saturday for John Van Hoff of North Tonawanda. Using cut bait and flashers, as well as flasher-fly combos, he focused in 60 feet of water at the drop-off. He caught his biggest fish of the year at 32 pounds, as well as a 27 pounder. In addition, they hit double digits on other mature kings. Sunday was not as productive due to weed issues. Capt. Mike Johannes of On the Rocks Charters headed into deep water this week and found success in 450-plus feet of water, targeting the zone of 50- to 100-feet down with a mix of spoons. His best spoon was a Carbon-14 with a raspberry ladderback, catching fish off riggers as deep as 100 feet and divers set back 200 to 220 feet. It was a mixed bag of fish that included king salmon, Coho salmon and steelhead. Capt. Jim Gordon of Appleton did well out of Olcott, also out deep in 500-plus feet of water. His hot rod was a 400-foot copper with spoons, fishing the top 90 feet. Again, a mixed bag of fish.
Walleye fishing continues to be decent, according to Capt. Mike Sperry with Chautauqua Reel Outdoors. Slow trolling worm harnesses on the weed lines and trolling cranks in open water is producing nice fish. Working lures close to the bottom is key, Sperry reports. Early morning and late afternoon-to-dark is the best time to target walleye. Vertical jigging around the holes and points on the upper basin is working in 20 to 30 feet of water. The algae bloom is on in the south basin, but not as heavy as recent years.
Capt. Jeremy Newman with Doc's Tackle in Honeoye says the dog days of summer are here. On Silver, Conesus, and Honeoye lakes, staff and customers shared similar experiences, no matter the species. The first two hours and the last two hours of daylight proved to be the only time to get several bites. Bass, walleye, and panfish were the top species to target. If you fish a dock pattern for bass, you can normally pick up a few, but they just didn't want to play last week. Tournament anglers echoed the same report. On Canandaigua Lake, Newman was able to find a number of shallow-feeding perch. Smallmouth and pickerel were cooperating. Best approach was a drop shot and Ned rig in 8 to 20 feet of water. Canandaigua's largemouth bass are biting at the south end of the lake. They're deep, but if you find them, they'll bite. Use a heavy jig, larger profile drop shots, and the bigger Neds.