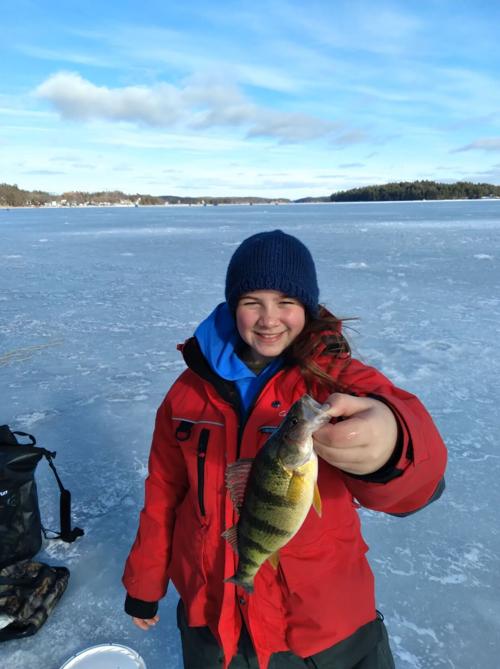 The increased cold weather has helped to expand ice fishing opportunities around the state. However, do not drop your guard when it comes to safety. Be sure to mark your calendar for the free fishing days weekend coming up Feb. 13-14.
Vic Thibault of Burt, fishing with his daughters Emelia and Ella, reports decent action at Lake of the Isles in the Thousand Islands. They found more than seven inches of ice in some spots, catching a pile of bluegills in the shallow areas and perch out deep. Vic and Ella also caught a few pike while jigging. At Silver Lake, they found six inches of ice. He still had some concerns over the thickness of the ice over deeper water. They caught a few perch but, overall, it was a slower day. Bobby Joe Frost of Alden offered some good reports from different spots. Chaumont Bay is loaded with perch, walleyes, pike and big lakers. Other ice fishing spots doing extremely well according to Frost include Eel Bay and Honeoye Lake. Conesus Lake has had slow action for the hard water. Frost is doing well on crappies in Black Lake and he will be back there for the Black Lake Challenge on Saturday. Frost's favorite bait was a chartreuse Swedish pimple tipped with a big shiner for the walleyes and he uses big Buckshot jigs tipped with waxies for the perch. Justin Stevens at Catt. Creek Bait and Tackle reports Clear Lake has been busy in the morning. Lots of smaller panfish are being caught on mousies and wax worms. Andrew Wengender of Webster took the lead in the Capt. Bob's Outdoors Winter Derby with 14.5-inch perch from Oneida on a tip-up with a shiner.
Lake Erie and tributaries
Stevens reports that Cattaraugus Creek fishermen are finding some great steelhead in the rapids as well as Clear Creek. Pink beads and egg sacs are working best. Walnut Creek has a lot of ice, but fishermen have been successful using jigs with wax worms. Bob Rustowicz of Cheektowaga took the lead in the Steelhead Division of Capt. Bob's Outdoor Winter Derby with a 29.25-inch fish he caught from a favorite Lake Erie tributary. He was using a chartreuse 8-millimeter bead under a float. Most of the tributaries are frozen over now, according to Rustowicz.
Anglers can fish the lower Niagara River again according to Lisa Drabczyk of Creek Road Bait and Tackle in Lewiston. Conditions have been on and off as far as water clarity and the cooperation of the trout. Action has been decent for a mix of steelhead, lake trout and brown trout. Artpark has been one of the better spots for catching steelhead, although some are being caught in Devil's Hole, too. From boats, use live bait, eggs or beads. From shore, use spinners, jigs, jigs tipped with plastics shads, beads and sacs. On the Niagara Bar, drifters are using minnows and shiners to take lake trout and browns, fished off 3-way rigs. Mike Ziehm of Niagara Falls braved the cold on Monday and did OK using jigs to take a lake trout and a steelhead. There was three feet of visibility from shore, plenty of clarity to be able to catch fish. Mike Rzucidlo of Niagara Falls reports he got out for some casting on Monday and landed three rainbows on spinners at Artpark along the gorge trails. Visibility was 3 to 4 feet. Capt. Ryan O'Neill of Orchard Park fished the bar on Monday and found the action to be a little slow. He reported that the bait moved into the river after the fast and dirty water pushed bait out last week. O'Neill thinks that clearer conditions should hold up through the weekend if you want to battle colder temperatures. Steelhead were hitting beads and minnows in the river.
Lake Ontario and tributaries
Ron Bierstine reports that winter has arrived. It looks like things are settling into a bit of a cold weather stretch. Counties along the lake saw 4 to 5 inches of snow. With plenty of cold weather on the way, look for streams to offer anglers low and clear conditions. Upstream reaches and at the dam on the Oak should stay mostly open according to Bierstine. There is usually a good chance for at least a few hook ups at the dam. Ditto on 18 Mile Creek at Burt Dam. Chris Kenyon of Wolcott in Wayne County reports they have some ice, however caution is always advised during early ice. The south end of Sodus Bay has four-plus inches, and the anglers are hitting perch. The north end of Sodus Bay next to LeRoy Island also has safe ice. Between the island and the east shoreline has always produced pike. Use pike minnow under tip-ups in six to 10 feet of water. The south end access road to Port Bay is closed. DEC could be working on the launch ramp, which is not in good shape.
Ice fishing is in full swing, according to Capt. Mike Sperry at Chautauqua Reel Outdoors. Most fisherman are on the south basin targeting perch and sunfish. Some walleyes are being caught as well. Small jig heads tipped with a spike or wax worm and small spoons like Northland Buckshots are working for panfish. No. 5 and No. 7 jigging Rapalas are working for walleye, reports Sperry. Anglers are starting to venture out onto the north basin. Be cautious up north as the ice thickness is inconsistent. The north basin should continue to build ice with below-freezing temperatures.