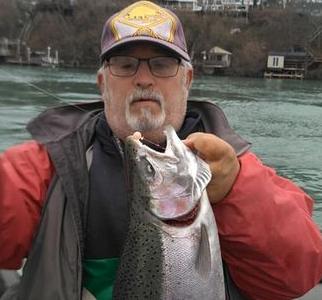 With a good old-fashioned lake-effect storm bearing down on Buffalo and to the south, fishing the tributaries, harbors and other areas is going to be difficult. Winds accompanying the storm could pose a threat on water clarity for the Niagara River, too. However, there is always some place to go fishing. Solid ice is being reported in the north country of New York.
Lake Erie and tributaries
Danny Jankowiak kicked off the new year by connecting on some dandy steelhead in Lake Erie tributaries. Lots of fresh trout were reported in streams and the hot baits were small streamers and egg patterns. Conditions were decent for most of the streams. Cattaraugus Creek was still being impacted by recent rains and snow melt. Danny Colville of Colville Outfitters in Hamburg said that he found good spurts of fresh fish moving through the systems with a mix of drop backs and fresh fish. Fish are available from top to bottom. The usual stuff like eggs and minnow jig patterns were most productive. On the lake, Capt. Jeff Hippert of Lake Erie Trophy Bass Charters enjoyed several banner days on the lake, taking advantage of decent weather. Best depth range was from 32 to 40 feet of water, targeting isolated rock piles. He did his best on ¼- to ½-ounce blade baits in shad and silver, as well as Ned rigs in 3- to 4-inch green pumpkin.
Across the upper river, Denis Kreze of Fort Erie, Ont., waded to field test a new Venom Jr. Chuggum lure and he was rewarded with a big lake trout and a slab white bass on New Year's Eve, casting the Canadian side. Back in New York waters, Scott Gauld, his son Alex of Tonawanda, and Nick Sanderson of Williamsville had banner days using Ned rigs to take a pile of smallmouth bass by catch and release. They were using the same Ned rig outfitted with a green pumpkin candy 3-inch Venom Salty Sling. They reeled in multiple 4- and 5-pound bass with a five-fish best of 25.54 pounds. That's good fishing. Best depth was 23 to 25 feet, with fish hugging the bottom with clearer water conditions. Trout and walleye are being caught at the Foot of Ferry Street on big minnows, according to Tommy Ortolano at Lake Effect Bait and Tackle in Tonawanda. Buffalo Harbor perch are still cooperating, too. Steve Brzuszkiewicz of Marilla has been using small emerald shiners to take 10-15 perch each time out in a couple of hours of fishing. He must weed through the small ones, but he catches enough for dinner. An occasional steelhead will show up in their catch.
In the lower river, steelhead and lake trout are being caught in the lower river section below Niagara Falls, from the gorge to the Niagara Bar. Capt. John DeLorenzo of Niagara Falls says that even though the water is finally clearing, steelhead fishing has been a little picky, probably because the river is full of bait. He's never seen so many birds feasting on minnows and large numbers of baby smelt. His best baits have been beads, but he recently switched to BnR soft beads in chartreuse, peach, orange and pink, and they have been very effective for him. The Bar has been pretty good the past week with golden shiners. DeLorenzo has been catching mostly lakers, but a few nice brown trout have started to show up, too. Hair jigs and blade baits also have been good to use. Lisa Drabczyk of Creek Road Bait and Tackle in Lewiston reports lake trout action on the Niagara Bar has been good. Steelhead and brown trout have been hitting in and around Artpark. For the boat guys, minnows and shiners are working well along with Kwikfish and MagLips fished off three-way rigs. Shore guys are using spinners and jigs, as well as egg sacs and beads and fished under a float. Remember that walleye regulations have changed, allowing only a creel limit of one fish per person per day and a minimum size of 18 inches.
Lake Ontario and tributaries
Ron Bierstine of Oak Orchard Tackle reports a slow to medium pick of steelhead on lowering flows post New Year's precipitation. He is hoping for a period of real winter weather, if just to "reset" steelhead chances toward later winter/early spring. He didn't think that the warm, wet fall had a positive effect on brown trout fishing. There could be some precipitation heading into the weekend, which should increase water flows into the smaller streams. Chris Kenyon of Wolcott reports Sodus Bay had a large flotilla of boats with anglers targeting perch last weekend. Temperatures were in the 50s and if the boat wasn't winterized, that was the place to be. Perch are hitting white rubber baits, tipped with perch eyes or spikes. It was the same at Port Bay. The jumbo perch were 10 to 12 inches in length and were caught off the points. New ice is starting to become solid, so if we have lower temperatures and no wind, there might be some hard water angling soon. Irondequoit Bay perch are still fishing well.
No ice yet, but the lake should start freezing this week, according to Capt. Mike Sperry with Chautauqua Reel Outdoors. Some boats last week took advantage of the nice weather. They were getting some walleyes vertical jigging on the north basin. Same deal as in the fall, use No. 7 and No. 9 jigging raps around the deeper holes. Perch fishing from shore was good last week. The canals (where accessible) have a decent number of perch in them with a few crappies mixed in. The canals will probably freeze over this week. Hopefully there will be good ice later this month. The Chautauqua Ice Derby run by Chautauqua Reel Outdoors starts on Jan. 15, but open water catches are part of the competition.
Jeremy Newman with Doc's Tackle in Honeoye reports that they are waiting on safe ice. In the meantime, many locals have found a great panfish bite on Honeoye Lake. Water temp is around 37 degrees and big bluegill decided to strap on the feed bag. Eight to 15 feet seems to be the place to start. Double drop shots with fatheads and Rosie's, small jigs tipped with spikes or wax worms, and fishing the bottom with crappie sliders seem to be the best bet. Perch fishing on Canandaigua Lake continues to be good for numbers. However, finding a school of eaters has been difficult.
Bobby Joe Frost of Alden reports that hard water anglers are fishing all over in the north. It looks like more fishable ice than not to the north of Watertown. Remember, early ice is never "safe" so don't solely rely on other people's reports. Always do your research and spud, spud, spud, both out and in. Use the buddy system and do not forget your ice cleats or ice picks. Always take a throw rope and whistle just in case there are problems. Frost says that if you are new to fishing a certain lake, the DEC website (dec.ny.gov) has topographical maps showing depth and structure along with possible "special" fishing regulations (like no gas motors, no live bait, no ice fishing). The site also says what species are in the lake along with stocking info. Take a small trash bag on the ice in case you find garbage. Red Lake in Theresa is not safe because of the Indian River running into it, but Payne Lake has 4 inches of good blue ice. Eel Bay, Chippewa Bay and Goose Bay on the St. Lawrence River have 4 to 5 inches of good blue ice; Black Lake has basically 4 inches across everything, with bays like Mile Arm and Rollaway having 5 inches. Many mountain lakes like Eagle, Durant and others are frozen solid. Chaumont Bay, Oneida and Sodus are wide open. Frost says that if you head to Black Lake, be sure to stop into Chapman's Sport Shop in Hammond, a great ice fishing shop for anglers.