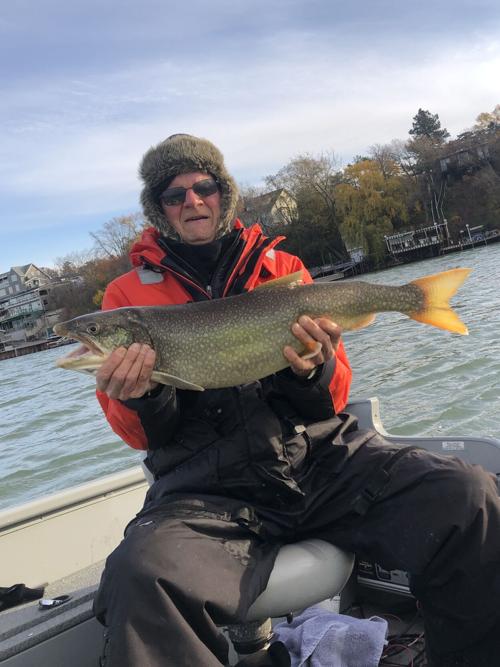 Mother Nature has been handing out her version of coal for the Christmas stockings – wind event after wind event. Another blow at mid-week could rile up the Niagara River water again, but we will just have to wait and see what happens. At least we know that the days are getting long now. Merry Christmas.
Lake Erie and tributaries
Danny Jankowiak of Buffalo reports that he stayed on the Erie tributaries this week and into the weekend. Small egg patterns and white or olive streamer patterns were very effective for him. Fish are up and down all the creek systems, with many fresh fish being caught, landed and released. With conditions getting colder, he is hoping to see all the creeks fishing very well off Lake Erie heading into the holiday weekend. Guide Andy Full of Full Fishing Guide Service reports that all the streams are in great shape as of Tuesday. Cattaraugus Creek is very close to allow for decent fishing again. Full did very well using egg sacs and beads with clients his last trip out. Capt. Mike Sperry of Chautauqua Reel Outdoors says that the hottest fishing lately has been steelhead in the tributaries. It's been a superb year, based on his intel. With the rain and snow melt, getting on the streams when the flow is right is the key. Shub Stevens of Catt. Creek Bait and Tackle in Irving reports that Clear Creek has been fishable, and steelhead are being caught on orange and pink egg sacs. White marabou jigs are also productive. Canadaway Creek has also been busy, although most fishermen said it was hit or miss, according to Stevens. Lime colored beads are working best. Just a side note that steelhead guide Leo Sanchez caught a nice Chinook salmon while fishing Clear Creek recently. Dave Barus of East Aurora reports that yellow perch and steelhead have been caught from the Central Avenue pier by shore anglers in Dunkirk Harbor. Live minnows on 2-hook rigs for the perch, egg sacs near the bottom or shore-cast silver/blue spoons and spinners for the steelhead. If you can make it on the lake and you want to try something different, hit any structure in 20-25 feet of water with jigs, spoons or jigging Rapalas to target lake trout from Dunkirk to Barcelona.
Tommy Ortolano of Lake Effect Bait and Tackle in Tonawanda reports that the foot of Ferry Street has been getting a fair number of walleyes, some rainbows and lake trout in the upper river. He says that large minnows on a plain hook and sinker rig is working well. Also, 3/4-ounce white or pink jig heads tipped with a minnow is producing some fish. Water conditions have finally started to clear a bit throughout the river after the recent wind events on Lake Erie, but the wind Wednesday could impact it again. Aaron Woods of Ransomville worked beads and sacs along Artpark in the lower river on Monday, and he connected with some lake trout and steelhead. The water was stained, but it had a greenish tinge to it, which was a good sign. No. 4 spinners and jigs will also work from shore, according to Lisa Drabczyk of Creek Road Bait and Tackle in Lewiston. A few brown trout have also been caught lately. The boaters haven't been out in a while, and they may have tried to fish out of Lewiston on Monday, but some work was going on at the Lewiston launch ramp, and the village closed it down for a day and a half. Forecasters are calling for more wind this week, but how it will impact conditions remains to be seen.
Lake Ontario and tributaries
Ron Bierstine of Oak Orchard Tackle reports that the Oak has dropped off to slightly high and stained, good conditions for steelheaders. Fishing pressure continues to be light, which means there is not as much information to be had. Smaller tributaries are at moderate to medium flows. Brown trout and steelhead will be your primary targets, according to Bierstine. This is a good time to do a little hiking to locate some new waters and expand your stream knowledge. Karen Evarts reports that Burt Dam and 18 Mile Creek has seen some action the past week for both steelhead and brown trout. The best approach has been using jigs tipped with a wax worm and fished under a float. Conditions for the creek have been decent. If the lake will let you, trolling the shoreline with stickbaits or spoons along a mudline should produce some trout. Pier action is still available as the lake water temperatures are still in the low to middle 40s. We are at the tail end of the Erie Canal water run-off for supplemental flows into the creeks as it drains for winter. Impacted waters include Eighteen Mile Creek, Johnson Creek, the Oak Orchard River, Sandy Creek and Salmon Creek.  
Capt. Mike Sperry of Chautauqua Reel Outdoors insists that many people are waiting for the hard water action. In the meantime, he is still hearing a few reports of walleye being landed on the lake by fishermen jigging on the north basin. Jigging Raps around the edges of the deeper holes will work. 
Guide Jeremy Newman of Doc's Tackle in Honeoye reports that they have had an active and productive week of fishing. With the milder temperatures, many anglers were able to get on the water. On Honeoye Lake, crappie and walleye were the stars. Some big crappies hit the pail, too. It can be hard to find a school of keepers, but many fishermen stopped by the shop with 12-14 inchers, impressive for Honeoye. Many walleyes found their way to a freezer, as well. Overwhelmingly, blade baits were the top choices in the tackle shop, especially gold, perch and chartreuse perch patterns. Anglers there, too, are eager to get some safe ice.