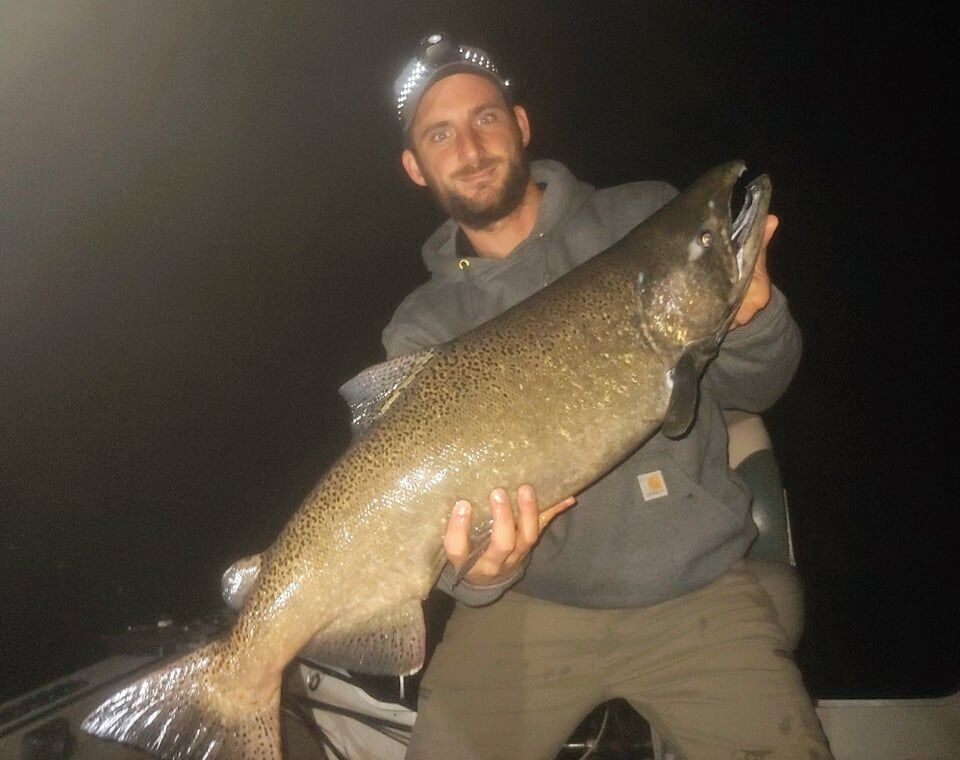 Saturday will mark a new era in trout fishing when the inland streams will be open throughout New York State for catch and release fishing, with artificial lures only. Make sure you understand the new regulations. Check out the 2021 regulations guide or visit www.dec.ny.gov. Warmer water temperatures continue to impact the Great Lakes tributaries, but that could change this weekend. It's still not too late to catch some of the walleye championships on Chautauqua Lake.
Lake Erie and tributaries
Armed with GPS coordinates from a friend who had hammered the perch off Cattaraugus Creek, Steve Brzuszkiewicz, of Marilla, found the perch were not on the bite. He caught only nine perch in two hours and decided to move. His buddy, Howie, went to Point Breeze to check out different areas. Steve went back into 52 feet of water straight off the Catt, where he fished last week, and saw a small pod of fish and started working them with a slight jigging motion. He had some Emerald shiners from Russ's in Buffalo. Around the time he caught his first jumbo perch was when Howie called to say he started to get them. Steve decided to stay put and caught around 35 nice ones before things slowed. He called in another friend who joined. The bite picked up in the afternoon as the fish went into a feeding frenzy at the original 52 foot of water spot, which allowed him to wrap up his limit of perch. His friend, Bob, and his nephew, Greg, wound up with 50 good perch and Howie and his wife got 45 at Point Breeze. 
A funny story for Steve back at the Hanover launch was a guy came in after fishing the 62-foot spot and only caught about 10 perch. When Brzuszkiewicz told him that he limited out in 52 feet of water and the fish were on the bite, he pulled his trailer out of the water, parked it and went out again in his boat for a couple more hours.
The perch bite has been consistent around 50-65 feet of water, according to Shub Stevens with Catt. Creek Bait and Tackle in Irving, but you have to find them first. Live Goldens and salted Emeralds are working well, according to his report. Steelheads are being caught in numbers all along the lower Cattaraugus Creek area. Pink and orange have been the hot egg sac colors, Stevens said. Marabou jigs and wax worms also can be very productive. Jim Williams of Lockport reported catching some nice steelies at the Scoby Dam on Blue Fox spinners.
Salmon fishing is not consistent, according to Lisa Drabczyk, of Creek Road Bait and Tackle in Lewiston. A few are being caught from shore up at Whirlpool, Devil's Hole and the NYPA platform. Bass fishing is good as they bulk up for fall. Walleye are still being caught throughout the river. Only a few trout are showing up so far, including a few lake trout. Remember lake trout season is closed until Dec. 1.
Mike Ziehm, of Niagara Falls, has been picking up a salmon or two a day in the Niagara Gorge along with some bass and an occasional steelhead. His lure of choice is a No. 4 chartreuse spinner or a No. 4 silver and chartreuse spinner. Chubs are working for bass; worm harnesses for walleyes. Capt. Connor Cinelli, of Grand Island, reports he has been getting chunky smallmouth bass in the upper Niagara River on Golden shiners. Best spots have been in front of Strawberry Island and along the Grand Island shoreline.
Lake Ontario and tributaries
After several days of east winds before last weekend, Capt. Mike Johannes, of On the Rocks Charters out of Wilson, started fishing about 6 miles offshore and trolled to 11 miles out on search mode. As he trolled north, he found the surface and down temps continued to climb. At the 31N line, the surface was 65 degrees and down 80 feet was 64 degrees, which is not a good situation. He was catching steelhead on 94-foot and 96-foot riggers. Both 150-foot magnum divers took fish along with 220-foot high divers. The rigger fish came on spoons, Carbon 14 and Hulk being the best. The diver fish were on spin doctors and flies. He also took a steelhead on a 200-foot copper with an orange UV spoon and gold back. On his way back to port, he stopped about 4 miles offshore just to look at the water and there was a good picture on his electronics so he figured he might have moved too far too fast. Be sure to check out the near shore waters, too.
Over in Olcott, Karen Evarts, of the Boat Doctors, reports the dam is rocking with kings, Cohos, browns and some steelheads, but the warm water is having a lethargic effect on the fish. Egg sacs, beads, yarn, wooly buggers, rubber eggs, and the like are working in the creek. Fishing at night from small boats is still producing fish with glow spoons, but the piers are still closed as the construction project nears completion. Over in Wilson, anglers are casting at night off the piers, as well as during the day. Chuck Booker spinners have been producing for casters. Glow spoons are always an option, as is skein fished under floats.
Over at the Oak Orchard River, Ron Bierstine, with Oak Orchard Tackle, reports we could be seeing some rain and cooler temperatures this weekend, which should make a huge difference in the tributaries for salmon and trout. Fish are spread throughout the Oak, from the dam to the mouth. Other area smaller tributaries such as Johnson and Marsh have lower flows so look for scattered numbers of upstream fish. To the east, at locations such as Sandy Creek, the higher waters thanks to Erie Canal releases have made for better migration conditions for salmon, along with a few browns mixed in. Bill Flyte, of Pennsylvania, has been doing well on salmon using Kwikfish lures. Wade Rowcliffe, of Rochester, reports good numbers of salmon in the lower Genesee River and at the mouth. Glow spoons have worked for him.
For late season walleye anglers, take note the Head2Head National Walleye Championship is at Chautauqua Lake and streaming on TV LIVE at https://h2hfishing.com/watch. The cool thing, according to East Aurora's Dave Barus, is each boat has a camera and the video shows where they are fishing and what they are using, along with some secrets. Free location advice, fishing tips and detailed commentary for five hours every day through Friday.
The musky fishing has picked up some in the last week, reports Capt. Mike Sperry, of Chautauqua Reel Outdoors. He is getting fish casting and trolling now. Casting crankbaits and jerkbaits near weed lines has been working. Nine-inch Leo jerkbaits and 8 to 10 inch crankbaits cast parallel to the weed lines in 11 to 15 feet of water on the north basin is working. Trolling the south basin is producing fish, too. The south basin is still in an algae bloom with clearer water on the north basin. Walleye fishing continues to be good. Vertical jigging Rapalas on the north basin is working around the edges of the deeper holes in 20 to 35 feet of water. Trolling the south basin with Hot-n-Tots, Flicker Shads, Flicker Minnows and worm harnesses tight to the bottom is working.
Local guide Jeremy Newman, with Doc's Tackle in Honeoye, reports fishing in the Finger Lakes continues to be good. "Grab a spinnerbait and come catch some bass in the Finger Lakes," Newman said. On Honeoye Lake, the water clarity is far from ideal but is improving. Largemouth bass are really chomping spinnerbaits, chatterbaits, lipless crankbaits and soft plastic jerkbaits. Conesus Lake has a similar pattern currently, but keep a jig handy, too. For smallmouth, top-water baits are hot, as are Ned rigs, and a small swimbait on a football head jig. Over on Canandaigua Lake, use fatheads, rosies, and small plastics for catching perch limits.