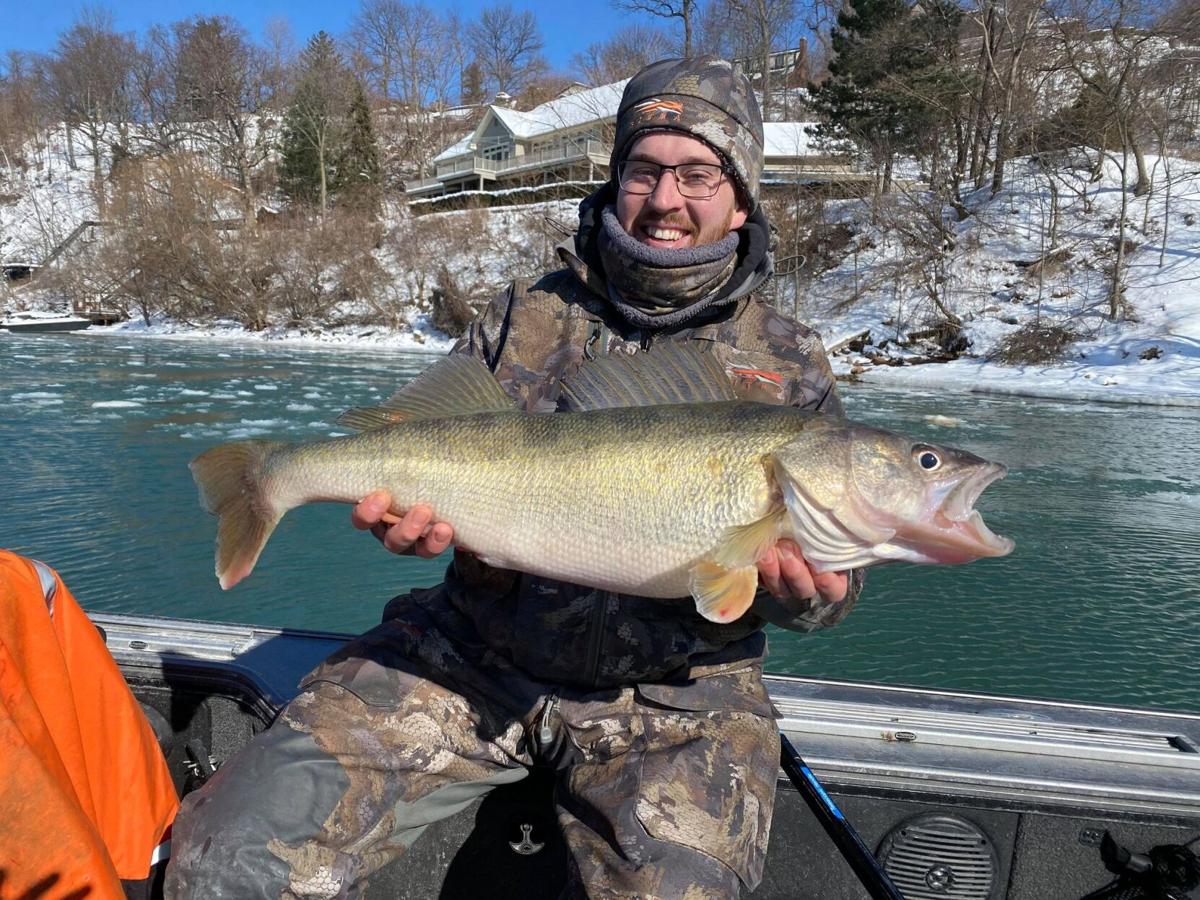 If you are looking for a fishing competition this weekend – soft or hard water – look no further than the Finger Lakes or the lower Niagara River. Add the Capt. Bob's Outdoors Winter Derby that runs through March 15, and you have plenty of options.
The fish are active and eating well during most periods in the day as we hit the normal end of February warm-up, according to Scott Brauer of Gasport, the Ice Team Pro for New York. The fish are preparing for sitting on nests and laying their eggs and chasing. Brauer said a good bet this time of year is that fish will be eating shrimp as they begin to vacate the weeds and search of food. Use something that mimics shrimp from now until ice out. Also fish higher than normal during this period, sometimes right below the ice in less than 10 feet of water because the fish will start to gorge themselves on any of the aquatic insects that were stuck to the bottom of the ice and are now free floating between the top of the ice and whatever ground they are over.
This is the period to put on our tall boots as we will be walking through water for most of the rest of the season. This is also a period when creepers, or some sort of traction device, is necessary on your boots as the ice will become like a skating rink. Make sure to stay away from gas pockets or spring holes and get your spud back out to ensure that the ice you are on is thick enough to hold human weight. Even though we have upwards of a foot of ice in most areas, it can go very quickly with the upcoming warm spell.
As far as reports from around the state, Bobby Joe Frost of Alden says Chaumont Bay has been a hot spot between 18 to 25 feet of water for perch and walleyes. There has been a lot of success at the "shoals" area. Frost has been still fishing Oneida Lake hard, finding 10 to 11 inches across the lake. Slush makes four-wheelers almost impossible to run but dragging sleds and snowmobiles will work well. Walleye numbers are up but the size is down. For yellow perch, the numbers are down but the size is up on Oneida.
Tim Himan of Bethany Center and Tony Kirsch of Cowlesville have been pounding Conesus Lake and Keuka Lake with jumbo pike, tiger muskies and walleyes in the mix along with bluegills and crappies. Frost cautions to take safety precautions and fish with a partner.
Other lakes that have been fishing well include Cuba, Quaker, Redhouse, Alma, Rushford, Silver, Canadice, Honeoye, and Loon.
The Finger Lakes Ice Fishing Derby sponsored by Doc's Tackle and Finger Lakes Bait and Tackle, as well as Ducks Unlimited is Saturday. The derby will be on four lakes – Conesus, Honeoye, Canadice and Hemlock. Everything is through Doc's Tackle and Finger Lakes Bait and Tackle. For more information, call 585-229-2277.
Lake Erie and tributaries
Justin Stevens, at Catt Creek Bait and Tackle, reports Clear Creek has been holding some rainbows, browns and Steelhead trout. Peach beads and pink egg sacks have been working. Open water under the Route 5 bridge also has been producing some good fish. Stevens said the best bite has been early morning. Some ice fishing action is going on in Buffalo Harbor, but lots of smaller fish, Steve Brzuszkiewicz of Marilla said. Lots of ice huts were scattered about. He reported it was good to see all the father and sons/daughters on the ice last weekend.
Some big walleyes were caught in the Niagara River in the past week – above and below the Falls. Denis Krese of Fort Erie, Ont., boated a 12-pound walleye in the upper river. Not to be outdone, Tom Brownyard from Rochester reeled in a 12-pound, 2-ounce walleye he caught on a large Emerald shiner fishing slow with a vertical jig presentation with Capt. Richard Brant of Tonawanda. Brant reports trout fishing has been good when the ice floes have not been too severe. Pink and peach egg sacs were hot recently. The river was filled with ice Tuesday, but Lisa Drabczyk, of Creek Road Bait and Tackle, reported there are still some boats trying to head out for steelhead. Egg sacs have been working well for boaters. Live bait such as shiners and minnows are also producing some fish.
Mike Rzucidlo of Niagara Falls fished the shoreline in the gorge for a couple of days, and he caught three steelhead a day on jigs and No. 3 spinners, including a big 13-pounder. There was 4 feet of visibility. The Roger Tobey Memorial Steelhead Contest, sponsored by the Niagara River Anglers Association, is Saturday. You must be a member of the NRAA. Sign up for both at Creek Road Bait and Tackle in Lewiston or sign up the morning of the contest at the Lewiston Launch Ramp. The river could be filled with ice after the strong winds on Lake Erie on Wednesday.
Lake Ontario and tributaries
Bob Rustowicz of Cheektowaga reports that he hit Chaumont Bay in the eastern basin of Lake Ontario and enjoyed some great success on perch. His big catch was a 14-pound lake trout caught on a Swedish pimple. There was 11 inches of ice. Chris Kenyon of Wayne County reports the ice is safe in Sodus Bay. The east side of Sodus has seen perch action in 15 feet of water. Third Creek, which is at Shaker Road, has also been a good spot for perch fishing. You will have to hike to get to 20-30 feet of water. The perch are still hitting bright perch-colored jigs and live bait, Kenyon said. The fish have been in 25 feet of water with the larger ones suspended 2 feet off the bottom. There has been some action in the deeper water on the north west side of Sodus. If you go out from the "trestle," you can park across the street next to the old malt house.
Port Bay action has been on the east side of the bay in 20 feet of water. The south DEC road is closed.
In Wilson Harbor, Lisa Drabczyk, at Creek Road Bait and Tackle, reports yellow perch have been cooperating through the ice there.
Open water action was being reported at Burt Dam, said Karen Evarts at the Boat Doctors in Olcott. The same could be said for the Oak Orchard River at the Waterport Dam. Melting ice could start to bring steelhead into streams.
The ice fishing is still going strong, said Capt. Mike Sperry, with Chautauqua Reel Outdoors. The yellow perch are plentiful. Ice jigs tipped with a wax worm or minnow will work. Size No. 5 Jigging Raps and Buckshot spoons are working. However, Sperry says getting a batch of keeper sized fish takes time. Some decent reports on sunfish this past week, too. Fishing in 6 feet to 12 feet around and in weeds is the place to start.
Mayville has been the most fished area so far this winter. The walleye bite has been tough. No. 5 and No. 7 jigging Rapalas are still the preferred lures when the bite is on. Sperry has received some reports of fish hitting Thundermist spoons as well.
Capt. Bob's Outdoors Derby update
Some big fish were caught in the Capt. Bob's Outdoors Winter Derby, including Tim Himan's 40-inch northern pike from Conesus Lake. There is a three-way tie in the steelhead division – all with 30-inch steelhead from the lower Niagara River – Mike Dahar of Amherst, Zach Feller of Williamsville and Joel Juhasz of Lancaster. Jim Gross of Hamburg is the new walleye leader with a 27 3/4-inch fish from Chaumont Bay in eastern Lake Ontario.