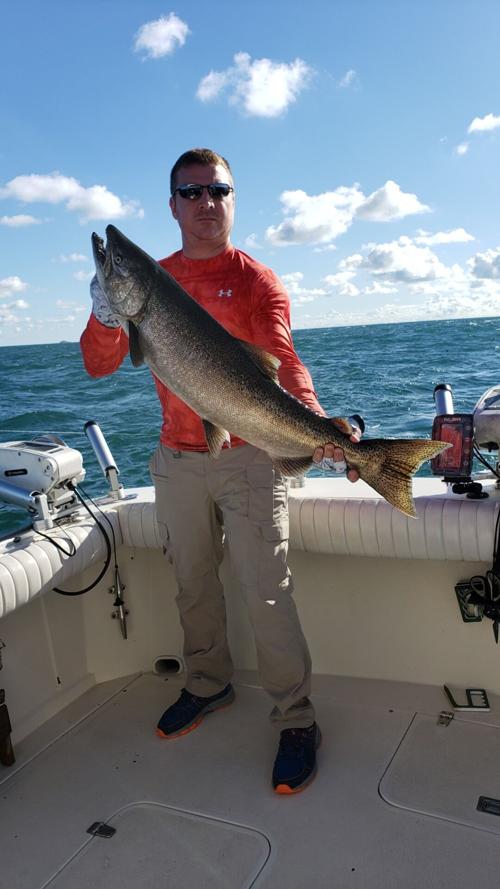 Keep your fingers crossed for some good weather on Saturday for the Douglas Rods Big Money Open Bass Tournament out of Buffalo. If anglers can't get out on the lake, they will fish the upper Niagara River, including Canadian waters. Salmon are showing up in the lower Niagara River and snapping out in Lake Ontario.
Lake Erie and tributaries
It is not too late to register for the Douglas Rods Big Money Open Team Bass Tournament. First place for a full field of 50 boats is $10,000. For more information, contact the Douglas Outdoors offices at 315-695-2000 or visit www.douglasoutdoors.com. Bass fishing should be good but not many people are talking with the tournament this close.
Bob Rustowicz of Cheektowaga says that he was fishing off Cattaraugus Creek and it has been good near the border. There is a good bite in 80 feet of water and the fish are down 60 to 70 feet. He was using 10 colors of lead core line with Yaleye Mooneye stickbaits. Downriggers from 62 to 75 feet down were working with the same stickbaits. He noted that they were marking lots of perch on the bottom, and they caught a few steelhead up to 10 pounds on the same lures.
Shub Stevens with Catt. Creek Bait and Tackle reports the water is high and starting to cool on Cattaraugus Creek. Jack steelhead have moved in, and are being caught on marabou jigs under a float. Catfish are feeding in the cool waters at the mouth of tributaries. Bottom rigs with cut bait are working. Before recent high winds, the walleye bite was consistent around 60-75 feet of water, according to Stevens. Purple or nuclear green harnesses were doing the job, with nitro green worms a hot ticket for harnesses and jigging Erie Dearies. Perch were caught earlier Monday morning around 50 to 60 feet of water west of the Catt. Salted emeralds worked best.
Capt. Joel Ruggiero Sr. found a cooler full of perch in 85 feet of water off Silver Creek this week. He caught them on emerald shiners he located at Russ's Bait Shop in Buffalo. The inaugural First Responders Day was a bit of a bust on the water due to high winds last Saturday, but the fish fry at the Southtowns Walleye Association clubhouse was a success with more than 65 people participating. The date next year will be Aug. 27. Southtowns Walleye will hold its monthly meeting at 7:30 p.m. Thursday at the clubhouse located at 5895 Southwestern Blvd., Hamburg.
It's the middle of September and salmon are slowly making their migration up the river to the Devil's Hole area and beyond. A few salmon have been caught off the NYPA platform but sometimes the power generator next to the platform is shut down, impacting success off the fishing area. Mike Ziehm of Niagara Falls caught a couple kings just downstream of the power plant this week. He used extra weight as they were on the bottom, where it was colder in the bubbly heavily oxygenated water. He used his blue and chartreuse 3/4-ounce No. 4 spinners with 1/4-ounce split shots about 20 inches above the spinner. Visibility as of Sunday was 3 to 4 feet in most spots on the lower river.
Mike Rzucidlo of Niagara Falls caught his first king from shore Tuesday and then fished the slack water for some bass and walleyes. Bass fishing was tough this week. In the upper Niagara River, Capt. Connor Cinelli of Grand Island reports that it has been good for bass. The crab bite is still good, but it's switching to a shiner bite now. There are a few walleyes around, too. Cinelli has been fishing above Strawberry Island and around the "round house" at the head of the river.
Lake Ontario and tributaries
Karen Evarts at the Boat Doctors in Olcott reports that action has been a bit slow inshore for boaters working the inside waters, but the fish are there. The offshore bite has been better for kings and steelhead with plugs, flies, spoons and meat. Pier action at Olcott is on hold due to construction, but they are ahead of schedule.
A few kings have been reported at Burt Dam, but it is early. In the harbor, it is pike and perch. At Wilson Harbor, it is pike and bass.
John Jarosz of Lakeview enjoyed a banner day with Capt. Matt Yablonsky of Wet Net Charters out of Wilson this week. They started in 100 feet of water east of Fort Niagara and found the water riled up from recent winds. The water temperature is 70-plus from the surface to 10 feet off the bottom. The bottom 10 feet was 45 degrees and Yablonsky started to throw A-Tom-Mik flies and spin doctors at large pods of bait surrounded by bright red hooks at the temperature edge. Working that edge, Jarosz, his son Dave from Elma and an angler from the Pittsburgh area managed to catch nine matures by 10:30 a.m.
Capt. Nick Calandrelli of Lewiston reports he had some good action fishing with his dad, Capt. Ernie Calandrelli, on the Niagara Bar drop-off using green magnum spoons and flashers with cut bait fished on the bottom in 80 to 90 feet of water for a mixed bag of salmon and trout, including some mature kings. They were using both downriggers and divers to take their fish. Gary Laidman of South Wales also enjoyed salmon success on the Bar with Capt. Joe Cinelli of Grand Island. They got on the staging kings very well, going nine of 13 on all big mature kings. Fish are still silver, all ranging from 22 to 28 pounds. They hit a bit deeper water in 100 to 150 feet off the drop-off. Dodgers and A-Tom-Mik flies off the riggers and dipsy divers did the damage. Salmon seem to be staging nicely. At Point Breeze, Capt. Bob Songin of Reel Excitement Charters reported good action in 100 to 120 feet of water on kings using Bam flashers and flies 220 to 240 feet back behind divers. Songin also was excited by the number of staging salmon off the Oak.
The trolling crank bait bite for walleyes is going on the south basin according to Capt. Mike Sperry at Chautauqua Reel Outdoors. Running cranks close to the bottom is the key. Trolling speed should be around 1 1/2 to 2 mph. Use Flicker Shads, Hot-n-Tots or any traditional plug. The north basin jigging bite is getting better as the water temperature drops. This week, the temperatures may go up, but we're entering the fall bite now, with jigging raps, Snap raps and Gotchas working in 20 to 30 feet of water. Lots of bait can be found on that line. Don't be afraid to move out deeper if you are not contacting fish in that range, Sperry said.
Musky fishing continues to be tough. Casting in and tight to the weeds is producing but it's requiring more work this year. Jerk baits are the go-to approach. Spinnerbaits retrieved over weeds is a good way to cover water fast.
Capt. Jeremy Newman of Doc's Tackle in Honeoye reports a great week of fishing. It was very difficult the last few weeks fighting the algae bloom and large mats of floating, cut vegetation on Honeoye Lake. Since then, the water clarity has improved greatly and so has the fishing. Largemouth bass are being caught in shallower depths with cool nights dropping the water temperature. The walleyes are strapping on the feed bag, with small trolling spoons with nightcrawlers having great success.
On Canadice and Hemlock lakes, the lakers are stacking up and biting jigs with silver spoons. Also, try a small profile swim bait with a one-ounce jig head. The bass are very aggressive at Conesus Lake. They are hooking up with a broad spectrum of techniques. There is less traffic on the water now that Labor Day has passed.
Doc's Tackle is holding a charity bass tournament to benefit the Honeoye Lake Varsity chapter of Ducks Unlimited on Sept. 25. You can register at the store or by phone at (585) 229-BASS.