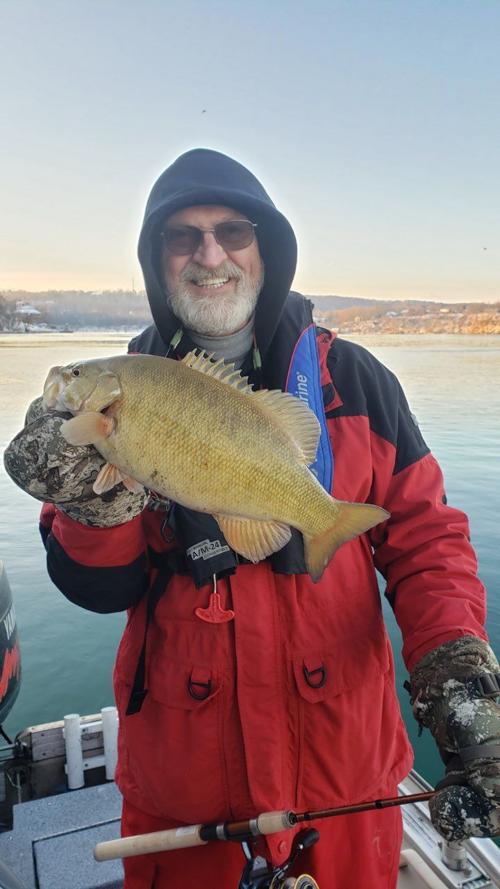 An Arctic blast and high winds put a bit of a freeze on fishing activity this past week. It's still early for ice fishing in Western New York, but we are almost there. Maybe this weekend will allow for safe ice. The big announcement last week was that the Greater Niagara Fishing Expo at the Conference and Event Center Niagara Falls was canceled and rescheduled for Feb. 16-19, 2023.
Scott Brauer of Gasport reports that ice is starting to set up around a few Finger Lakes. Cold temperatures this week should help but not many local bodies of water are ready. He had to drive into the Adirondacks and Vermont to find safe ice and had to go to elevation. Brauer insists that all ice fishermen must be patient and use all safety tools at their disposal. With the cold temperatures we have coming, the night could make ice. The problem with many lakes is that the centers are still open, and we have high winds this week. That could take us backwards a little bit. Lake-effect snows as the lakes begin to set up also may hinder consistent ice growth. Travel carefully and use a spud bar to check thickness. Take a throw rope and have a flotation device on your body. Always make sure that someone knows where you're going and when you're expected to be back. With the blinding snows that we get sometimes, make sure you have a directional device, either a GPS or compass, and take directional readings before you set up your shelter and know which way to head back. Please be cautious and patient. Brauer had the pleasure of fishing with the Godfather of Ice Fishing, Dave Genz of St. Cloud, Minn., while in the Adirondacks and Vermont. Bobby Joe Frost of Alden said many waters are locking up, but are not safe, like Oneida Lake and Chaumont Bay. He has encountered safe ice on Red Lake, Payne Lake, Perch Lake, many of the bays along the St. Lawrence River, Lake of the Isles, smaller Adirondacks lakes and Tupper Lake (5 inches). Walleye in the Ogdensburg area has been good. See the Finger Lakes report below. Frost noted that Otisco, Conesus and Silver lakes are not yet fishable.
Lake Erie and tributaries
Danny Colville of Colville Outfitters in Hamburg reports that creeks are getting a good number of fresh fish. Jigs were prevalent on bites. Salmon eggs were outproducing other eggs in sacs, in yellow- or pink-colored mesh. Look for medium-sized tributaries to come down and start fishing well this week after our last warmup. Icy guides are a big issue right now. Colville's best tip is to use Stanley's ice off paste. It is a must unless you have a rod made with oversized guides. Be careful of shelf ice and slush and don't take chances. Shub Stevens of Catt. Creek Bait and Tackle in Irving reports that they catered to lots of trout fishermen this week. Canadaway Creek and Clear Creek were popular spots with many catching fish all day on pink sacs, jigs, and lime-colored beads. Cattaraugus Creek was fishable between the ice floes. Lake Erie bass action was good last week for Capt. Ryan Shea of Brookdog Fishing Company. During one trip, he used swim baits and jigs, catching numerous of bass. He fished out of Buffalo in 35-40 feet of water. Buffalo Harbor was not yet frozen according to Frost.
Temperatures are warming to the mid-30s Wednesday and Thursday before they dip back for the weekend. It was in the single digits earlier in the week and weekend winds transformed the Niagara River into another chocolate milk mess. It might start to clear for boaters heading into the weekend. The shore guys picked up a few trout despite the conditions. Mike Ziehm of Niagara Falls was casting his No. 5 chartreuse and orange spinner above the NYPA power plant to catch steelhead and lake trout despite visibility at one foot. With fluctuating water levels in the gorge, combined with cold temperatures, take safety precautions such as wearing ice cleats for traction. Don't take chances. Egg sacs or egg imitations like beads and yarn balls will catch fish. Look for somewhat clearer water along the shoreline. With cold temperatures, use something like WD-40 to keep guides free of ice. Lisa Drabczyk of Creek Road Bait and Tackle of Lewiston reports that shore guys are the only ones catching anything right now. Boaters should be able to get out soon and when they do, the Niagara Bar could be a good place to try for lake trout and brown trout, if the weather cooperates. In the river, MagLips and Kwikfish pulled on three-way rigs could be a good approach. Minnows and shiners will work, along with both soft and hard beads.
Lake Ontario and tributaries
Anglers are starting to see shoreline shelf ice and slush in the tributaries. Best spot is 18 Mile Creek at Burt Dam for trout according to Drabczyk. Smaller tributaries are exhibiting signs of shelf ice. Scott Feltrinelli of Ontario Fly Outfitters reports that during the warmer weather on Sunday, chunks of shelf ice were floating downstream and clipping him from behind. Slush ice, too. Anglers need to be careful in these conditions. Very few fish were scattered around. He caught a few fish, including a nice brown on a brown bugger. Plan on lots of walking. Lake Ontario bays, including Sodus and Port, are slowly starting to lock up but need time for them to be safe. Spud your way in and out if you give it a try this weekend says Chris Kenyon of Wolcott.
Capt. Mike Sperry at Chautauqua Reel Outdoors reports that they are not fishing on Chautauqua yet but it's close. The south basin is locked up and he believes most of the north basin is as well. Fishing should open this weekend in some areas, just in time for his fishing derby which starts on Jan. 15. Open water is eligible for the contest, too. If you venture onto the ice, take the necessary precautions, and follow safety protocols. Spud your way in and out.
Capt. Jeremy Newman with Doc's Tackle in Honeoye reports that anglers are finally fishing on some safe ice, but caution is advised. The south end of Honeoye Lake has upwards of five inches. Bluegill and crappie seem to have been lonely, too, according to Newman. His best bites came in 10 feet of water near vegetation, using gold teardrop jigs tipped with a couple spikes. Bass shiners or jigging blades were the best baits catching walleye. No news from the north end, as it's not as thick as the south. That will change by the end of the week. Doc's Tackle is hosting its second $10,000 Ice Fishing Tournament benefiting Honeoye Lake Varsity Ducks Unlimited on Feb. 12 from 7 a.m. to 1 p.m. For more information, contact Doc's Tackle at (585) 229-BASS. Perch fishing on Canandaigua has been rewarding for the cold, open water anglers. Bigger schools are hanging out in deeper water. Target 30- to 60-foot depths. Fatheads on a double perch rig was Newman's approach, but if you can find small shiners, bigger perch seemed to prefer them.
Capt. Bob's Outdoors Derby update
Week two derby update from Steve "Hawk" Hawkins of Capt. Bob's shows that California Joe Pavalonis of Buffalo is in the early lead with an 18-inch, 3.06-pound rudd from the upper Niagara River on a jig. In the steelhead category, Ray Vila from Java is on top with a 26-inch fish from Cattaraugus Creek on an egg sac. The perch leader is an 11.25-inch fish caught by Joel Juhasz of Lancaster using a jig and wax worm ice fishing Eel Bay, where he also caught the leading northern pike at 23.5 inches on a minnow.