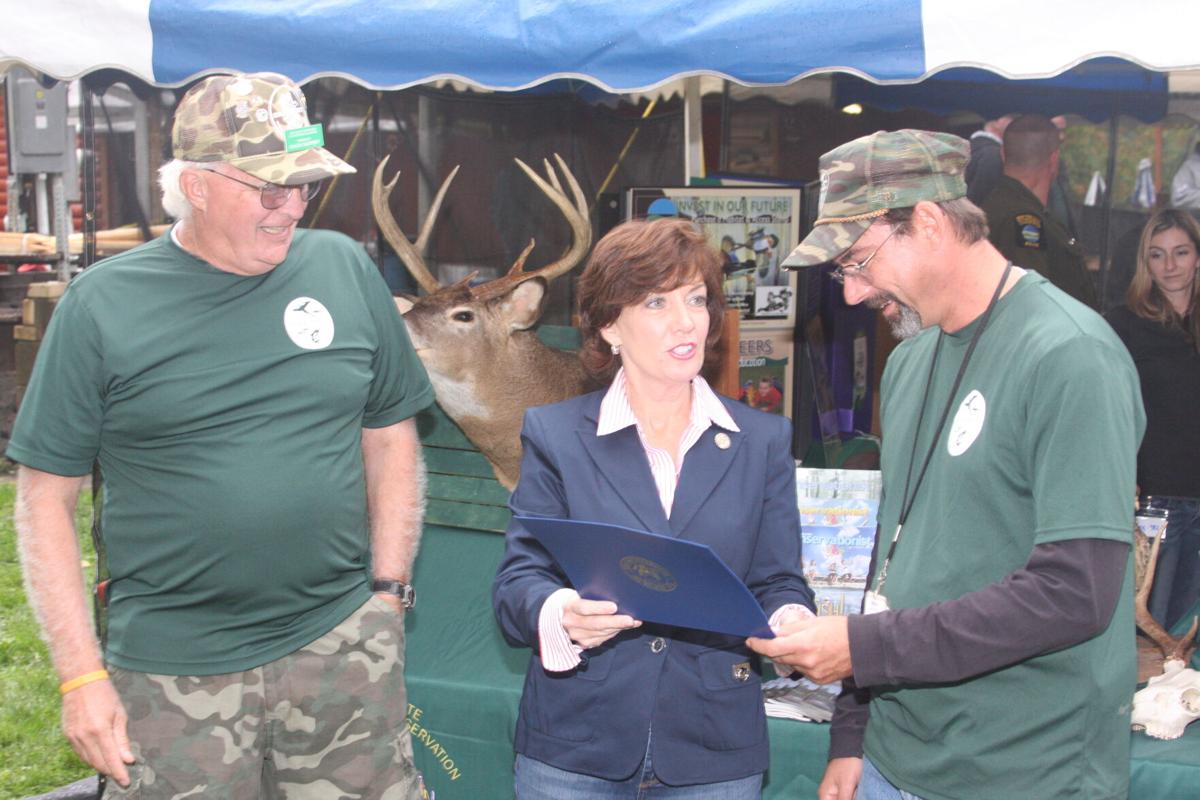 On Sept. 25, National Hunting and Fishing Day will celebrate 50 years of recognizing the important contributions that hunters and anglers make to the economy and to conservation.
"In 1971, U.S. Congress realized the tremendous efforts hunters, anglers, trappers and shooting enthusiasts have put forth in both time and treasure to assure our nation's wild treasures remain in healthy abundance," says Rich Davenport with the Erie County Federation of Sportsmen's Clubs. "This day of recognition reminds us all that without these sports and traditions, our world would be a dirtier, unhealthy place devoid of wildlife and fisheries. This year marks the 50th anniversary of this day of celebration."
For Erie County, you could say it is the 50th anniversary plus one.
"The Erie County Federation held the first of what would become National Hunting and Fishing Day at Alden Rod and Gun Club in September 1970," said Davenport, who is from Tonawanda. "With the help of Congressman Jack Kemp, support for this National Day of Recognition spread throughout the nation, and in 1971, the fourth Saturday of September was established as National Hunting and Fishing Day."
That initial recognition, though, was a long time coming.
At the turn of the 20th century, when Theodore Roosevelt was president, something needed to be done to help wildlife populations. In 1900, there were only 500,000 whitetail deer and 100,000 wild turkeys in the U.S., waterfowl populations were dwindling in 1901 and the country's elk herd was estimated at 41,000. In the 1920s, pronghorn antelope numbers were roughly 13,000. Hunters stepped to the plate and began swinging for the fences.
In 1937, they hit a home run with the passage of the Pittman-Robertson Act, as hunters voluntarily imposed a tax on themselves for the sale of firearms, ammunition, bows and arrows. The proceeds would be earmarked for the managing of wildlife across the country – for everyone. Since then, hunters have raised more than $13.6 billion, including $679 million in 2020. When you figure in licenses and fees, hunters currently pay more than $1.6 billion annually to the conservation cause. Distribution of excise tax funds is through the U.S. Fish and Wildlife Service, based on hunting license sales for each state.
Organizations began to form for specific species, focusing on regulations, habitat and fundraising. Groups like Ducks Unlimited and Delta Waterfowl helped turn things around for ducks and geese. Today, those bird numbers are over 40 million. A big contributor to the waterfowl causes early on was the creation of the Federal Migratory Bird Stamp in 1934, adding more money paid for by hunters for conservation.
National Wild Turkey Federation is a key group that has led to the resurgence of these popular colorful birds. Today, their numbers are more than 6 million.
The Rocky Mountain Elk Foundation has chapters across the country and there are now more than 1 million animals in the U.S. thanks to their efforts.
Because of groups like Whitetails Unlimited, Quality Deer Management Association and the National Deer Association, whitetail deer populations now number over 30 million.
As a result of the hard work by hunters and natural resource agencies, pronghorn antelope numbers have increased to more than 1.1 million.
The same kind of passion for fishing started happening in the 20th century. In 1950, the Federal Aid in Sport Fish Restoration was passed, calling for excise taxes on certain items of sport fishing tackle, a 3% excise tax on fish finders and electric trolling motors, import duties on fishing tackle, yachts and pleasure craft, interest on the account,  and a portion of motorboat fuel tax revenues and small engine fuel taxes authorized under the Internal Revenue Code. This is often called the Dingell-Johnson or Wallop-Breaux Act.
Money collected through this process must be used for the acquisition and improvement of sport fish habitat, stocking of fish, research into fishery resource problems, surveys and inventories of sport fish populations, and the acquisition and development of access facilities for public use. Distribution is based on fishing license sales within each state, again through the U.S. Fish and Wildlife Service.
Here in the Empire State, 2018 numbers showed that hunting licenses generated nearly $22 million, and brought in an additional $21 million in Pittman-Robertson funds, ranking 14th in the country as far as totals for the year. However, historical funding totals as of 2018 shows that New York ranks eighth overall with $755.6 million in license sales and $306.3 million P-R funding.
Fishing license sales in 2018 were nearly $22 million in 2018, generating almost $8 million in excise tax funds. Those numbers are 11th and 14th on the national ranking scale. From a historical perspective, the $654 million in licenses ranks ninth and the D-J/W-B funds of nearly $225 million was eighth.
This helps tell the real story of hunters and anglers and why there is NHF Day.
Some local gatherings will help explain the role that sportsmen and sportswomen play in conservation, including events in Erie and Niagara counties.
In Erie County, the ECFSC will hold a public event from 10 a.m. to 4 p.m. Sept. 25 at the Elma Conservation Club, 600 Creek Road, Elma. If you want to see why this is a big deal, go talk to clubs and agencies that will be in attendance.
"This family friendly and free event offers something for everyone, including hands-on experience with archery, crossbow, air rifle and trap shooting," says Davenport, one of the organizers with the ECFSC. "We also have informational seminars on big game hunting, walleye fishing, retriever dog demonstrations, and Tick and Lyme disease exposure prevention."
There also will be outdoors photography tips from Jim Monteleone, wildlife rehabilitation with Messinger Woods, trapping and fur handling demonstrations, firearms safety, invasive species education and a booth manned by the state's Department of Environmental Conservation to answer questions and distribute literature.
In Niagara County, the NHF Day celebration is part of the two-day Wildlife Festival hosted by the New York Power Authority and co-sponsored by the Niagara County Federation of Conservation Clubs. Slated for Sept. 25-26 at the NYPA Power Vista located at 5777 Lewiston Road, Lewiston, the free event will be open from 10 a.m. to 5 p.m. each day.
"Many of our local clubs will offer hands-on activities such as crossbow, archery, the Niagara River Anglers fishing pond and more," said Chris Schotz, president of the NCFCC. "It is also an opportunity to find out more about hunting, fishing or a particular club you may want to join."
Take the family to a NHF Day event and share in the celebration of a golden time for hunters and anglers. They deserve it.