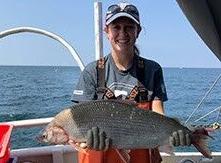 The new year will continue to have a huge focus on the outdoors. New things are happening, existing programs are expanding, and it's an exciting time if we can hold Covid-19 at bay.
One thing is for sure: Spending time outdoors is one of the safest places you can be with options for hunting, fishing, hiking, birding and more.
As we gaze into our crystal ball, this is what we see for 2022 moving forward.
The Great Lakes of New York continue to be a shining beacon of hope in the fishing world, and anglers have learned to adapt to an ever-changing ecosystem. Lake Ontario is on the rebound again and in April, 100,000 additional Chinook salmon are scheduled to be stocked – 50,000 from New York and 50,000 from the Province of Ontario – the first increase in more than five years. Look for some or all these fish to be stocked through the successful pen rearing projects that are an important part of the state's salmon and trout fisheries management program.
It is important to understand how our Great Lakes are managed. For the pen rearing programs, every salmon is now stocked in the pens in New York waters except for the Salmon River releases from the hatchery. By using the pens, the salmon can grow to a larger size, increasing survival rates by better than two to one. In addition, it helps imprint the salmon to the waters where they are being stocked. That should help with more consistent staging when they return to spawn.
While the salmon come from the Salmon River Fish Hatchery, each of the projects is run by volunteers. One of the proactive groups at the west end of Lake Ontario is the Lake Ontario Trout and Salmon Association (lotsa1.org). Cost of a membership is $10. Members of the group help with the pen projects in Youngstown, Wilson, Olcott and Point Breeze at the Oak. Timing is everything, and let's keep our fingers crossed the water doesn't warm itself too quickly in the spring due to a mild winter. The lake was still at 40 degrees on the eve of a new year.
While warmer water could be a concern in the spring for stocking, a mild winter is a positive when it comes to the forage base. Look for another successful hatch of alewife in 2022, thanks to those warmer waters. Hopefully the spring trawls conducted by the Department of Environmental Conservation and the U.S. Geological Survey will show another huge class of 2021 baitfish in April … and even more in 2023.
Over in Lake Erie, the Lake Erie Fisheries Research Unit out of Dunkirk completed its annual gillnet assessment for the warm water fish community in September. The three most targeted species in the lake – walleye, yellow perch and smallmouth bass – had highlights that appear favorable for the future.
For walleye, biologists found a solid year class of juvenile walleyes (age-1) and yellow perch (age-2). They could both contribute to the fishery in 2022. Young of the year (age-0) walleye, yellow perch and smallmouth bass appeared to have good hatching success in 2021. Since the species are not stocked, these localized successes are important moving forward. And they are all building off several strong year classes in the last decade.
In the coldwater fish community, large lake trout (some weighing more than 22 pounds) continue to be a highlight for Erie anglers. If you are looking for trophy-size lake trout of more than 10 pounds on a regular basis, this is as good a spot as any with a focus on the waters from Barcelona to Dunkirk. However, another positive note was a bit of a surprise. Lake whitefish populations are increasing. One fish that was netted and captured was larger than 11 pounds, bigger than the existing state record by more than one-half pound.
Overall, Lake Erie is still an amazing resource for walleye, perch and bass. When DEC's final report for 2021 comes out, it will probably show that angling effort was down in the main lake based on the creel census conducted annually. It should be on the rise. Education is one of the keys to turn that around.
One way to do that is through the Greater Niagara Fishing and Outdoor Expo, the "Teaching Fishing" Show to be held at the Conference and Event Center Niagara Falls Feb. 17-20. In 2020, the last year the show was held, more than 200 seminars were held on a wide variety of angling topics and techniques. For 2022, even more are on the list. One of the best salmon schools in the Great Lakes that is scheduled for Feb. 19 is already sold out and the new walleye school is halfway there. There is more of an emphasis on fly fishing, a super kids clinic to teach junior fishermen and their parents how to get started on Sunday (you must preregister), and beginner classes for kayak fishing, walleye, salmon, bass and more.
Keynote speakers such as Mark and Jake Romanack of the Fishing 411 TV Show, Lance Valentine with "Teachin' Fishin' " (formerly Walleye 101), steelhead guru Roger Hinchcliff, fly fishing master George Daniels and a long list of local experts lead the way to make you a better fisherman. The DEC Open House returns to allow you to meet the fish biologists and managers behind the scenes. Check out niagarafishingexpo.com for more information.
The WNY Sport and Travel Expo is also slated to kick off March 10-13 at the Erie County Fairgrounds in Hamburg and is scheduled to be another good one. To find out more information, check out eriepromotions.com/wny-sport-show/. It is co-sponsored by the Southtowns Walleye Association, another good group to belong to (southtownswalleye.com).
There was a big increase in junior hunting licenses in 2021, jumping from more than 11,000 in 2020 to more than 17,000 in 2021, thanks to new legislation that allowed for 12- and 13-year-olds to hunt with a firearm during the deer season while accompanied by a licensed adult (except in Erie and Rockland counties). Let's make an even stronger push in 2022 for getting the next generation outdoors for big game hunting.
While crossbows were added to the list of hunting implements for 12- and 13-year-old hunters, crossbows were not added for any expansion of the big game season during the early archery season for adults. It was also hoped the specifications on what a legal crossbow is would be more relaxed. With the help of the NY Crossbow Coalition, look for 2022 to be another hard push to expand their usage during all big game hunting seasons.
The new fishing regulations proposals that would take place in 2022 are up for public comment by Feb. 6. To see a list of all the changes, check out dec.ny.gov/outdoor/124258.html. Comments should be submitted via email to regulations.fish@dec.ny.gov  with the subject line "Fishing Regulations Proposal Comments" or via mail to the Inland Fisheries Section, NYSDEC, 625 Broadway, Albany, NY 12233-4753.
Here's wishing everyone a happy and safe New Year.