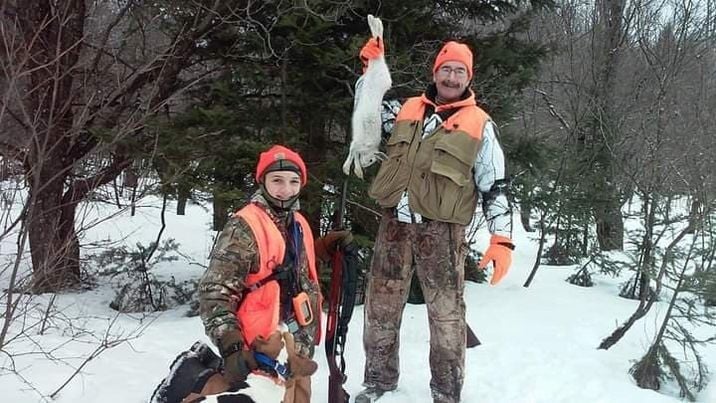 Chasing rabbits and hares with beagles has a long and storied history in the Northeast. As with most outdoor activities, unless you have been exposed to them, you simply do not know what you are missing. There is nothing like the baying of beagles on a fresh rabbit or hare scent, a sound that is music to the ears of an "old beagler."
John Jarzynski of Lawtons is one such "old beagler."
A retired English teacher from Gowanda Central School, Jarzynski grew up hunting with beagles in Western New York. He fell in love not only with the dogs, but also with an outdoor pastime of chasing snowshoe hares and cottontail rabbits. Along the way, he has had many stories to tell.
To help preserve those stories for the next generation, Jarzynski has written a book called "Tally Ho: Confessions of an Old Beagler." It can be found on Amazon.
"I wrote the book because I was worried that, like a lot of old stories, I was going to lose them," he said. "Some had been published in magazines but those were eventually discarded so it was important for my boys to have these memories. I am flattered that others seem to enjoy my stories in the book."
"I also wanted to let others know about beagling. It began in the late 19th century and continues today."
Jarzynski enjoys writing about his passion and has written for Hounds and Hunting as well as American Beagler magazines.
Every outdoors enthusiast has heard of "Deer Camp." Many of us grew up experiencing the camaraderie of chasing white-tailed deer and the opening of the regular big-game season. However, Jarzynski takes us into a entirely different world of "Rabbit Camp," an experience in which the participants are every bit as passionate about their outdoor adventures and the stories are just as entertaining. And much of it starts with the dogs.
Jarzynski's hare hunting adventures often take him to northern New York into the Adirondack Region and one favorite spot is the Tug Hill Plateau. He spends most of January and February chasing cottontail rabbits around Western New York. His boys enjoy it, too.
The book brought back memories to me of taking a road trip to the Tug Hill Plateau area when I was 20-something. Good friend Dennis Morris of Youngstown extended an invite after several Niagara County hunts chasing cottontails with his two beagles. It was a pleasure to hear the baying of the beagles chase their quarry until they circled back around and gave us an opportunity to put them in our sights. The Adirondack hunt chasing snowshoe hares was an entirely different experience. The first thing I discovered was how fast hares are when being pursued by a beagle. My first attempt resulted in a solid miss.
When hunting seasons end, Jarzynski and his like-minded beaglers turn to field trials to continue with the camaraderie and, of course, share their hunting stories. As vice president of the Northeast Beagle Gundog Federation, Jarzynski helps to oversee a group of 40 or more beagle clubs from Pennsylvania to Maine.
Western New York has three active clubs: Java Village Beagle Club near Warsaw, Pioneer Beagle Club in Leroy and Enchanted Mountain Beagle Club in Olean. The Enchanted Mountain field trial is scheduled for May 1-2 in Olean. The federation championship is at Presque Isle Beagle Club in Pennsylvania on June 4-6. The full schedule is available at NEBGF.com. 
It makes sense that "beaglers" turn to field trials to extend their seasons even longer. The first American Kennel Club beagle field trial was held by a group called the National Beagle Club in Hyannis, Mass., on Nov. 4, 1990. It has blossomed from there.
The Northeast federation focuses on field trials, as Jarzynski explains. Gundog Brace is a trial in which is dogs are run in braces. Large Pack is run on hares. In that type of trial, all the dogs run in one pack and must run a minimum of three hours. The most common type of trial is Small Pack Option. Beagles are placed in packs of five to seven hounds to simulate a hunting experience. Most field trials are held in large, fenced-in wooded pens where rabbits run wild. Some pens are 60 to 70 acres.
The goal is to find the best hunting dogs, so clubs try to make the trials as huntinglike as possible. Each pack is shot over to make sure dogs are not gun-shy. Beagles are pack hounds and need to work cohesively with each other. Dogs that are too competitive or that bark offline are eliminated. Two judges follow closely behind each pack aided by a marshal who assists the judges in picking up dogs or finding a rabbit. Rabbits are not harvested in field trials. In fact, they are treasured by clubs.
"Some say that you should be able to throw a blanket over an ideal pack of hounds," Jarzynski said. "The key here for judges is to select the best hunting beagle that day because these best dogs are the stock we will use in breeding the next group of hunting beagles. Beagles in a pack should work together, but when one falters or goes offline, the next hound should be able to continue the line. Beagles who run off game (deer or fox) are demerited because nothing ruins a good day of rabbit hunting like a deer chase.
"Dogs are credited with searching and finding rabbits. Rabbits are not put out ahead of time. It is designed to be as natural as possible on purpose."
Jarzynski has turned to social media to promote his sport. He is an administrator of a Facebook group called Beaglers.
"Like a lot of clubs and organizations, it is difficult to find young people to get involved," Jarzynski said. "The NEBGF sponsors the Eastern Junior Beaglers, a group that gets young people interested in the sport. Close to 100 kids are currently involved right now but we always need new blood."
If you would like to compete in one of the field trials, your dogs must be AKC registered.
"We need to promote our sport, or it will die," Jarzynski said. "I would say that it might be wise for people to watch a field trial first before they enter their favorite couch-sitting beagle in an event. The public is more than welcome to attend.
"I was lucky enough to have a family that gave me the opportunity to raise beagles and hunt. We need to help offer young people opportunities to be around beagles and watch them do what they were bred to do."
The Enchanted Mountain Beagle Club field trial will take place May 1-2 at 2600 Oakes Road, Olean. For more information contact Ben Giles at 585-610-9679.