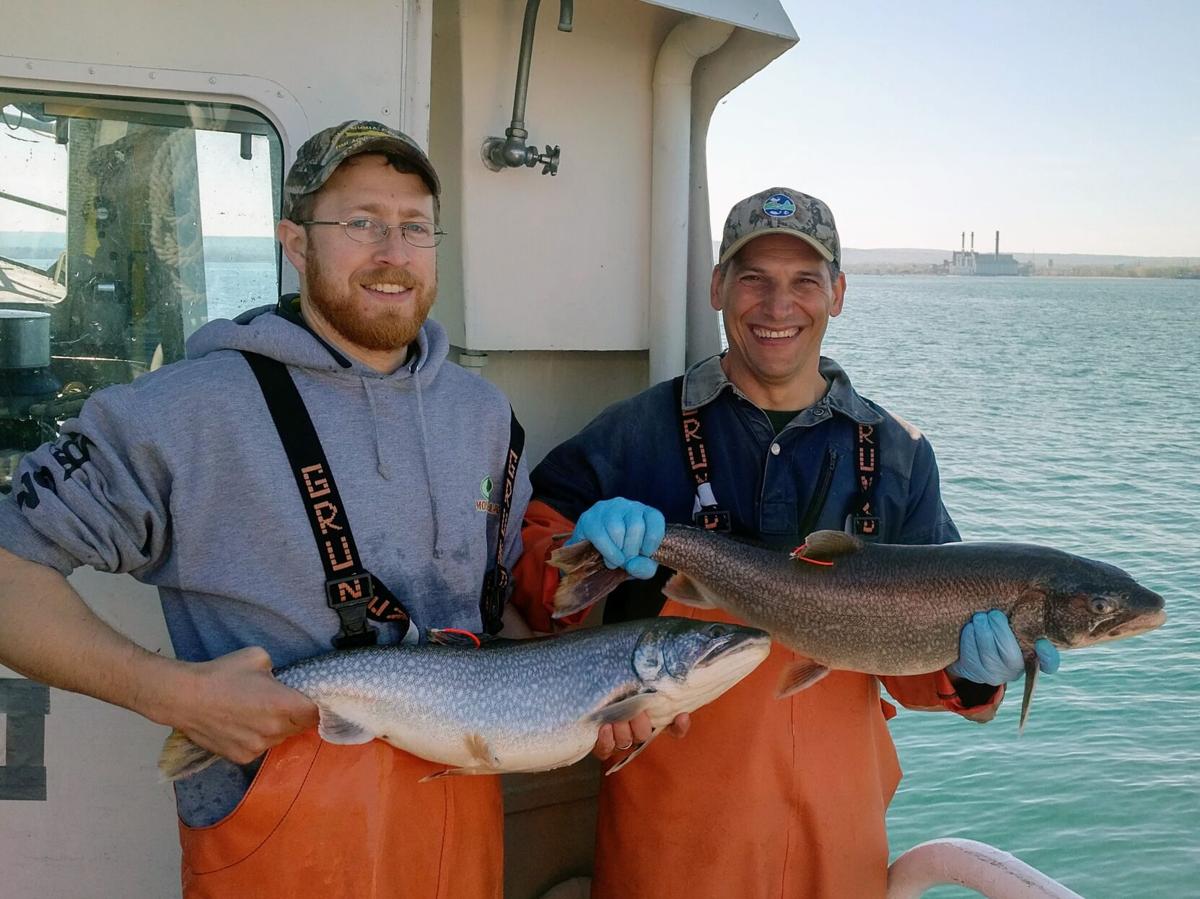 Finally, after 60 years, lake trout are successfully spawning in Lake Erie.
In a major announcement within the world of fishing, the state's Department of Environmental Conservation has documented the natural reproduction of lake trout in this Great Lake.
"Today marks a key milestone in the restoration of lake trout in Lake Erie after six decades of significant investments to improve water quality and habitat and promote sound fisheries management," DEC Commissioner Basil Seggos said in a news release. "This phenomenal Great Lakes story of recovery is a testament to the perseverance of the researchers and biologists from DEC and partner agencies who worked tirelessly to help restore this fishery."  
Hats off to the Lake Erie Fisheries Research Unit, along with its partners, the U.S. Geological Survey, U.S. Fish and Wildlife Service, Pennsylvania Fish and Boat Commission, Ontario Ministry of Natural Resources, the Great Lakes Acoustic Telemetry Observation System, and the Great Lakes Fishery Commision. It certainly takes a village of agencies to make something like this happen.
It happened on May 14. Fisheries biologists from the Lake Erie Unit collected recently hatched lake trout fry from a rock reef 5 miles west of Barcelona Harbor. Fry traps had been put into specific areas thanks to some acoustic telemetry work on lakers that had identified potential spawning sites in the eastern basin of the lake. The work paid off.
Lake trout were once the top predator in Lake Erie. Commercial fishing for these fish began in the late 1700s and in less than 100 years, the population had significantly declined. The commercial fishery was nearly eliminated by the 1930s, and any signs of lake trout were gone by 1965. Efforts to restore lake trout began in 1982, with annual stockings with USFWS in conjunction with DEC and PFBC. Another key was the GLFC initiating sea lamprey controls in the lake, a parasite that feeds on salmonids such as lake trout.
"A lot of exciting things are happening with lake trout restoration on Lake Erie," said James Markham, fisheries biologist who heads up the cold-water section for the Lake Erie Unit. "The adult stock represented by lake trout age-5 and older remains steady and at our rehabilitation targets. This stability allows us to begin moving into the next phase of rehabilitation – looking for early life-stages (eggs, fry, juveniles)."
Check off eggs and fry. So, what is next in the process to evaluate and enhance natural reproduction?
"We have evidence of successful natural reproduction up to the fry life stage, which is certainly a huge success," Lake Erie Unit Leader Dr. Jason Robinson said. "However, we are not seeing measurable numbers of wild adults yet. Lake trout fry face a long list of dangers over several years before they make it to maturity, so we are still a long way from declaring victory."
"The next steps are to begin to focus on early life stage monitoring and habitat evaluation."
Robinson noted that leads to another series of questions:
How many fry are really being produced and are any making it to the juvenile or adult life stages? 
• Is this reproduction happening in multiple areas?  "We already know there are areas of similar habitat where adults are congregating during spawning time, including some promising areas in Pennsylvania waters," he said, "but we don't yet know if those areas are producing wild fry." 
• What is the extent of the quality spawning habitat we possess in New York waters? "We are working with our partners over the next several years to use research grade side scan sonar to assess the quality and extent of these spawning habitats," he said.
• Would habitat restoration or enhancement benefit lake trout rehabilitation?
Fisheries biologists will continue to keep their eyes on the prize involving natural reproduction.
"Even though the discovery of wild fry is a restoration milestone, large numbers of wild adults would have to be present for us to seriously consider changing our management plan," Markham said. "It is likely that we will be operating under our current lake trout plan for the foreseeable future."
The big program that helped to aid in the discovery of the lake trout fry was the acoustic telemetry program that identified the prime spawning areas. Will the program continue or be expanded?
"The tags that led us to discover these spawning areas have served their purpose and are near the end of their expected battery life," Robinson said. "As we continue to assess the potential for habitat improvement or restoration, we may decide to deploy additional acoustic tags and receivers. Now that we know we have wild fry we are going to be more focused on the egg, fry, and juvenile life stages. Tagging is usually not the best option for studying these smaller life stages."
When asked if this will this create additional emphasis on the lake trout stocking program and possibly result in more stockings in specific areas where spawning areas have been identified, Robinson said:
"Probably not. We have been stocking offshore and letting the lake trout decide where they want to spawn. Sticking to this plan is what led us to this success, and we now know that there are large numbers of stocked adults finding and using the available spawning habitat and having success."  
Markham said a new Lake Trout Rehabilitation Plan will be completed in 2021 and will guide rehabilitation efforts in the near future. He said lake trout stocking continues to remain steady in Lake Erie, with around 200,000 to 250,000 yearlings stocked annually.
"While lakers continue to be the 'stand-by' species for offshore walleye charters and trollers, there is also an increase in targeted effort during late Fall when they move into shallower waters," Markham said. "It seems like more anglers are starting to realize that we have a top-notch trophy lake trout fishery in the New York waters of Lake Erie."