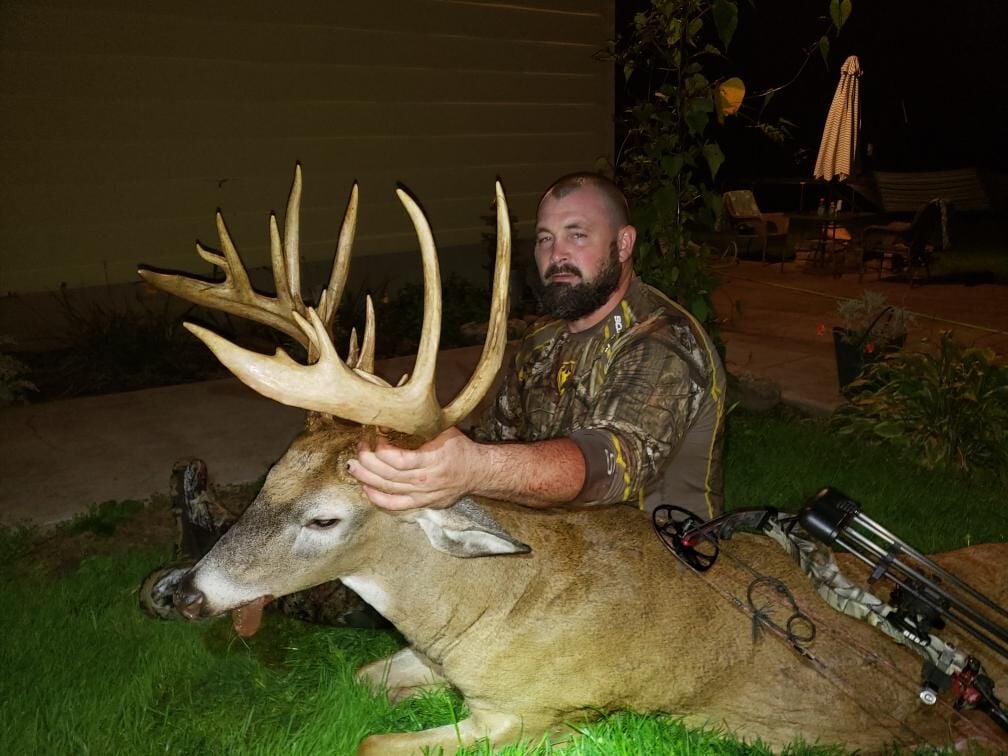 Scott McQueen of Gasport is the latest bowhunter to connect with a massive once-in-a-lifetime buck, tagging a spectacular 17-point Hartland deer earlier this month in eastern Niagara County.
The deer field-dressed at 226 pounds, with a green gross nontypical score of 184-5 and a net of 173-2 inches. Don Haseley, an official scorer from Sanborn, was at the tape verifying the initial antler size, but needs to wait 60 days for an official measurement.
While it doesn't match the state archery record for nontypical antlers that Phillip Pless of Newfane set last year in Niagara County (his was an 18-point monster with a gross score of 221-3 and a net of 214-2 inches), the McQueen buck is still impressive.
After helping family move a large estate most of a hot and muggy day on Oct. 10, McQueen made a last-minute decision to hunt the last 1½ hours. He had some incentives. On Sept. 30, he pulled the card on his trail camera and saw a photo of this big buck. He knew it was around, having watched it grow up the last couple of years through photo evidence. On Oct. 6, corn cutting started in the area. With more than half of his cover gone, would the big guy appear? And, a few days earlier, he witnessed some pre-rut activity. Out he went to sit in his stand.
"I would never have expected what happened next to occur so early in the season," said McQueen. "As two does fed in front of me, a smaller doe came scurrying out of the brush. She was bleating and her tail was tucked. I heard a grunt and a growl, and there he was, in pursuit of her. They passed me at about 50 yards at a trot and continued.
"As they reached about a hundred yards, I decided to give a few loud grunts from my tube. Immediately, he stopped, turning back toward me, and growled back. He couldn't see the two does that had been feeding this time because there was a hill, and they were on opposite sides. Then I grunted aggressively, and he continued to respond with grunts and growls. He seemed to startle the doe; however, she saw the other two does and continued in my direction.
"I got ready to shoot a 40-yard shot from my tree stand, which I'm comfortable with because I practice at that distance and farther. I executed the 40-yard compound bow shot and watched him run about 100 yards and drop."
It was 10 minutes after sunset, legal this year with regulations changes.
McQueen is no stranger to big deer. He has taken four 130-inch class bucks with his bow, and five more 130- to 150-inch class bucks with his muzzleloader over the years, but nothing of this class. This was a personal best by far.
"As I looked at the photos of myself with my son, I thought about the many years spent in the outdoors with my father, learning to hunt with a compound and recurve bow, and starting out hunting back when I could never have imagined taking a buck like this. About 12 years ago, as I grew and became more skilled, I made the decision to 'let 'em go and let 'em grow.' This buck, to me, represents the outcome of the years of hard work and dedication; and many, many sacrifices made along the way."
Western New York has long been known for its trophy whitetail deer, sporting massive antlers and large bodies. The Roosevelt Lucky buck from 1939 came from Allegany County in the Southern Tier and the 14-point gross score was 221-5 and netted 198-2 for the typical rack taken with a gun. Second place is still a Niagara County bruiser, an 11-pointer that Reuben Haseley connected with in 1987. It gross scored at 197-6 and netted 191-0 inches.
In the nontypical gun category, Homer Boylan took an impressive Allegany County buck the same year as the Lucky buck – a 26-pointer that gross scored 254-7 and netted 244-2. What is interesting is that in 1987, Richard Newman tagged a Niagara County buck that gross scored 221-1 and netted 209-6 inches as a nontypical. It was taken just a few miles from the Haseley buck in the same year. Newman's buck is seventh on the big buck gun list for nontypicals.
The No. 1 nontypical muzzleloader buck was shot by Keith LeVick in Niagara County in 2007. It is a 22-point mass of bone that gross scored 231-2 with a net score of 221-1. The No. 2 and No. 3 typical racks taken with a bow are both Niagara County bucks. Salvatore Alessandra took a 12-point that scored 175-4 inches (2006). Jeff Morris harvested an 11-point that grossed 190-0 and netted 175-0 (1984). The No. 3 nontypical buck taken with a bow is a Grand Island buck (Erie County) killed by Mark Surdi, a 17-pointer that gross scored 217-3 and netted 205-1.
"The Lake Plains of Western NY have superior soils which helps deer get to heavier body weights and sport large antlers," insists Ryan Rockefeller, big game biologist for DEC's Region 9. "The key is to look at where agriculture exists. In the century past, agriculture was much more prevalent in every corner of New York because of a more subsistence form of living. However, over the past century, the shifting culture has caused the abandonment of less productive agricultural grounds.
"As farming practices become more efficient, it is likely that this 'culling' of agricultural land will continue. If one were to drive from the Pennsylvania line, north toward Lake Ontario, you would see a slow but steady increase in the proportion of land in agricultural production. This almost always follows the same gradient as soil fertility."
The Lake Plains, especially the more northern portions of Western New York, have another advantage that helps deer grow bigger and sport large antlers: the lack of snow.
"In many years, large portions of Niagara and Orleans counties receive considerably less snow accumulation on an annual basis than areas to the south," says Rockefeller. "Less snow helps deer over-winter much easier. When deer can come out of winter in better shape, they are ahead of the curve."
Habitat and age are both important when it comes to big deer.
"Habitat is directly related to soils and nutrients, but there is another component we might want to consider," Rockefeller said. "Because the Lake Plains has a plethora of agriculture, it also has a plethora of 'edge habitat.' Deer are a species that thrives on the edges of different habitat types. Hedgerows, drainage ditches intermingled with forest blocks is the perfect recipe for deer to thrive for two primary reasons.
"For one, edges tend to provide more food. Yes, a large corn or soybean field looks great for deer nutrition during the growing season, but what about during the winter when these fields are nothing but barren ground? Deer turn to woody browse during the winter months which they find in ample amounts along edges. Second, deer need cover from both human and natural predators. Edge habitat tends to be thicker, providing deer with this cover."
Putting some years on helps, too.
"Age is probably the most important ingredient in the big buck recipe," Rockefeller said. "There's nothing like seeing a large-racked mature buck coming into range. 'Mature' is the key word here. Over the past several decades, hunters have been tending towards passing on younger bucks. NYSDEC's recent campaign to encourage hunters to voluntarily 'Let Young Bucks Go and Watch Them Grow' has definitely helped as the proportion of harvested bucks is slowly growing older."