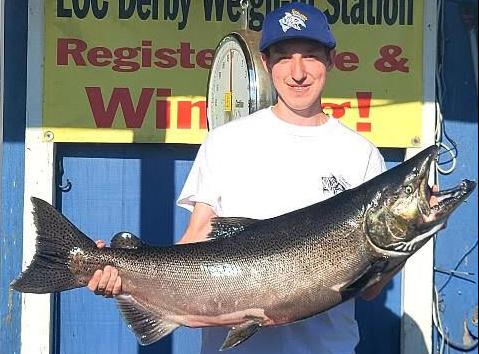 Every autumn for 18 days, from the middle of August to Labor Day, salmon anglers from around the country are plying the waters of Lake Ontario looking for the biggest Chinook salmon for that timeframe.
Whoever brings the heaviest king to the scales at designated weigh stations along New York's southern shore will receive a check for $25,000. Is it fate or chance? Is it simply someone being in the right place at the right time to earn their 15 minutes of fame? Of course, we will never know for sure, but it makes you realize – as we often say –you must be in it to win it.
The Fall Lake Ontario Counties Trout and Salmon Derby was held Aug. 20 to Sept. 6 this year, giving participants a shot at nearly $70,000 in cash prizes. The focus is on the mighty king salmon as mature fish reach their peak weight before they succumb to their natural urge to return "home" and spawn. This year's grand-prize winner was Zane Smith, 19, of New Brighton, Pa., weighing in a 32-pound, 4-ounce salmon while fishing out of Olcott.
It was an odd set of circumstances that put him there in the first place. It started last year when he graduated from the Freedom (Pa.) Area High School. His father, Jamey, bought him a Lake Ontario fishing charter as a graduation present and they were scheduled to go, until hurricane complications forced the cancellation. They rescheduled, but Zane broke his wrist, so they went back to the calendar. They decided on Aug. 31 with Capt. Kurt Driscoll of Newfane aboard the Stalker, a 34-foot Chris Craft. It was Zane's first fishing trip on Lake Ontario.
As they headed out of Olcott in the morning, Driscoll had a tip from a fellow charter captain that he should start a couple of miles west of Wilson and troll northwest. Driscoll did just that and set down in 60 foot, pointing his boat northwest. His mate, Craig Heitzenrater, of Barker, started to put out rods with flasher setups rigged with their custom herring fillets soaked in Pro Cure herring oil. It wasn't long before the port-side diver started screaming out line and Zane was the first person on the rod.
"He fought the fish perfectly," Driscoll said at the awards ceremony at Capt. Jack's in Sodus Bay on Labor Day. "He never yanked the rod or horsed the fish to the boat. When we finally netted the fish, the hook popped right out 25 minutes later." They knew it was a big fish and decided to head to the Boat Doctors in Olcott to hit the weigh station at the 9 a.m. scale opening. After all, it was Karen Evarts at the Boat Doctors who had given Driscoll a lucky penny before the day began.
The younger Smith still seemed to be in shock at his winning catch. When asked if he had any plans for the money, he said: "I'll probably just buy another dirt bike." Dad was hoping for a boat.
First place in the Salmon Division was Theresa Hoodley of Pottstown, Pa., with a 32-pound, 2-ounce king salmon she caught Aug. 23 while fishing out of Olcott with her brother, Al Bodolus, of Athens, Pa. She won $5,000 plus an additional check of $500 for fish of the day.
Not knowing where to go when they headed out of port, they decided to run their 25-foot Wellcraft named "Fatty" out to 500 feet of water where they had success earlier in the summer. The waves were a little rough and Hoodley soon became seasick. However, she didn't want to give up that easily.
One rod was a wire diver set back 271 feet on a No. 2.5 setting, pulling a cut bait rig she and her brother designed, outfitted with Familiar Bite. A little after 11 a.m., the big king salmon hit their offering and started to scream out line. Hoodley was on the rod, alternating between reeling and getting sick over the side of the boat. It was 45 minutes before they finally netted her biggest salmon ever, and then they were off to the races to weigh in.
Larry Wills, of Lewiston, won second-place salmon with a 31-pound, 11-ounce king from the Niagara Bar. Fourth-place salmon was Blake White, 13, of Lancaster, with a 30-pound, 9-ounce Olcott fish, also winning the youth award. Both were caught Sept. 4.
In the Rainbow/Steelhead Division, a planned fun day on the water fishing out of Olcott that culminated with an exciting turn of events. Karen Mang, of East Concord, was simply going fishing with some friends, including Nancy and Stuart Bantle, of Delevan; Bill Schaffer, of Grand Island; and Dan Owens, of Farmersville. It was Owens' boat, named "Relentless." When they found out there was a derby going on, they all entered. It was Mang's first derby and first time on Lake Ontario.
They set out rods and one of them was using a Church Stern Planer in the prop wash of the boat. The lure was 45 feet down over 150 feet of water using a Moonshine spoon.
"It was very exciting to reel in this fish," Mang said. "It came out of the water three times, and it took me 20 minutes to bring it in." It was the only fish she caught for the day, and she earned a check for $3,000 with her first-place win and big fish of the day with one-day carryover.
Second place was also caught off the shores of Niagara County when Mike Leising, of East Amherst, fishing with his father, Roy, of East Amherst, were trolling off Wilson in their Sport Craft 232. They discovered  the inside water was cold after a northeast blow, so the duo decided to run offshore to 300 feet of water. As they headed toward the Niagara River, using 10 colors of lead core line with a Warrior Magnum "Steelhead Candy" spoon attached, they had their first hit – an 11-pound, 14-ounce steelhead that Roy reeled in. It would eventually place eighth.
Back the lure went into the water and almost immediately the rod went off again and this time it was Mike's turn to reel it in. Twenty minutes later, he had a personal best 15-pound, 5-ounce steelhead.
In the Brown Trout Division, Gary Cregan, of Rochester, and Dave Maliszewsky, of West Henrietta, were fishing the derby together, as they always do, alternating every two days with each other's boat. This time it was Gary's "Giganticus," a 17-foot Lund, and they were trolling in 130 feet of water between Point Breeze and Bald Eagle with a 600-foot copper line rigged with a Carbon 14 Moonshine spoon.
"We were fishing for kings," Cregan said. "When the rod went off, we thought we had a small salmon. But it kept burrowing down deep. We didn't realize it was as big as it was."
It's not their first visit to the winner's circle. They combined for first-place brown trout in 2015, but that time it was out of Dave's boat.
Fate or chance? You decide.