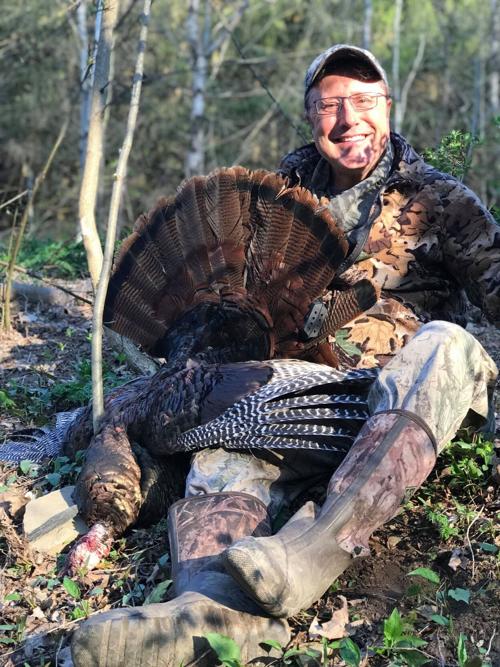 Spring turkey hunting season is around the corner, with the regular season beginning May 1. The special spring youth weekend for junior hunters ages 12 to 15 is the weekend before, April 24-25.
Some preparation needs to take place before the actual hunt, especially if your No. 1 goal is to mentor a youth or to assist in the education of someone new to the sport. That is particularly true this year as an increased number of hunters are expected to be in the woods due to Covid-19.
"It doesn't start the day of the hunt, especially if it is a junior hunter that is new to the sport," said Arnie Jonathan of Lockport, a Quaker Boy Game Calls Pro Staffer and guide. "Get them prepared for the youth weekend and get them involved with scouting and other aspects of the hunt. Listen to the gobblers at sunrise prior to the hunt; watch the fields at dusk. Find out where the birds are before you head into the woods with your firearm."
Some other tips from Jonathan:
• Involve youth hunters in picking out camouflage clothing such as boots, gloves and face masks, and make sure everything is a fit.
• Spray their clothes down with permethrin to help keep the ticks off.
• Make sure they have a comfortable seat when in the woods or use a pop-up blind to help conceal any movement.
• Go through all the different scenarios with them, especially because video can be used as a learning tool. Remember the video is not the important part; safety and hitting your target is.
Mike Mettler, of the Town of Niagara, is another passionate turkey hunter who always takes out a member or two of the next generation for the youth hunting weekend.
"I always make sure my youth hunter is comfortable with his or her gun," Mettler said. "I make sure they shoot it beforehand and make sure the pattern is decent. Seeing a bird run away on a 12-year-old kid because of the equipment is the worst feeling ever."
Like Jonathan, Mettler also recommends scouting and planning.
"Take a ride to the area you plan on hunting and look for some birds in the fields," he said. "In the morning, use an owl call or a coyote howler. This will usually trigger a gobble. I like to look at a map on Google Earth to help with our hunt plan, looking at the lay of the land to help with our approach to how and where we are going to hunt."
For sighting the gun in prior to the season, Lewiston's Ernie Calandrelli, another Quaker Boy Pro Staffer, likes to make more of a game of it. "I used to hang clay pigeons from the branches of the trees about head high for a turkey when I first started training my son, Nick," said Calandrelli, who was in Mississippi on a turkey hunt. "You would see the clay target explode and you knew you were successful. It was fun for me and my kid. I would also use the cheapest low brass shells I could find, with the least amount of recoil."
As far as sighting in – on a target or on a bird once the season starts – one of the easiest sight pictures for a junior hunter is the "red dot." Calandrelli said this is a great way to get started. Also, pick up some shooting sticks to help steady the gun and make things easier on a youngster.
"The most important thing you can do for new hunters, outside of the safety aspects, is to hear a turkey gobble," Calandrelli said. "Once you hear a wild turkey gobble, especially up close and personal, it will make the hair stand up on the back of your neck. It is a sound that you will remember for the rest of your life. This is a bird that is responding to your calls.
"When that large, bearded tom starts to strut in front of you, you are hooked for life. It doesn't even matter if you have connected on a bird or not."
Tim Andrus of Barker, host of "Rush Outdoors" TV show, said he was a terrible caller in his early years.
"Once I was able to get a bird to respond, I stopped calling," he said. "I believe it helped me to tag more birds. When a turkey gobbles to your call, he knows exactly where you are. Less is more with calling, in my opinion."
Andrus also believes that the early hunter does not always tag the bird.
"I have harvested more birds between 10 a.m. and noon than in the early morning," Andrus said. "I have also taken more birds later in the season when the hens are on the nest."
Andrus is also not a fan of calling birds before the season opens either. In doing so, he believes you are educating those turkeys to specific calls.
We mentioned safety earlier and this is the foundation for all hunting opportunities, but especially turkey hunting. Hunters are covered in complete camouflage, making sounds of a bird that hunters are attempting to call in.
Some common-sense safety tips:
• Never shoot at sound or movement.
• Always identify your target before you take your safety off and think about pulling the trigger. Look beyond your target.
• Find a large tree as a back support. It will help protect you.
• Be careful what colors you wear, such as red, white, or blue – colors that can be found on a male bird.
• Never try to stalk a turkey.
• If you do encounter another hunter in the woods, do not make any sudden movements. Do make a statement by saying "STOP" to the other hunter or hunters who might be coming through.
"The whole process is not about shooting a bird," Jonathan said. "It is about the time spent with your mentor, be it a dad, grandfather, uncle or mom. It gives a youth much-needed respect of the time outdoors and what must be accomplished to bring a turkey into range. This is the total experience.
"Let the junior hunter practice calling and play with the calls. Watch videos with them and try to mimic what they see. Make it fun. It is quality time afield with a loved one, memories that can never be taken away. And if they start getting bored, call it a day. Go for lunch or breakfast.
"Leave it on a high note so that they want to return another day."