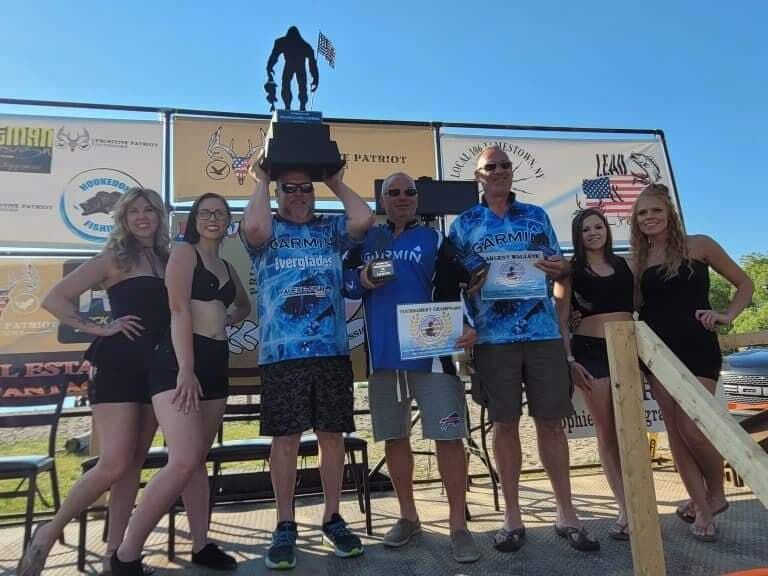 It was a tale of two tournaments, involving plenty of tails. They were at opposite ends of the geographic spectrum in Western New York, one in Wilson and Olcott in Niagara County, offering a playing field of Lake Ontario, and the other out of Barcelona in Chautauqua County, focused on Lake Erie.
The Lake Ontario Pro-Am Salmon and Trout Team Tournament, celebrating its 36th year, is the grandfather of fishing contests for the lake. The WNY Walleye Classic was an inaugural event and the first tournament to be held out of Barcelona.
Both were held the same weekend, with some similarities and some differences.
"After missing the 2020 tournament due to Covid, it was nice to see the amateur division grow this year and I hope it continues," said Pro-Am tournament director Penny Hartman, noting the event would not have been possible without competitors, sponsors and volunteers. "Every year we try to improve the tournament and make it better for both divisions. I am looking forward to next year and hopefully increasing both divisions. If anyone has any suggestions to improve either division, I am very open-minded to listen and improve."
As with every Pro-Am event, a pre-fish contest allows teams (and even those not fishing the tournament) to compete on a friendly level and raise some money for a good cause, while remembering a few individuals held in high regard in the community.
The Don Johannes/Pete DeAngelo Memorial three-fish/Big Fish event was held June 3.
For the three-fish contest, the Royal Flush team, led by Robert Schneider of Massachusetts, took top honors with a total of 82.20 points (based on 10 points per fish and a point per pound). Biggest fish for the day was a 22-pound king salmon reeled in by Triple J, led by Nate Stephenson of Wilson. A donation was made to Niagara Hospice, with a total of 21 boats competing.
For the main Pro-Am event Friday and Saturday, 22 boats were in the professional division and 25 in the amateur division. Again, scoring was based on 10 points per fish and a point per pound. For the Pros, it is a combined total of two days of fishing and the first 12 fish caught each day based on tournament standards must be kept. For the amateurs, it was five fish, but culling is allowed. The same measurement standards are used, and each day was an individual tournament.
After the first day of action, Oh Baby, led by Matt LeClair of Plattsburgh, set the pace in the pro division, with a score of 200.94 points, sporting a limit of 12 fish. Not far behind were The Legacy team, led by Capt. Rob Westcott of Hamlin (196.25 points), and Yankee Troller, headed up by Capt. Rich Hajecki of Webster (189.56 points). Fourth was Reel Mania and Capt. Mark Lewandowski of Grand Island with 188.55 points, followed by Team Thrillseeker and Capt. Vince Pierleoni of Newfane with 184.13 points. When you consider a five-pound fish was worth 15 points, the race was tight going into the second day.
"We were feeling pretty good going into the second day," Hajecki said.
He should have been. Hajecki managed to pull another limit of tournament fish and score 226.3 to complete his quest for another victory with a total of 415.86 points and a check for $11,000. Runner-up was Reel Mania, with a score 399.21 points. Remember that name. Third place was 5 More Minutes and Tony Chatt of West Monroe with 373.11 points and fourth was Oh Baby with 372.91. Fifth place was The Legacy team with 368.48 points.
In the amateur division, Hound Dog and James Spinelli of Wellsville was the winner on Day 1 with 118.44 points. On Day 2, CopperSteel, led by Steve Olay of Ransomville, had 113.16 points for the victory. The overall winner for the two days was Hound Dog.
"We fished the same general area both days off the Niagara Bar in 300 feet of water and it worked for us," said Spinelli, who has won the amateur class twice in three years.
Olay focused off Olcott in 200 feet of water and fell into a pocket of fish. "We caught nine fish in the first half-hour and then pulled a couple big ones near the end of legal fishing time," he said.
Nearly 100 miles away, the WNY Walleye Classic offered a Big Fish Friday on June 4 and Chuck Pohlman of Deerfield, Fla., and the Catch the Best Charters team came through with an 11.05-pound walleye to blow away the competition. Second place was a distant 9.22 pounds.
However, the main event was set for Saturday, June 5 … until the winds blew hard and forced a Small Craft Advisory on Lake Erie. The tournament was pushed to Sunday, putting everyone on a level playing field. Or so everyone thought.
Randy Jaroszewski of Hamburg and his Ice Breaker team (Ron Kozub of Hamburg and Bill Curtin of Orchard Park) found a pocket of fish in 35 to 45 feet of water east of Barcelona, pulling Bay Rat lures as part of a shallow water program they would use in the spring. The team would not elaborate further because the big Southtowns Walleye Association Derby already underway, an event that Jaroszewski has previously won.
"It's the first 40-plus pound six-fish total in the last three years that I am aware of," Jaroszewski said.
The winning weight was 45.63 pounds and included the big fish for the day, a 9.52-pound walleye. They won a check for $5,000.
Runner-up was Reel Mania and Capt. Mark Lewandowski of Buffalo, the father of the Pro-Am runner up captain. Two teams named Reel Mania with captains with the same name, 100 miles apart the same weekend and both runners-up in their respective events. What are the chances? Their big fish was 9.50 pounds, but their catch was 12.5 pounds behind the winners with a weight of 33.13 pounds.
Third place was Jeff Bognar of Grand Island and the Nick's Sporting Goods team with 31.08 pounds. Fourth place went to Bud Marsh and the Crazy Eyes team with 28.36 pounds, and fifth was Kyle Kokanovich and the Ship of Fools with 27.35 pounds of 'eyes.
"We wanted to do something out of Barcelona because there is nothing really there to bring in revenue to the community," said Josh Larsen, of Primitive Patriot Outdoors, host for the tournament. "We do a big buck contest in the fall, so we decided to expand and do something with fishing."
With 42 teams in the kickoff event, they exceeded their expectations. 
This weekend is the start of the Southtowns Walleye Derby on Lake Erie that runs through June 20 and the Orleans County Open on Lake Ontario on Saturday and Sunday. Things are slowly getting back to normal.