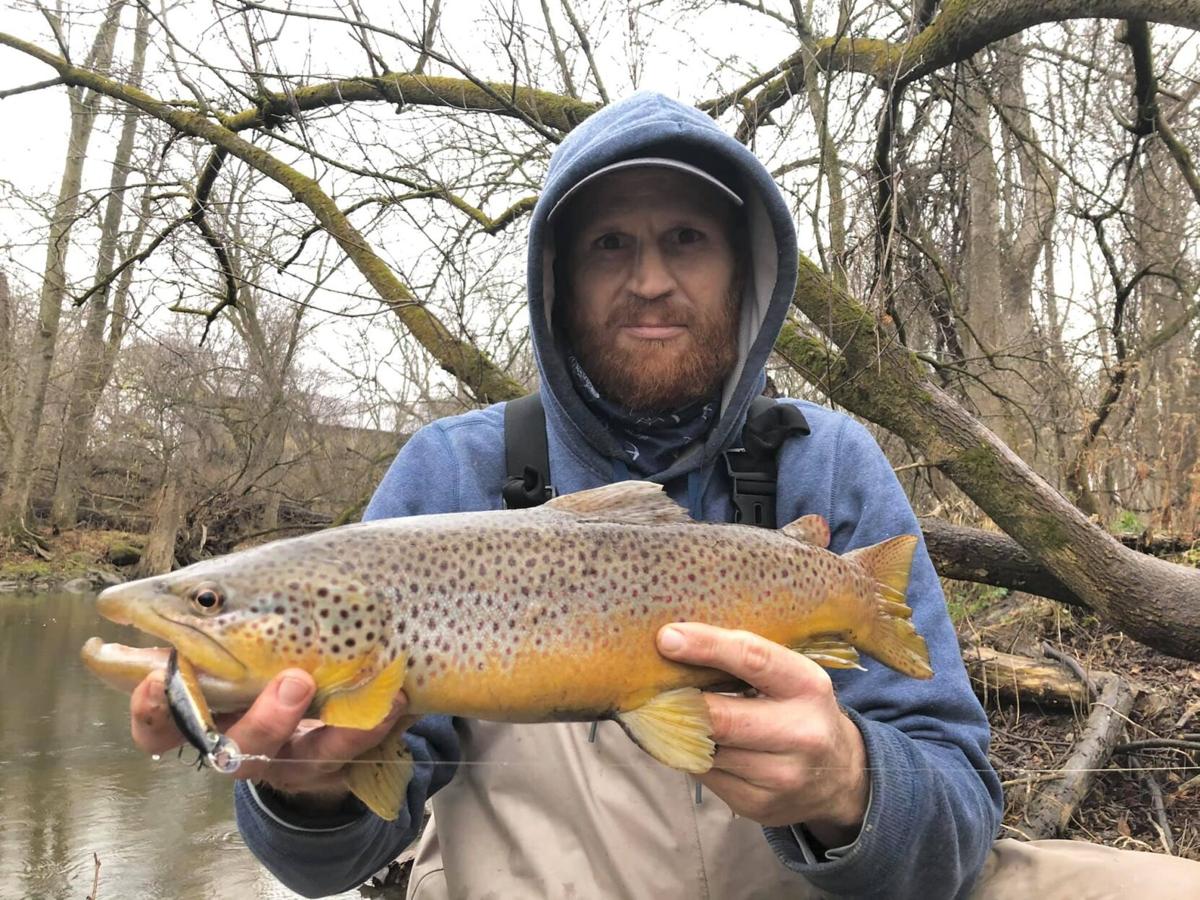 Wade Rowcliffe of Rochester is addicted to fishing. He will go wherever he needs to go and do whatever he needs to do to catch fish.
One of his favorite methods for fishing inland streams, Great Lakes tributaries and even large rivers such as the Genesee, is to cast a stickbait. And his favorite target species is the brown trout, but he is not averse to catching other types of fish.
"Fishing has always been a big part of my life, my outlet, my escape," said Rowcliffe, who grew up fishing Oatka Creek. "I always loved the problem side of fishing, figuring things out. After I broke my neck playing football for the University of New Hampshire, I turned to fishing for therapy."
He recalls the time he caught four species in Oatka Creek the same day.
"The Oatka became my testing grounds as a kid, fishing all the time with my brother Vic," he said. "We fished just about every day from age 6 to 16. We would cast stickbaits, our own personal favorites, and it seemed like whoever tied the best knot that day would catch the most fish."
The best knot? Rowcliffe is a student of the "stick," and he learned over time that it was all about the flash his plastic or wood-crafted baits would give off to attract a strike. What knot they tied to the lure on any given day seemed to make a difference when it came to who's lure would provide the most attraction to the fish via "flash," especially when the lure was being retrieved slowly back.
"I would use a Trilene knot and Vic would use a Rapala knot," he said. "Believe it or not, sometimes one knot worked better than the other. Of course, the lures also come into play, too. We each had our favorites through the years. My go-to lure for inland streams is a Yo-Zuri Pins Minnow 2.75 inches long in a 'Baby Brook' pattern if the water is clear. If it is stained and high, I will go with a 3.5-inch size Pins Minnow. I love Challenger baits and I have also been using Bay Rat and Smithwick Rogue lures.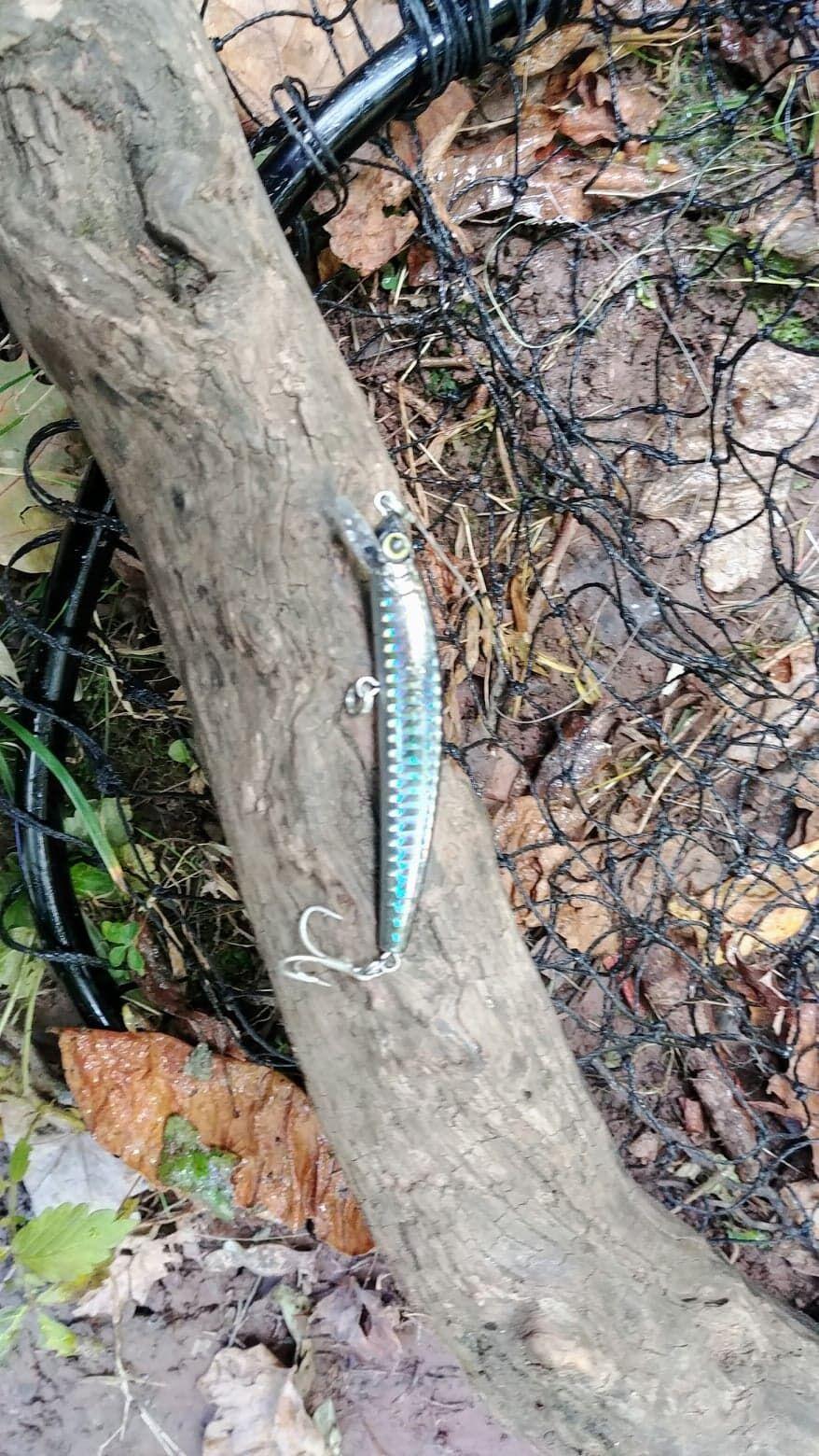 "For me, the Yo-Zuri lures and the Crystal Minnow pattern really changed the game, adding ball bearings to the inside of some with plenty of good flash on the outside."
He said for big fish his best manufactured lure is the Smithwick Rogue, especially the big Elite 10 size, up to 6 inches, to attract big brown trout and walleye off the piers. For pike, he recommends the Emerald Shiner pattern.
Rowcliffe loves catching brown trout, especially big fish, and he is constantly experimenting with bigger stickbaits when targeting large browns.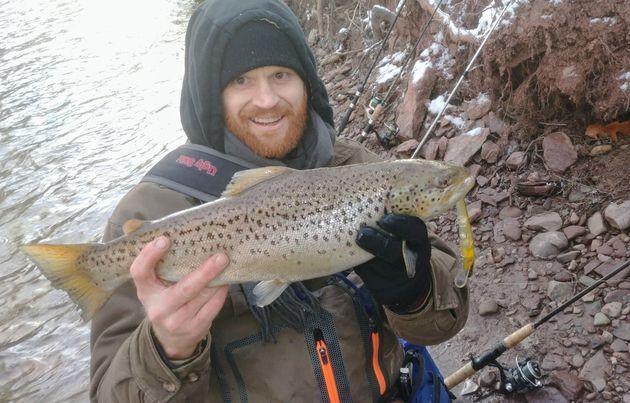 "I have yet to use a bait big enough where I don't catch fish," Rowcliffe said. "I might sacrifice some numbers overall, but the average size of the fish I catch is much bigger overall with bigger lures."
Like the old adage goes, use a big lure for catching a big fish.
"I have found that brown trout are very aggressive fish," he said. "They will make reaction strikes when they see the flash. They will also chase down a bait after it swims by. They put up a great fight on relatively light gear.
"One time I was fishing the Oak Orchard River and I ran into some fly fishermen who had been striking out for the morning. They told me not to bother. I pulled out a large green-color Challenger stickbait and caught two 10-pound brown trout on back-to-back casts. I could get my lure to the bottom where the fish were hanging out that day and the fly guys couldn't get their flies into the fish zone on this particular day.
"The bigger lures also let me fish them slower. If the current is strong, it can push the smaller lure too fast or even make it erratic while a heavier lure will be able to dig deeper and handle the extra push because of its weight. But you still must cast at an angle upstream and that is why I take the front treble hook off all my stickbaits. The current pushes your line into the front hook, plus I like to work the lower (back) hook off the bottom, if possible. Not having the front hook makes it a lot easier to retrieve without getting snagged."
It starts with the proper equipment. Rowcliffe is a spinning outfit master. That is what he has cut his teeth on growing up and he knows how it works. His fishing rod is more medium action to give him some hook-setting power, but he also wants a little flexibility on the tip. Just not too much flexibility.
"I need to be able to feel my lure working," he said. "That's one of the reasons I use braided line quite a bit. I can feel the lure hitting rocks on the bottom. I can feel the action of the lure. I can feel when something is not right, like when I have some weeds or a small stick I may have snagged."
For his approach to casting, if you are facing upstream or upriver, he will cast out at about a 10 o'clock angle. "The angle of the cast is important, but there is no exact way of doing it," he said. "Over time you will get a feel for it, what works and what doesn't."
Learning to read the water is also important and there are times when stickbaits work the best for the type of fishing he enjoys. The first two things Rowcliffe looks at is depth of the water (how high or low it might be based on recent rains or snowmelt) and the water clarity itself.
If the water is clear, he likes to go when it is snowing or raining. It helps to diffuse the light under those clear conditions. He will use a smaller lure. This is also a time when colors are a bit more important, preferring to use more natural colors like green, green and black or something like Yo-Zuri's Baby Brook or Brown Trout patterns.
"More important than lure color is the presentation of your bait," Rowcliffe said. "Sure, I have some favorite colors when the water is stained blue, gold and black, black and blue, and black and silver for a variety of species, but the lure must look natural. It needs to appear to be an injured baitfish. Make sure your lure is working correctly. The current in any given stream can really influence how the lure will work. You have to adjust your retrieve accordingly.
"I adjust my retrieve on every cast based on how it feels. You are trying to find that sweet spot. I can sometimes tell when I am going to get a hit by how the lure is working. Never fight against the current. Give your lure a few jerks to get it to the bottom and let it float up, again simulating an injured baitfish. You may need to mend your line a bit to allow you to be ready to set the hook should you get a hit."
Bottom line is that experience on the water is the No. 1 way to increase your chances for catching fish with stickbaits. However, this will get you started. Get on the stick for something different.