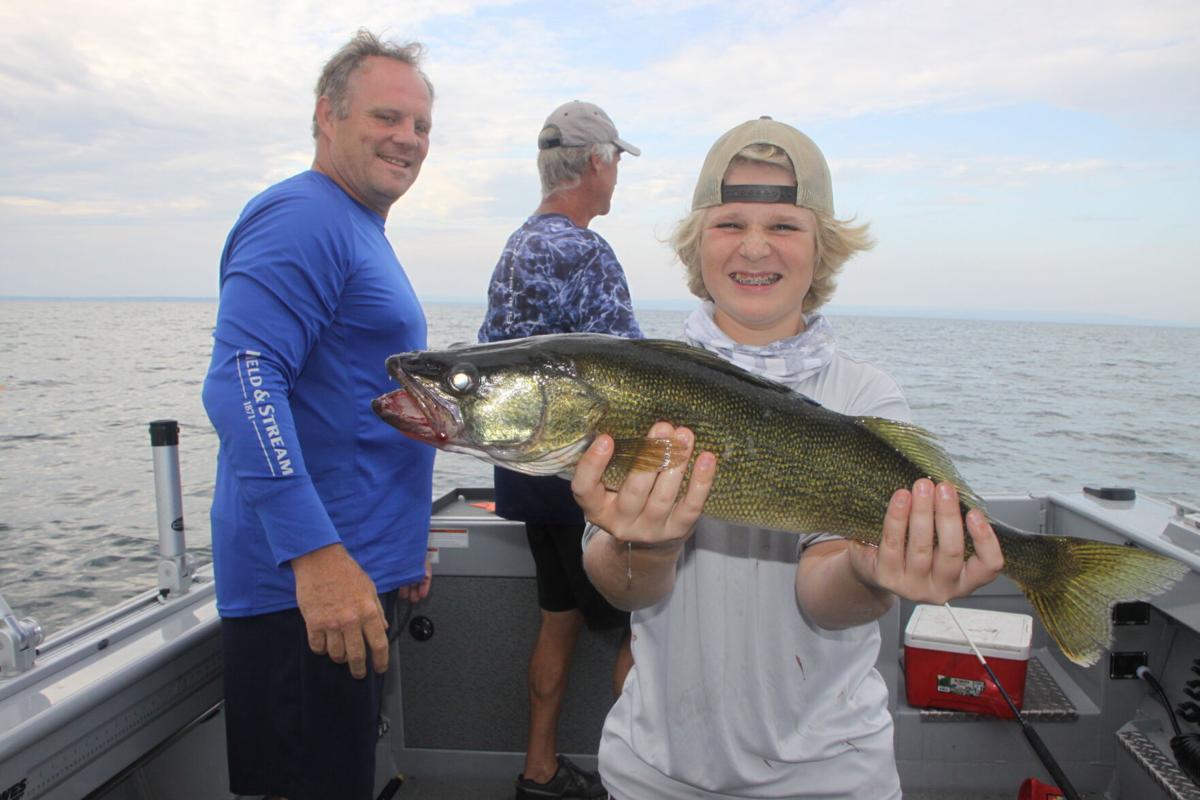 Lake Erie walleye tournaments have become an important part of this Great Lake's angling culture.
When Mark Mohr of Springville invited me to be part of his "team," I was excited. On top of that, rounding out the team would be not one but two Rob Rays, father and son, from East Amherst.
I have previously fished and hunted with the former Buffalo Sabres enforcer, but I had not met his 12-year-old son, Robert, let alone fish with him. We would all be fishing the Innovative Outdoors Walleye Challenge out of Dunkirk on Aug. 21 and our team would be "Baby Razor." Of course, young Robert would be the team captain.
Strategy is key for tournament fishing. While catching a big fish is a plus for the final result, consistently getting bigger fish is the path to victory. The Innovative Outdoors contest is a six-fish tournament and the minimum size walleye allowed were 22 inches. You might not think a 22-inch fish would be hard to come by with 100 million walleyes in the lake, but there are other factors that come into play when you are on the water.
With the opening of Canadian waters earlier this month, decisions need to be made prior to the shotgun start of the competition. For example, Team Erie Obsession led by Adam Zwack of Lakeview, made the decision to run 27 miles one way and fish the Tecumseh Reef in Ontario waters. Would it be worth the run? Time would tell.
Playing the weather into the decision-making process is critical, too. Will it be windy? Will there be thunderstorms or other weather concerns? What we faced was a lack of weather. Limited wind can hurt the fishing because walleyes are light-sensitive fish. In the heat of midday, a small walleye chop on the surface can do wonders to diffuse the light and allow for fish to be more at ease. The lake was flat. And it was hot and uncomfortable for the anglers.
Other strategies that come into play is how well you prepare by pre-fishing, allowing you to rule out certain areas that might be void of fish or focus on areas that have been productive. Mohr worked his 24-foot Hewes all week before the tournament and he seemed confident that we could pull the fish we needed between Sturgeon Point and Dunkirk. A Canadian run would not be needed.
Another important piece to the tournament puzzle is your network of angling buddies. The tournament was open communications so that means you can talk to whoever you want, whenever you want. However, no matter what the information is, you still must do your part to put fish in the boat.
This was my first walleye tournament. It was Robert's first, too. His first official contest was the Southtowns Walleye Association Derby last June, but that one is a big fish event.
We arrived at Mohr's boat at 5:45 a.m. That was when we found out there was a shotgun start at 7 a.m. And so we waited.
We blasted off outside the breakwalls at Dunkirk Harbor at 7 a.m. sharp when the air horn sounded. Boats were heading out in different directions to spots that had been predetermined by the team. We were headed to the Sturgeon Point area where Mohr had discovered fish in 71 to 76 feet of water. Using a mix of stickbaits and worm harnesses, we ran rods outfitted with lead core line. Robby selected a purple Renosky stickbait to run off one rod and it turned out to be one of the most productive lures of the day. Yaleye Mooneye Minnows were also a personal favorite lure of Mohr's, and they caught fish, too. Worm harnesses produced their share of fish, too.
Catching fish was not the issue. We caught plenty of walleyes and young Robby did a great job reeling most of them in. However, finding fish bigger than the 22-inch mark, that was a different story. Over the course of the day, we managed to catch seven walleyes larger than the tournament minimum and every one of them were nearly the same size. We needed six.
Paying attention to your electronics and monitoring your speed is also critical for success. Best speed for us was 1.9 mph to 2.2 mph. When things slowed in late morning, we pulled all the lines and bottom bounced an area off Cattaraugus Creek to try to get some fish to hit. We rigged worm harnesses off 3-way rigs and did just that, bounced the bottom and dragged the harnesses to trigger a strike. The plan was a good one, but it didn't work out the way we had hoped.
Our final tactic was to focus on an area where Mohr had caught some respectable fish a few days before. He had six fish that weighed in around 37 pounds. If we had those fish on this day, we would have won the tournament. It wasn't meant to be. At least we were competitive, and everyone had a great time.
At the end of the day, we had our six legal fish, and checked in before the 3:30 p.m. cutoff. Not knowing what everyone else had was part of the fun.
As we docked the boat and unloaded our gear, it was a pleasure to watch the elder Ray work the crowd in the marinas and at the weigh-in site. Many wanted their pictures taken with him; fellow anglers wanted to shake his hand. He goes out of his way to say hello and mingle. Ray is an ambassador for not only the Sabres, but for the outdoor community as an avid hunter and fisherman. "Baby Razor" is following in his footsteps and his future appears bright, too. The seventh grader at St. Greg's plays hockey and loves the outdoors, just like dad.
In the end, Team Erie Obsession won the contest with 32.84 pounds of walleyes for six fish. The gamble into Canadian waters worked – this time. Second place went to John Lignos of Orchard Park and his Current Obsession team with 31.97 pounds, fishing between Dunkirk and Cattaraugus Creek – where we were. Sometimes you get the fish, sometimes the fish gets you. We ended up with just less than 25 pounds for our six fish. We finished in 26th place out of 54 teams, but that means we did beat 28 other teams for a first-time effort.