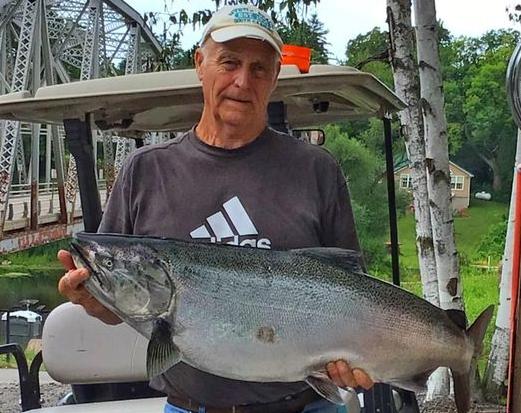 The Summer Lake Ontario Counties Trout, Salmon and Walleye Derby was held June 26 through July 25, and the winning fish tales are always interesting. They range from youngsters fishing with family and friends to senior citizens taking a leisurely cruise on the lake … all while fishing for the grand-prize catch. You just never know when opportunity will come knocking.
In a reversal of the spring contest in which a junior angler beat out the old man of the sea, Michael Paddock, 74 years young from Albion, came out on top – an "old man's revenge" of sorts.
As his story goes, he was fishing with his wife, Charlotte, his partner both on and off the water, on a beautiful day on July 13. They were trolling west of their Point Breeze port about 11 miles in their 25-foot Pro-Line named Aquarius. Mike rigs the lines and Charlotte steers the boat. With not another boat in sight, Charlotte picked up a book to read, occasionally looking up but letting the boat go wherever it wanted.
Meanwhile, Mike was messing around with his fishing program in the back. He had a 300-foot copper line out only 200 feet, rigged with a Pro Troll flasher he won in the Fish Odyssey Derby last year, adorned with cut bait.
"It was dead calm on the lake, and it was super hot," an excited Paddock said at the awards ceremony in Sodus Point. "The flies were biting, too. Suddenly, the big king salmon hit and started to scream out copper. I knew it was a good one. I had to get Charlotte to turn the boat around before we ran out of line."
Forty-five minutes later, they had their grand-prize winner in the boat, a 31-pound, 7-ounce salmon.
"Charlotte did an excellent netting job and with driving the boat," he said.
For their win, they earned a check for $10,000 for the grand prize, $1,000 for the biggest salmon for the week, and $750 for the largest salmon caught by a Lake Ontario Trout and Salmon Association member.
Runner-up, and first place in the Salmon Division, was 13-year-old Aiden Stafford of Rochester with a 30-pound, 6-ounce king salmon he caught while fishing out of Point Breeze with Capt. Chris Vogt of Albion. Also on board Vogt's 10-meter Trojan "U Betcha" were Suzanne Stafford, Sue Koch and Todd Crooks of Rochester.
They were about 2 miles east of port trolling west on July 18. The downrigger was set at 68 feet with a Moonshine Carbon-14 spoon over 120 feet of water. The big fish hit at 8:30 a.m., and 20 minutes later Aiden had his second youth trophy in as many years. This time, though, he was able to bring home a check for $1,000 for first place and $1,000 for the big fish of the week.
Second-place salmon in the division was Joshua Milleville of Lockport with a 29-pound, 10-ounce Olcott king. It was his first LOC Derby and said it was the first salmon he has ever caught.
He was fishing with his father, Andrew, and friends Jesse Snyder and Snyder's 9-year-old son, Henry, from Gasport aboard Snyder's 20-foot Robalo named "Knot Farming." On July 1, they were fishing straight out of Olcott in 250 feet of water. At 8:15 a.m., using a black and silver Dreamweaver spoon with a glow eye 50 feet down on the rigger, the early grand prize leader showed up. It only took the younger Milleville 10 minutes to bring the fish to the back of the boat.
"The salmon barely fit in the net," he said.  
In the Brown Trout Division, John Gordon of Rochester was top dog with a personal-best 19-pound, 15-ounce lunker. He was fishing in only his second LOC Derby, but it was with veteran Capt. Kip Mammano of Rochestersportfishing.com.
Fishing with Allen Salkic and Brandon Angora of Greece, as well as Chris Duma of Irondequoit, they headed west one mile out of Braddock Bay in Capt. Kip's 27-foot Crestliner on July 10.  One of the lures was a Moonshine Carbon-14 spoon, set 24 feet down on the rigger in 25 feet of water after the lake had flipped. When Gordon fought the fish, it jumped 4 feet out of the water to add to the excitement. Twenty minutes later, he had what was ultimately the winning brown trout, earning $1,000 for first and $500 for brown of the week.
In the Lake Trout Division, Hope Starling of St. Petersburg, Fla., earned first-place honors with a personal-best 23-pound, 11-ounce fish she caught July 11 in the Oswego Pro-Am Salmon Team Tournament. She was part of the Custom Deluxe Team that included Capt. Jason Vendetti of Pompey; his father, David, of Fayetteville; Justin Vendetti of St. Petersburg; and Christina Nadeau of Vermont.
Fishing out of Vendetti's 29-foot Black Fin, they were trolling off Stoney Point with a 400-foot copper line with a Michigan Stinger UV Frog spoon trailing. At 8 a.m. over 120 feet of water, they hooked up with the big laker. It took Starling more than 45 minutes to reel the fish in. They also lost a salmon at the same time, which would have helped their tournament status.
For the new Walleye Division, Bert Lickers of Niagara Falls caught a personal-best 10-pound, 10-ounce 'eye to lead the way. He was fishing the Niagara Bar with Pat and Richard Barber of Niagara Falls aboard their 18-foot Crestliner named "Killer B's."
On July 5, Lickers was bouncing bottom with a 3-way rig that was loaded with a homemade worm harness with gold blades in 40 feet of water.
"It was supposed to be the last drift of the day," Lickers said. "Of course, after we caught that fish, we had to take one more to see if his brother was around."
He won $1,000 for first place and $1,000 for a roll-over for big walleye of the week.
The Big One is next – the Fall LOC Derby set for Aug. 20 to Sept. 6. Grand prize for the largest salmon is $25,000. Nearly $70,000 in cash will be up for grabs in the 18-day event. Check out loc.org for details and for a complete leaderboard for the summer derby.
Keep in mind that at least three fish of more than 30 pounds were caught, but the anglers were not registered in the summer derby – properly or at all. You must be in it to win it.