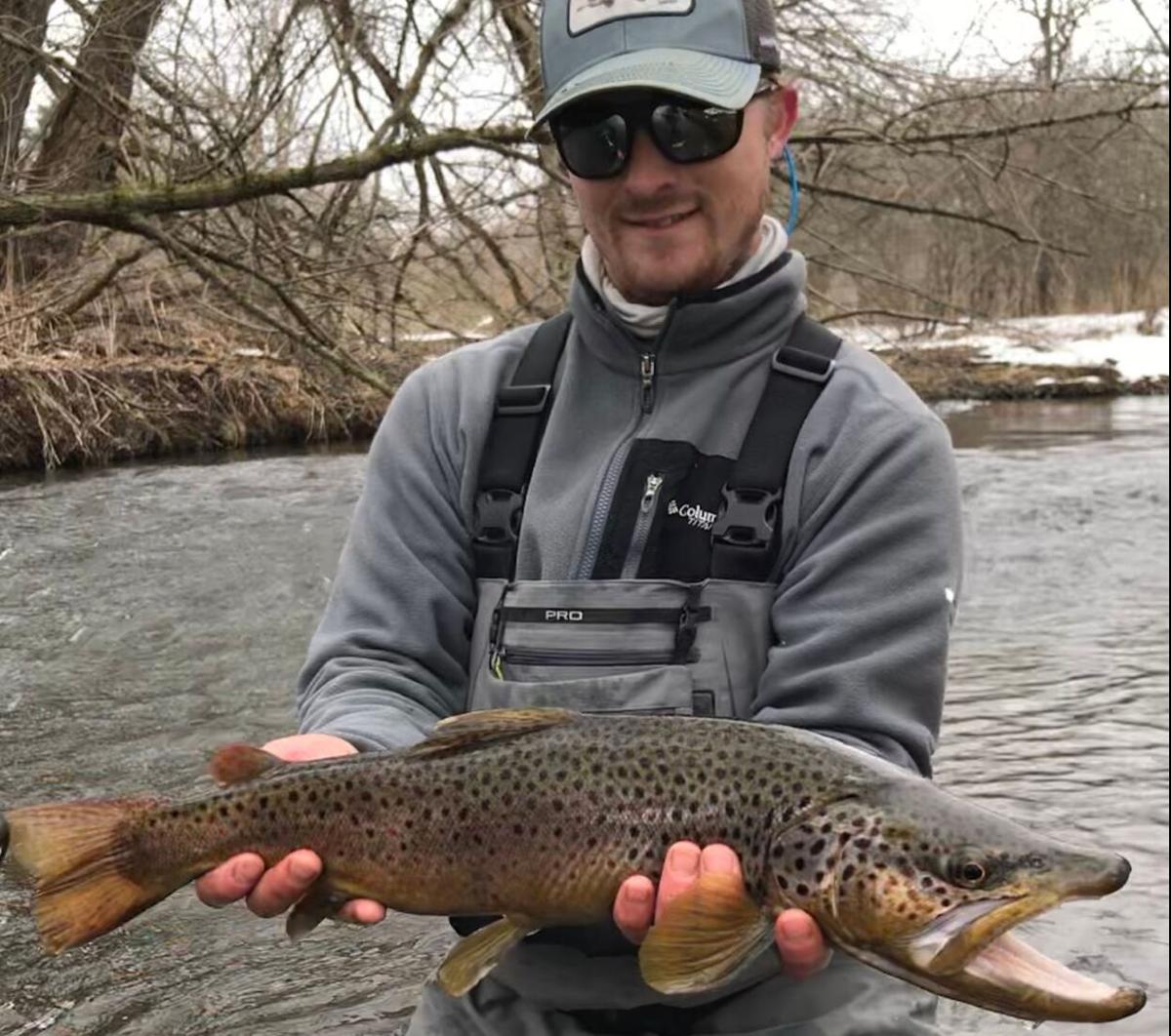 Inland trout stream anglers received an early Christmas present this year when new regulations went into effect that would allow catch-and-release fishing with artificial lures only. 
The new winter regulations – the first substantial change in more than 40 years – have generated quite a bit of excitement in the angling community, creating more opportunity throughout the state.
"This is a change that has been welcomed by many in our area, as it will help spread anglers out on variety of waters," reflects local guide Nicholas Sagnibene of Ellicottville. "Before this year, there were only a select few trout streams open throughout the winter.
"Creeks like the Upper Cattaraugus, Elton and McKinstry were some of the more popular stretches visited by anglers throughout this period because of special regulations that keep them open. At times, the parking lots would be full of fisherman on warm winter days."
However, these new regulations haven't come without their concerns, though, mainly from other areas of the state with bigger rivers and higher percentages of naturally reproducing, wild trout streams.
"Here in Western New York, we have a plethora of small, cold, clean wild trout waters," says Sagnibene, operator of 716 Fly Fishing (nick@716flyfishing.com). "Many of these are wild brown trout streams, and given the right conditions, have brown trout successfully spawning in November and December.
"At first thought, it might not make sense to some to open all state trout stream waters to fishing during this time of year. Why allow people to potentially walk over trout redds (spawning areas) while simultaneously allowing them to fish to them while spawning? Before these new regulations went into effect, our winter angler to stream ratio wasn't great, meaning every time someone wanted to inland trout fish from Oct. 15 to April 1, they were restricted to a select few streams every time.
"With the new regulations opening countless new stocked and wild trout streams, this will potentially help mitigate traffic and damage to the previously few open streams."
Sagnibene pointed out two examples of high-quality wild trout streams in Cattaraugus County: McKinstry Creek and Lime Lake Outlet.
"Historically on these small waters, you could expect to see anglers fishing during good winter conditions," he said. "The carrying capacity (fish per mile) of these streams is high due to their cold spring influences, abundance of food and excellent spawning gravel. With these streams being small and available during the winter season in the past, they undoubtedly have endured negative effects from anglers. Issues like walking through the water and stepping on gravel spawning areas, harassing spawning fish, and overall human pressure can limit the reproductive success.
"A consensus among fishermen is that spreading out the angling pressure through the fall and winter months will create more opportunities for successful spawning on wild trout waters like Elton Creek, McKinstry Creek and Lime Lake Outlet."
Of course, while fishing any trout water during the winter months, you should always be aware of where you're walking, especially on wild trout streams.
"If you are looking to explore, be aware many of our wild trout waters are on private lands," Sagnibene said. "The region's hunting seasons are now overlapping the winter fishing season, so asking permission to enter some waters is more important than ever."
It's also important to keep safety in mind and wear fluorescent orange or pink when walking the streams.
This new season will be studied by anglers and biologists to see the impact the regulations will bring in the future. DEC will continue to do summer shocking surveys to track growth, populations and habitat changes in 2022.
"As an angler and conservationist, it will be exciting to see the results of these new regulation changes and expect it to be beneficial on many fronts," Sagnibene said.
Scott Cornett, Region 9 Fisheries Biologist for DEC, agreed: "There really is no downside to this, nor is this groundbreaking fisheries management. Many other states have had no closed trout seasons for decades and no negative effects on their trout populations have been observed. This regulation has been in effect for over 15 years on many of our best wild trout streams in DEC Regions 8 and 9, with no negative effects observed in our extensive monitoring.
"We do not expect heavy angling use during this period, but it does give people a chance to get out fishing on a nice day in the fall, winter, or early spring." 
As part of the state's relatively new Trout Stream Management Plan, DEC will evaluate the catch-and-release season by monitoring angler use during the late fall period and trout reproduction on a suite of streams across the state through 2023. DEC is expected to conduct outreach to anglers before the new catch-and-release season this fall to educate anglers on how to avoid impacting spawning trout and their spawning redds. 
As far as the fishing end of things, this is new territory for anglers who previously might not have taken advantage of limited opportunities. According to Sagnibene, a trout's metabolism will begin to slow immensely when the water temperatures reach the low 40s and below.
"They will not move much for food so finding key holding waters based on current conditions will greatly increase your success rate when fishing," Sagnibene said. "The next week is looking to be cold and snowy so we can expect the fishing to be on the slower side. With the new trout regulations in effect and hunting season in full swing, please be aware of your surroundings while on the streams."
The future is bright for trout fishing in Western New York.
"The new inland trout stream plan should make a number of improvements for trout stream anglers, some that will be seen right away like simpler regulations and stocking larger trout," said Cornett, of the DEC.  "Other things included in the plan will improve fishing over time like increasing the survival of stocked trout with new strains of fish, managing our best wild trout streams with an emphasis on sport over harvest and increasing our efforts to improve water quality and riparian and in-stream trout habitat. 
"Anglers can assist by learning about the new trout stream plan, reviewing the regulations before they go fishing and especially getting involved with organizations that advocate for, fund, and participate in projects that protect and improve the trout streams their good fishing rely on."
One tip before you head out to the streams is to check out the DECinfo Locator Map. Information can be obtained at https://www.dec.ny.gov/pubs/109457.html. A new Trout Stream Layer is one of 75 layers of data now available.