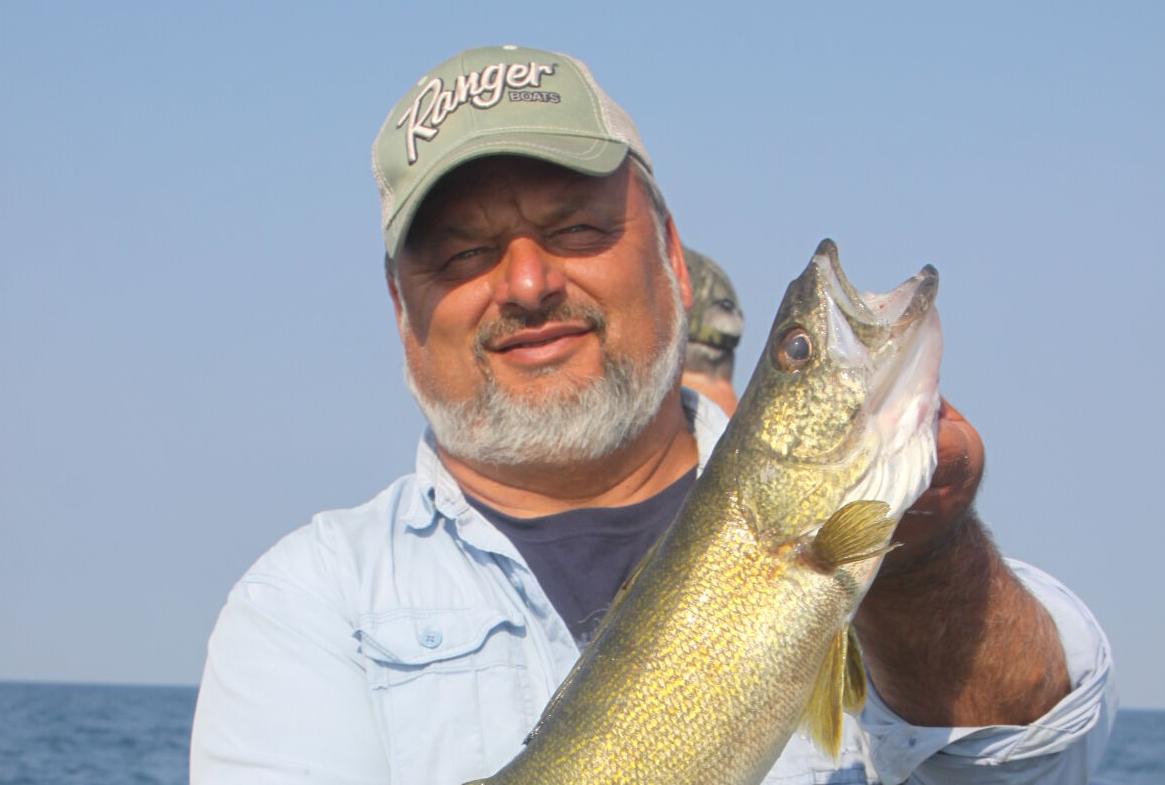 The opening of walleye season is Saturday in the Empire State, and from a total population standpoint, there is no place on the planet better than Lake Erie. Walleyes are the headline act for fish-hungry trollers, drifters and casters.
While we do not know all the reasons, the catch rate was down in 2020, as was the total harvest. However, there is no cause for concern, and we must still put things into perspective. We have been spoiled the last several years.
Last year, the catch rate was "only" .34 walleye per hour, a drop from .68 per hour in 2019 and .71 per hour in 2018 (a record). Even with the decrease, last year still ranked fourth in the lake's 33-year angler survey. Yes, the Lake Erie Fisheries Unit managed to complete much of its research and studies and keep people safe with an open lake creel census.
The total walleye harvest for 2020 was just less than 85,000 fish (from a catch of nearly 104,000 'eyes), but this was a 52% decrease from 2019. Even though the lake is filled with walleyes, they can still be difficult to catch. Water temperatures, storms and high winds all contributed to the decline. There were also slightly fewer anglers targeting walleye, dropping about 10% from the previous year. Some 77% of all anglers fished the lake were chasing old marble eye in New York waters.
Dr. Jason Robinson, Lake Erie Fisheries Unit Leader, estimated 96 million age 2 and older walleye in the lake this year. The number does not include the eastern walleye stocks, which are important to local fisheries based on recent genetics work.
"The drop in the walleye projection from 150 million to 96 million is driven largely by a new estimate of the size of the 2018 year class," he said. "Every time we get a look at a year class, we get a better estimate of how big it is and how big it was. We have now measured the 2018 year class as age 0, age 1, and age 2. The 2018-year class is still projected to be one of the four best year classes in recent memory, but it may not be as prolific as originally estimated."
"Walleye fishing quality in New York waters has been at record levels for the past four years, with catch rates for walleye well above the long-term average in 2020."
Robinson said the west basin had another strong year class of walleyes in 2020, although it was not quite as large as the 2018 and 2019 year classes.
"Our local stocks have also seen strong recruitment in four of the last six years and may be becoming a more important player in supporting the state's walleye fisheries," he said. "This lakewide spawning success bodes well for walleye fishing for years to come, and walleye fishing quality is expected to remain excellent in 2021."
It should be another good year for walleye anglers. We reached out to several top walleye fishermen for Lake Erie and for Chautauqua Lake to help point you in the right direction. Here is their advice:
Rob Oram, of Franklinville: "I think we are ahead of schedule this spring, and the walleye bite should be good. As always, the shoreline night bite is one option with the shallow divers. Then during the day, I like using hair jigs in the 10-20 feet of water for the first couple weeks of the season. I like bucktail hair jigs, and colors depend on the water color and sunlight. For dirtier water, I prefer a brighter jig. There is also a jigging Rapala bite early on the inland lakes, like Chautauqua and Oneida until the water gets up in the 50-degree range. Fishing where there is a good break from shallow to deep water is a good place to target. The open water trolling bite is usually a little slow the first couple weeks of May, but there is a better chance to catch bigger fish. I would pull deep diver stick baits at 1.4 to 1.7 miles per hour."
Capt. Joe Fonzi, of Thumbs Up Charters: "Look for fish adjacent to spawning areas. A large percentage of post spawn fish do not move far. They will normally move to the first steep drop, or deep flat, where they will feed and recover from spawning. In the evening, they will move up shallow where food is easier to find. The deeper daytime fish will accept slow jigging and live bait presentations. Large minnows 3 to 5 inches long, fished on a three-way rig, cannot be beat. Jigging with spoons and steelhead blade baits work well for us. The night fishing action is a stickbait game with a few lures to use, from standard floating Rapalas to Thundersticks. I like blue, firetiger, or chartreuse color patterns in 4 to 12 feet of water over rocks."
Capt. Don Ruppert, of Wave Tamer Sportfishing: "The opener of walleye season is always a great time of year. The walleyes can be caught early season in two specific ways and both night and day. The most productive method is nighttime trolling along the shallow rocks/reefs from Buffalo to Barcelona. Trolling Rapala stickbaits (F9 and F11) in 4 to 10 feet of water is always productive. Chartreuse and firetiger colors are staples. The blue/silver, black/gold, orange/silver are also mainstays.
"Legendary areas along the shoreline of Hamburg (such as Rodney's Hump) along Route 5 produce year after year. The Evans Bar area just west of Sturgeon Point; and Van Buren/Brockton Shoals will all provide nightly limits.
"The open water trolling program gets most of the attention for daytime walleyes. The spring jigging opportunities are also very good for eastern basin walleyes. Vertical jigging with jigs tipped with minnows is very productive. Either hair tail jigs or rubber tail jigs are effective. The key is to use just enough weight to stay in contact with the bottom. Great locations to start are adjacent to the nighttime areas. The walleyes will position themselves on structure near these drop offs and breaks during the day as they wait to move shallow at night."
Darker color jigs (black, brown, purple and even red) are favorites of Ruppert when fishing deeper structure. Use brighter colors when water color is stained or dirty. Some additional spots close to Buffalo harbor to look at are off the windmills and Smokes Creek. Seneca Shoal and the structure in that area always hold both decent numbers and quality fish.