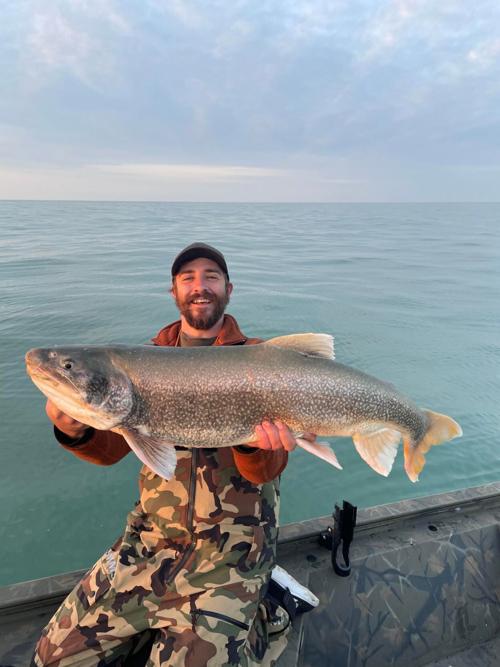 In today's world of social media and information sharing, it's almost unheard of to discover an untapped resource when it comes to angling adventures.
However, in Chautauqua County's portion of Lake Erie – focusing on the ports of Dunkirk and Barcelona – is a tremendous angling opportunity every fall, and not many people know about it. Brock and Ben Windoft of Lakewood were among the few anglers to discover it this past week.
The brothers decided to take advantage of a relatively calm day on Lake Erie.
"I was trying to find smallmouth bass on rock piles I found in the summer while fishing out of Barcelona, so I stopped and checked one," said Brock Windoft. "It had some decent marks around it (on his fish finder), so we decided to fish it."
As they dropped Jigging Rapalas on the structure in anticipation of a big bass, they both hooked up almost immediately. Looking at each other with big smiles on their faces, there were thinking they hit the mother lode of big bass. Instead, they had discovered a large school of adult lake trout.
"We really did just stumble on them," said Windoft. "From there, it was unbelievable. I can tell you for sure that the jig bite was by far the craziest thing I have ever had in freshwater. I can't believe I have never heard of anyone trying to target them this time of year in shallow water."
The winds of fishing change continue to blow through Western New York with more on the way. It will negatively affect the lakes and the Niagara River for a few more days. Tributary action should continue to be decent.
The Windoft brothers had a banner day on the water, saying it was quite possibly their best day ever. All fish were caught vertical jigging, putting more than 30 fish in the boat before they were released. They also lost quite a few fish after fighting them for a short time. The lakers ranged in size from 30 inches in length (approximately 12 to 15 pounds) to 39 inches (22 to 25 pounds).
"I believe those lakers would have eaten anything," insisted Brock. "I snapped the plastic tail off one of the lures but dropped it down anyway. Thirty seconds later, I had another fish on. It was that crazy."
Are lake trout making a big comeback in Lake Erie?
Lake trout once were the top predator in the lake. Commercial fishing for them began in the late 1700s and in less than 100 years, the population had declined significantly. The commercial fishery was nearly eliminated by the 1930s and any signs of lake trout were gone by 1965. Efforts to restore them began in 1982, with annual stockings from the U.S. Fish and Wildlife Service in conjunction with the state's Department of Environmental Conservation and Pennsylvania Fish and Boat Commission.
Another key component to the laker program was the Great Lakes Fishery Commission initiating sea lamprey controls in the lake. Sea lampreys are a parasite that feeds on salmonids like lake trout.
"A lot of exciting things are happening with lake trout restoration on Lake Erie," says James Markham, a fisheries biologist who heads up the cold-water section for the Lake Erie Fisheries Research Unit for DEC out of Dunkirk. "The adult stock represented by lake trout age-five and older remains steady and at our rehabilitation targets. This stability allows us to begin moving into the next phase of rehabilitation – looking for early life-stages (eggs, fry, juveniles)."
Earlier this year, after 60 years of looking, the Lake Erie Unit found the first successful spawning of lake trout in this Great Lake. It was a major announcement in the fishing world. Biologists from the Lake Erie Unit collected recently hatched lake trout fry from a rock reef five miles west of Barcelona Harbor in May. Fry traps had been put into specific areas thanks to some acoustic telemetry work on lakers that had identified potential spawning sites in the eastern basin of the lake. The work paid off.
"We have evidence of successful natural reproduction up to the fry life stage which is certainly a huge success," insists Dr. Jason Robinson, Lake Erie's Fisheries Research Unit leader for DEC. "However, we are not seeing measurable numbers of wild adults yet. Lake trout fry face a long list of dangers over several years before they make it to maturity, so we are still a long way from declaring victory."
The acoustic telemetry work involved the tagging of lake trout using the Great Lakes Acoustic Telemetry Observation System. Using a network of receivers along the lake bottom, it allowed researchers and biologists to determine the prime spawning areas for lake trout and one of the best spots is off the shores of Chautauqua County from Dunkirk to the Pennsylvania border.
The Windofts aren't the only fishermen to discover these late-season lake trout hanging around. However, a few key elements must fall into place to allow for this special fall option to become available to anglers.
First, the fish must be there. They come in like clockwork every autumn, but it is dependent upon water temperatures. Capt. Pete Alex of Vision Quest Sportfishing targets the Pennsylvania side of the lake.
"I usually start my fall lake trout fishing in late October when the water temperatures hit the mid-50s. Every year, it seems to differ, depending on water temperatures and weather patterns, but it is a pretty good rule of thumb. The peak of the migration is when the water temperatures hit the mid-40s, in mid to late November. We've had our best days when the water temperatures are in the 42- to 47-degree temp range and every fish we catch is inside of 30 feet of water."
Another important component is to have a boat ready at a moment's notice. Most Erie anglers put their boats away for the winter by the beginning to middle of October. Gordon Lightfoot makes numerous references to the "gales of November" in his classic song "The Wreck of the Edmund Fitzgerald" and when the weather cooperates, you must catch fish when the lake lets you. The good thing is that you are fishing relatively close to shore.