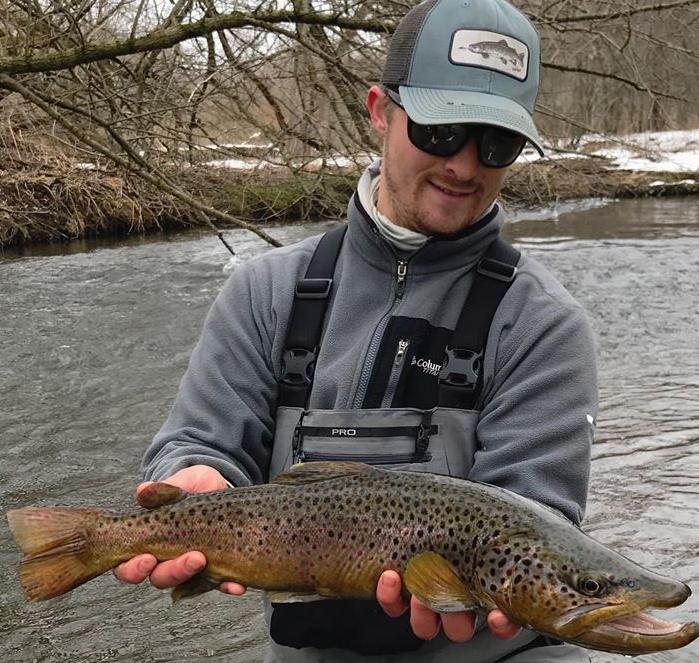 Inland trout anglers are getting excited over the April 1 opening day in New York, even as it marks the start of a "new chapter" in the region's trout fishing.
"Opening day of inland trout season was always a 'holiday' of sorts for me growing up," said Nicholas Sagnibene of Ellicottville. "My father and I, along with many of my friends, would be up early dunking worms and grubs on our favorite stretches of Cattaraugus Creek."
The state's Department of Environmental Conservation has changed the regulations to allow catch-and-release in all trout waters from Oct. 16 to March 31. That has brought its own kind of excitement, but also could diminish the fervor among many who viewed the April 1 opener as a true sign of spring. Time will tell.
"It seems like it should be a great April 1 opener," Sagnibene said. "Most streams are at great levels with the recent runoff and minor precipitation. With the region in a moderate drought, we could use as much precipitation as possible throughout the next few months to bring that water table back up."
As the kickoff nears, Sagnibene said getting your gear ready is an important part of the preparations, calling it a "daily event for me as a regional guide."
"Fishing line can often dry rot if it was put away wet or dirty, creating problems in your next outing," he said. "Making sure that it is not compromised will help both you and the fish."
Sagnibene does not have that problem because he fishes all year for trout, keying in on the limited number of streams that are open to catch-and-release fishing.
He also suggests a certain amount of scouting should take place before heading out to a stream, river or creek.
"The winter usually alters a stream's previous runs and riffles," Sagnibene said, "so doing some reconnaissance in advance to see if your favorite honey hole is still there may be a good idea.
"Besides keeping an eye on water conditions, I am making sure in advance that I have permission wherever I'm fishing private land. Asking for access can go a long way in finding less pressured areas and larger trout. Having hundreds of miles of streams and creeks around, it never hurts to get out and explore some different areas."
Since stream temperatures are increasing, fly fishing can be extremely productive in the month of April. "Macro invertebrates are starting to come alive subsurface before some begin 'hatching' and bringing trout to the surface. Pheasant tails, Hare's ears, Copper Johns and Frenchies are all extremely productive nymphs this time of year," Sagnibene said. "Don't pass up streamer patterns right now, either. The fish are looking to feed in the warmer temperatures and will chase down baitfish patterns and buggers, creating an exciting experience to witness."
Where you fish in the water can also make a huge difference in your success rates.
"Working flies in different water columns will allow you to find the fish easier instead of making the fish find you," Sagnibene said. "The clearer the water, the smaller the leader/tippet should be. With outdoor activities in the past year at an all-time high and more anglers being on the water, please make sure you respect the property owners, other anglers and the fish. Pick up any trash you may come across and bring yours home with you."
As a licensed guide, his love of trout fishing goes beyond being on the water as much as he possibly can. He realizes that he is an ambassador of sorts, and he emphasizes that there are two big things that people should remember for not only opening day of trout, but for any time you are on the water.
"First is stream etiquette," says Sagnibene, who works out of Adventure Bound on the Fly in Ellicottville. "There are going to be lots of people on the water after April 1 so spreading out and giving people their own area is important. Fish tend to travel throughout the winter months, so heading up or downstream farther than normal might be where the big one will be swimming."
"Second would be that unless you are keeping a fish, try to keep it wet as much as possible. This allows the highest chance for someone else to catch it tomorrow or in the future. The 'keep it wet' term goes for all fish, but especially in wild trout streams where the fish are naturally reproducing."
Spreading out to give people plenty of room is always important, but with the new extended opportunities come Oct. 16, it will make things easier to find a tranquil spot away from other casters.
"Up until now, only a handful of streams stayed open after October 15, which meant the diehard fall and winter anglers were restricted to the same beats and streams," says Sagnibene. "Here in Western New York, we have a plethora of freestone and spring-fed trout streams. Some are stocked, some are wild, some are both.
"The previous regulations did not make much sense for our area, as they allowed some of our highest quality wild trout streams to be open throughout the spawn and into the winter. Stocked or marginal trout fisheries would close, when angling or pressure would have little impact on them. This created a higher presence on the streams where fishing was open, and spawning was essentially taking place.
"The regulations have been in place for the last 50 years based on public access. We have been keeping the streams with Public Fishing Rights (PFR) open and nonregulated, but those streams with minimal or no PFR closed. Many of our better wild trout streams have great PFR sections, therefore they could stay open, but catch and release only."
There are also some other new inland regulations changes that will go into effect April 1. They are now listed on the DEC website at dec.ny.gov/docs/fish_marine_pdf/fishguide21.pdf. The hard copy of these new regulations will be at license-issuing agents by the second week in April.