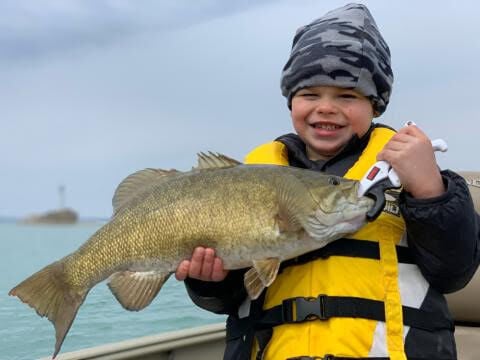 DEC announces pen-rearing projects
The Department of Environmental Conservation will be partnering with several groups to deploy two new pen-rearing projects to hold Atlantic salmon this spring – one in the Salmon River for Lake Ontario and one in the Saranac River for Lake Champlain.
The purpose of the pens is to increase the survival of stocked salmon smolts, as well as imprint stocked fish to those waters when they return as mature adults. These are the first projects for Atlantic salmon in the state to see if pen-rearing can be beneficial to stocking efforts. Pen-rearing has long been used in Lake Ontario and Lake Erie for stocking Chinook salmon and steelhead. For Lake Ontario Chinook stocking, it has been documented that salmon survival rates are better than 2 to 1 in pens versus direct stocking.
For the Salmon River pen-rearing project, DEC will be partnering with the Salmon River Lighthouse and Marina, as well as the Tug Hill/Black River Chapter of Trout Unlimited. For the Saranac River estuary in Lake Champlain, DEC will join with the Lake Champlain Chapter of Trout Unlimited, the U.S. Fish and Wildlife Service and Plattsburgh Boat Basin.
Each project will focus on two lots of Atlantic salmon – one in the pens and one through direct stocking. Biologists will be able to determine the success of the study through survival rates based on information collected through the lake creel census.
DEC hosts NASP bow tournament
New York students recently finished their participation in the 13th annual tournament held by the National Archery in the Schools Program. Due to Covid-19 protocols, the Empire State saw only 18 schools from 11 counties take part. Under normal circumstances, students would converge from around the state in Syracuse for an in-person competition. This year, a total of 430 students competed from their home schools in one of three divisions – high school (grades 9-12), middle school (grades 6-8) and elementary school (grades 4-5).
Andrew Mullen, from Norwich High School in Chenango County, had the top overall score and was first place in the high school division for male archers with a 288 out of 300. Grace Groves, of Arkport Central School in Steuben County, was top female archer with a score of 284 out of 300. She placed first in the middle school division. Winners received a trophy and a Genesis bow and bow case.
For the sixth consecutive year, the top high school division team was St. Joseph by-the-Sea High School, Richmond County. The first-place middle school division team was Arkport Central School, Steuben County, and the top elementary school division squad was Hinsdale Central School District, Cattaraugus County. For the complete list of results, visit https://nasptournaments.org/TournamentDetail.aspx?tid=6679.
Youth hunting pilot program passes
When the state budget was approved last week, a new provision passed that allows 12- and 13-year-olds to hunt deer with a crossbow, rifle or shotgun (where legal). Of course, like other junior hunter opportunities, these must be under the watchful guidance of an experienced adult.
Some guidelines need to be followed to make it happen. Individual counties must opt in to the program by adopting a local law allowing 12- and 13-year-olds to hunt deer (in upstate New York only) in accordance with Environmental Conservation Law 11-0935. This is a temporary legislation that will have a sunset at the end of 2023. DEC is in the process of developing a website to list the counties that opt in.
Junior hunters may hunt deer with a crossbow, but only at a time when other crossbows can be used. The youth hunter and the adult mentor must wear a specified amount of hunter orange or pink when afield, and they must remain on the ground when hunting, not from an elevated position. Mentors must be at least 21 with at least three years of deer hunting experience.
New York was the last state in the country to allow 12- and 13-year-old junior hunters to hunt deer with firearms.
Boat maintenance tips from Brobeil
Here are some tips for getting your boat ready for hitting the water from Eric Graves at Brobeil Marine (1810 Niagara St., Buffalo):
• Your lower units and stern drive cases should be drained, and fluids replaced.
• Check the props and inspect the prop shaft.
• Four stroke outboards and stern drives should start out with fresh oil and filter, if you did not do that during winterization.
• It does not hurt to check the condition of the spark plugs, belts and hoses. When was the last time you had your impeller replaced? It should be done every three to five years. Fuel filters should be replaced, too.
• Batteries should be checked for electrolyte levels in the cells and charged. Investing in a modern smart charger is a good idea. Make sure it is free of corrosion.
• Do not forget your trailer, either. Bearings should be greased, and wheels should be jacked up off the ground and checked. Check the tires for signs of wear and make sure they are properly inflated, including the spare. Check the trailer lights, too.
Brobeil is no longer selling boats, but Graves said he is providing customers with parts, oil and hands-on service at the old shop.