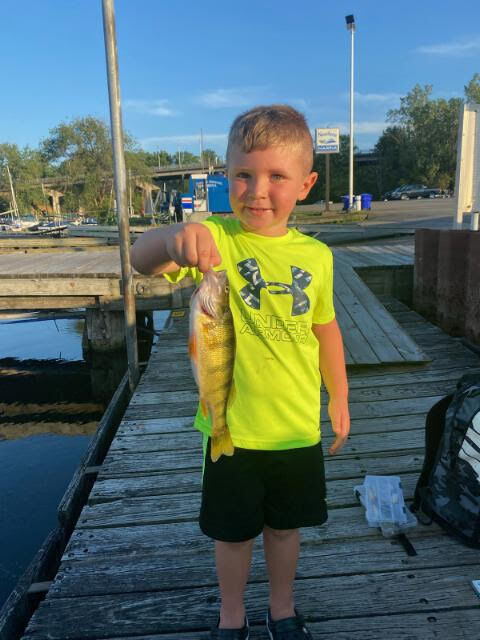 Labor Day weekend is here. On Lake Erie, walleye fishing is hot right now. Perch are starting to arrive and can be found in fishable numbers. Bass anglers are getting ready for the Douglas Rods Big Money Open on Sept. 18. First responders are being honored with a special Lake Erie fishing day on Sept. 11. It is the end of the Lake Ontario Counties Fall Derby on Monday at 1 p.m. and the Greater Niagara Fish Odyssey ends at 11:59 p.m. on Sunday. Staging king salmon are starting to arrive in larger numbers and the winning fish is only a cast away.
Lake Erie and tributaries
Walleye Pro Craig Sleeman of Victor was out several times this past week and says the walleye action is as good as he has ever seen it. The combination of strong year classes of fish and plentiful bait off New York shores is the perfect recipe for success. He has been finding smaller fish shallower and larger fish deeper. His best set up has been 5 or 6 colors of lead core line rigged with a Walleye Nation Creation Reaper. Another good bait is a Husky Jerk 12, with a tighter wobble and a higher-pitched rattle. Fish are scattered in good numbers from Sturgeon Point to Dunkirk in 65 to 90 feet of water. The bait has been in 30 to 40 feet of water with walleyes 50 to 55 feet down. He also found fish from 60 to 90 feet down, but they do not appear to be as active. It is a better bite when the wind blows, too. Speed is important and he tries to keep his presentation 1.8 to 2.0 miles per hour. Current down below changes daily so pay attention to your down speed. Worm harnesses are catching fish. He found success at 73 feet with a 6-ounce weight or a 12-ounce Torpedo weight. He also has had a good diver bite using harnesses. Steve Haak of South Wales reports that August was a very consistent bite for walleye from Sturgeon Point to Dunkirk in 60 to 90 feet of water. Most fish were 45 to 65 feet down, with a mix of worm harnesses, stickbaits and spoons. That action should continue into September, and it should be good for First Responders Day, for which he is the point person. If you are a first responder and would like to fish Lake Erie, the Southtowns Walleye Association is planning fishing trips from 7 a.m. to 1 p.m. out of every New York port on the lake. If you would like to volunteer your boat and time, contact Haak at 225-0229. Schools of perch are starting to show up, too. Haak been catching some while trolling with worm harnesses. That was confirmed by Shub Stevens at Catt. Creek Bait and Tackle in Irving. Walleyes are being caught in good numbers around 70 to 80 feet of water off Cattaraugus Creek. Hot stickbait colors have been blue and chartreuse according to Stevens. Watermelon harnesses rigged with Green Nitro Worms are working as well. The perch bite picked up with many catching their limit in 50 to 65 feet of water west of the Cattaraugus Creek. Salted minnows and live golden shiners are the best baits to use. Capt. Ernie Calandrelli of Lewiston reported that Buffalo action for walleye was good again this week, bottom bouncing in 72 feet of water on the line. Capt. Ryan O'Neill of Orchard Park was doing well on big bass, including a 6-pound, 6-ounce lunker he caught off Buffalo in 47 feet of water using a drop shot rig. A crab was the enticement. The fish was 22 inches long. Most of the bass guys are tight-lipped because of the Douglas Rods Big Money Open Team Tournament set for Sept. 18 out of Buffalo Harbor. Check out douglasoutdoors.com for details.
Lower Niagara River action picked up this week for bass and walleye according to Lisa Drabczyk with Creek Road Bait and Tackle in Lewiston. Best bass spots are downriver around Joseph Davis State Park and Youngstown near Fort Niagara. Crabs are working off three-way rigs, as are Ned rigs and swim baits. Walleye fishing has been good on the Niagara Bar. Hair jigs and worm harnesses fished off three-way rigs is the way to go. Capt. Ernie Calandrelli has been snapping the 'eyes with harnesses. Try around the green buoy marker. There were salmon porpoising around the green can and the red can. In the gorge, Mike Rzucidlo of Niagara Falls was at Artpark on Tuesday and caught two small walleyes and eight small bass on jigs. Water is moss green color, with 6 to 7 feet of visibility. Josh Dunkelberger of Olcott reports some walleye and carp were being caught off the NYPA fishing platform this week. In the upper river, Rzucidlo was tossing No. 3 spinners to catch a fair number of smallmouth bass.
Lake Ontario and tributaries
Capt. Pete Alex of Vision Quest Charters reports that he caught a limit of salmon and trout both days last weekend. Friday's big east wind iced the inside waters, where mature kings were being caught from 120 feet of water and in. Then it was east most of Saturday, which did not help. Alex fished 210 to 240 feet of water and then deeper in 380- to 400-foot depths and took a mix of mature kings, 2-year-old salmon and steelheads. They also caught their biggest king of 2021 at 27.54 pounds. Alex found offshore bait on Sunday, then a couple pockets of fish each day with the bait. Most fish came from 50 to 90 down (44 degrees to 60-degree water) under 74-degree surface waters. Spoons chipped in but flasher/fly and meat rigs were good. With the final weekend of the Lake Ontario Counties Fall Derby approaching, it is important to be in the contest if you are on the water. On Tuesday, Zane Smith of New Brighton, Pa., ran out of Olcott to fish with his dad aboard the "Stalker" with Capt. Kurt Driscoll. They started in 60 feet of water trolling northwest with cut bait and the reel started screaming. Zane fought the fish all the way to the net, and they headed into Olcott to weigh their fish at the Boat Doctors. The weight was 32 pounds, 4 ounces and it was the new Grand Prize leader for the derby that ends on Labor Day at 1 p.m. Check out loc.org.
Walleye fishing has been slower according to Capt. Mike Sperry at Chautauqua Reel Outdoors. He says that the best tactic is to troll to cover more ground and find a pod of fish. Target the weed lines in the morning and open water in the morning through mid-morning and again in the evening. Worm harnesses trolled on the weed lines and out in open water behind bottom bouncers will still catch fish. Long lining deep diving crankbaits like Thundersticks, Walleye Divers, Bay Rats and more will get you fish. Trolling Flicker Shads, Hot-n-Tots, and shallower diving cranks off lead core  works as well.
Guide Jeremy Newman at Doc's Tackle in Honeoye has been fishing Conesus Lake more than the other Finger Lakes of late. There is an abundance of healthy milfoil and if you find it, you'll find bass. Sodus Point Bass Club had a tournament on Conesus Lake last Saturday and Newman reported many mixed bags of largemouth and smallmouth bass. That's encouraging because the smallmouth, traditionally this time of year, are suspended in the thermocline. Most of your summer techniques, such as top waters, spinnerbaits, jigs and Texas rigs, have been working the past week. Drop shots have been hot, too. Anglers are finding lakers are stacked up in Canadice and Hemlock lakes. Heavy, lipless crankbaits, jigging swimbaits, and spoons will draw bites.