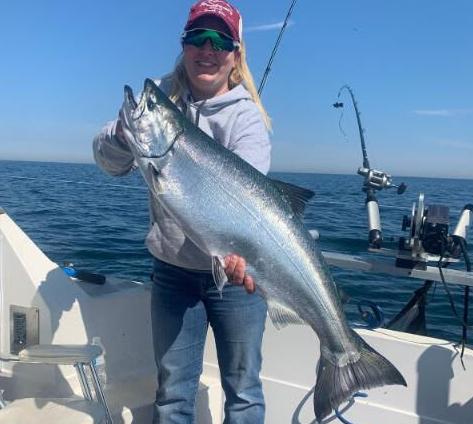 With fishing contests keeping anglers busy last weekend on Lake Ontario and Lake Erie, it will be a repeat performance this weekend with the Southtowns Walleye Association's Walleye Derby starting Saturday (you must be registered by Friday to fish the nine-day contest; go to southtownswalleye.com for details) and the Orleans County Open Tournament set for June 12-13. The Condor contest is June 11.
Lake Erie and tributaries
Sturgeon Point Marina is open for boat launching and it comes at a good time. Perch chasers are still going straight out of Cattaraugus Creek to 40-60 feet of water using salted minnows to catch lots of great perch, according to Shub Stevens from Catt. Creek Bait and Tackle. Evening walleye anglers are doing well outside of the Catt in 20 to 30 feet of water, and slow trolling with stick baits has been the ticket. Capt. Mike Capizzi of Niagara Falls hit the area from the Ford plant past the windmills to the South Gap in 28 to 35 feet of water using Size 20 jet divers and blue Rapalas between sunset and 11:30 p.m. Most of the fish were caught trolling north. Coming up with additional walleye information is difficult with the Southtowns contest starting Saturday. In the WNY Walleye Classic held last weekend out of Barcelona, the Ice Breaker team led by Randy Jaroszewski of Hamburg bested 42 teams to win a check for $5,000. They ran a shallow springtime program east of Barcelona harbor in 35 to 45 feet of water. Their program was a mixed bag of lures but predominantly Bay Rats catching most of the fish. They watched for temperature fluctuations on pre-fishing and looked for the warmest water they could find on Sunday because Saturday was canceled due to wind. Guys are being tight-lipped about bass, too, with the opener not too far away on June 19. Remember that the air show out of Buffalo Harbor will have the launch ramp closed and some restricted areas. Upstream on reservation territory at Cattaraugus Creek, smallmouth bass are being caught from the routes 5 and 20 bridge up to Gowanda, according to Stevens. Orange- and white-colored Mister Twister jigs have been working very well. Most of the tributaries in the area are filling up with catfish ready to spawn. "As the water temperatures rise and nature takes its course, making the switch from cutbait to raw shrimp for scent will increase your success rate," Stevens said. Bottom rigs and slip float rigs baited with shrimp marinated in cherry Kool-Aid (yes, Kool-Aid) will soon be very productive.
Upper river action (above Niagara Falls) has been decent for bass, pike and carp. All-species guru Mike Rzucidlo of Niagara Falls has turned into "Pike Mike" around Grand Island this week, hitting eight pike using plugs, spinnerbaits and jigs. Mike Ziehm of Niagara Falls found some big upper river carp using corn and wheat dough balls. Bass action continues to be good in the upper river around Motor and Strawberry islands, according to Capt. Ned LiBrock of Pendleton. Other good spots include the south end of Grand Island and off the Huntley plant. In the lower river, white or chartreuse ¼-ounce jigs were working best for Ziehm on bass. In the lower river, Lisa Drabczyk of Creek Road Bait and Tackle in Lewiston reports that casters have been picking up bass off the NYPA fishing platform, but they have to work for them. Moss is continuing to increase throughout the river system. Some catfish are starting to show up. The trout are pretty much gone in the river. Not many walleyes have been reported.
Lake Ontario and tributaries
The Yankee Troller team in the Pro Division and the Hound Dog team in the Amateur Division won the overall in the 36th annual Skip Hartman Memorial Pro-Am Salmon Team Tournament held out of the ports of Wilson and Olcott last weekend. Yankee Troller was led by Capt. Rich Hajecki of Monroe County, and his team came through with a point total of 415.86 based on 10 points per fish and a point per pound to best the 22 pro teams. In the 25-team Amateur Division, Jim Spinelli of Wellsville and his Hound Dog team captured the Day 1 contest with a score of 118.44 points and a two-day total of 211.90 points. The Day 2 winner was Copper Steel, led by Steve Olay of Ransomville with 113.16 points. Hajecki and company found nice fish offshore between the Niagara River and Wilson in 370 to 400 feet of water. Nearly all the fish came in the top 50 feet of the water column. Team Dreamweaver Super Slims and regular DWs took most of the fish. Their program for the weekend was four lead cores, two wire divers and two downriggers. On the lead core, they ran 2 and 5 colors. Wire divers were set on 3 and ran out 40-50 feet. On the downriggers, they ran them from 35-60 feet down with sliding cheaters. Spoon colors that consistently worked for them were UV Mixed Veggies and RodFather. Others that took fish were Lazer Spook, Glow Roy Boy, and Salmon Viagra. The Hound Dog team fished both days off the Niagara bar in 300 feet of water. Their program for both days was mostly Moonshine and DreamWeaver spoons with a few custom cut bait rigs. Karen Evarts at the Boat Doctors in Olcott reports that there was a good mix of fish in front of Olcott from 80 to 200 feet of water this week. Lots of pike in Eighteen Mile Creek, along with perch, smallmouth bass and bowfin.
Water temperature is around 70 degrees now and clarity is still good, according to Capt. Mike Sperry of Chautauqua Reel Outdoors. The walleye fishing has been decent with fish coming on worm harnesses slow trolled early in the morning before the sun gets high. The key is sticking close to the weed lines and experimenting with blade colors, says Sperry. When you pick up a fish, keep working the area for a while before moving on. Harnesses behind bottom bouncers is working. The jig bite in the weed pockets has been good during the day and into the evening. Another good bait is a 1/4- to 1/2-ounce jigs tipped with a Mister Twister or a swim bait. Hair jigs and spoons will put fish in the net as well. Musky was good early in the week for those casting. Try casting jerk baits in 7 to 10 feet of water. Changing colors often and working an area is always a good way to go. It is tough to beat a 7- to 9-inch black jerk bait. There have been lots of follows, which is typical early in the season with the clear water. Capt. Frank Schoenacker of Ashville says walleyes are coming from the south basin along the weed lines on crawlers. Susan and Frank LaPonsey from Meadville, Pa., had a good trip this week with Schoenacker. Susan got her first walleye along with the biggest. They caught nine 'eyes, keeping seven on butterfly blades.