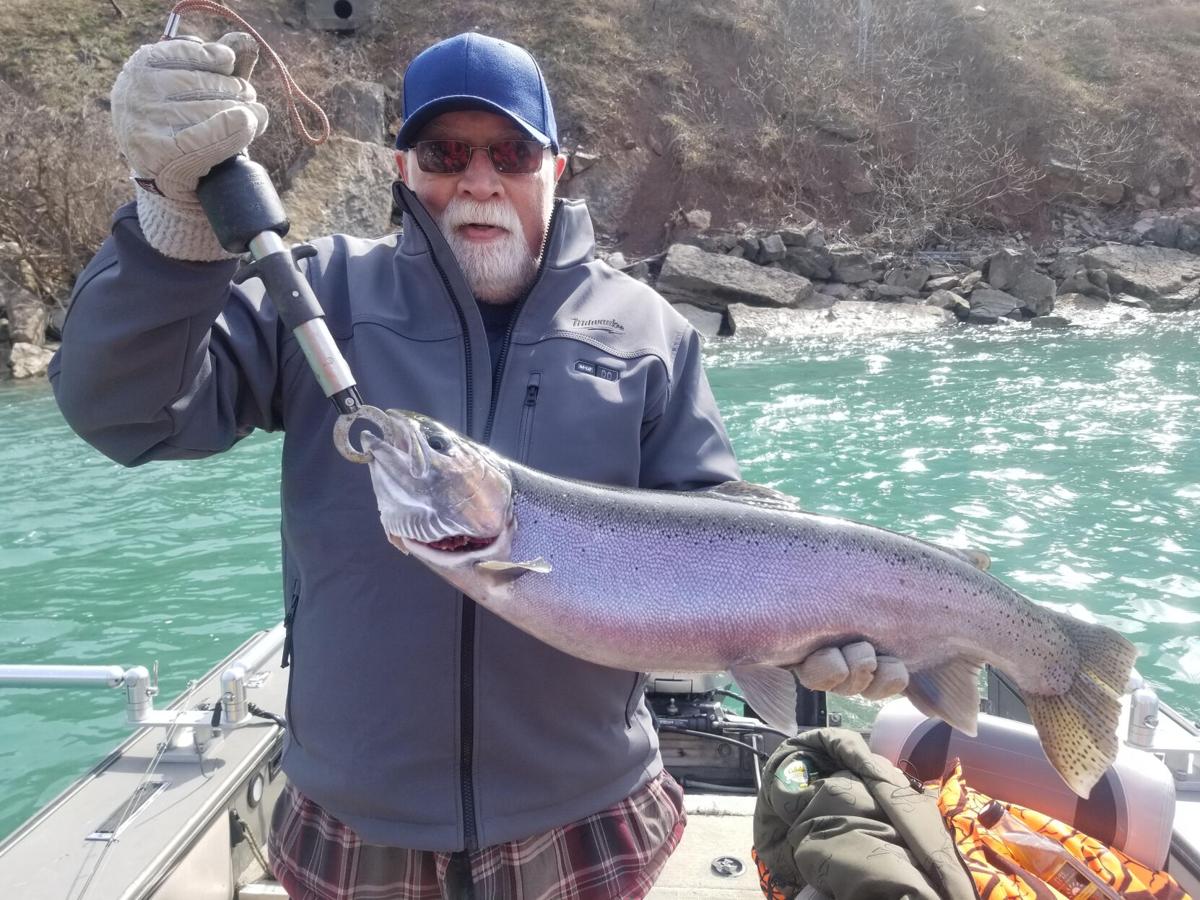 As we return to above-average temperatures this week and more stable weather conditions, we have good reports from the Great Lakes and the tributaries, the Niagara River and from other inland waters. Get ready for a bullhead tourney.
Lake Erie and tributaries
Justin Stevens at Catt. Creek Bait and Tackle reports that Cattaraugus Creek had a busy weekend. Fishermen are finding good steelhead at the 5 and 20 bridge. Red Worms and egg sacs have been working well. Hungry bullheads are biting everything from night crawlers to floating egg sacs. Big catfish should be on their way into the tributaries. Vince Tobia with Cattaraugus Creek Outfitters reports that the tributaries have been fishing well, including the Catt. The smaller creeks are on the low side, while the big creek is in great shape. There is a mix of fresh and drop back fish. Swinging streamers (such as wooly buggers) is good, as well as dead drifting egg patterns. According to Rich Davenport of Tonawanda, rainbow trout and suckers can be found along the entire reach of 18 Mile Creek, from the mouth to the falls in East Eden. Waters are a bit low and clear, but fish remain. "Hopefully, another good shot of rain will fall this week, which should help to prolong the stay of trout," Davenport said. In the lake, Davenport reports that yellow perch continue to show strong staging for the spawn in waters off Sunset Bay and eastward to Sturgeon Point. Recent storms have fish scattered, but bait is setting up again over depths of 50 to 60 feet of water, especially off Evangola State Park. Over the weekend, Mike Rinallo and Davenport managed to find some sizable perch in 52 feet of water off Evangola Beach. Just east of the Catt off Irving in 60-foot depths, they managed a few there but lots of smaller fish were mixed in. Once they made the move to Evangola, they lost the small ones and had 12- to 15-inch perch on the line. Davenport noted that the bite was delicate, and you had to lift a few inches to get a hit. Most bites happened near the bottom, but when the sun came out, fish moved higher to hit. Fish are gorging on emerald shiners, and the bait masses are impressive, showing solid pods from top to bottom. Steve Brzuszkiewicz of Marilla waited 13 days since his last outing for the weather to settle and headed out of the "Catt" Tuesday morning. His friend, Howie, shared a waypoint in 54 feet of water off Evangola and boated 25 perch within an hour. These perch were the largest yet and a few double headers of 13-inch and 14-inch fish were beyond the "yank-out" capacity of his perch rod. He had to handline them in. Trolling Cattaraugus Creek with stickbaits is producing brown trout and rainbow trout.
Lisa Drabczyk of Creek Road Bait and Tackle in Lewiston reports action has picked up in the river. Along Artpark, there has been a mix of steelhead, brown trout and lake trout being caught by anglers using casting spoons or boat drifters using minnows, egg sacs or MagLips/Kwikfish. Mike Ziehm of Niagara Falls reports conditions have been very good since the rain and wind last week. On Sunday, the water visibility was 3 to 4 feet and fish were hitting his No. 5 homemade spinner in gold and chartreuse and chartreuse with orange dots. Water is low, but with moderate flow as Ziehm hooked up with nine rainbows and lost at least six more in one day. He found his fish out a bit deeper.
Capt. John DeLorenzo of Niagara Falls reports that fishing in the river has been fair. The combination of steelhead spawning and pods of smelt in the main river, it has been a more difficult bite. Capt. Arnie Jonathan of Lockport reports that fishing on the Niagara bar has produced some lake trout and smallmouth bass this week using gold Kwikfish. If you are looking for smelt from shore to dip at night, there has been very limited success. Some people have been checking shoreline activity every night and the evidence that they have been there can be found the next morning. Please carry out what you carry in. In the NYPA Reservoir, diverted water from the Niagara River, Mike Rzucidlo of Niagara Falls says that he likes accessing off the NYPA Upper Mountain Road stairs behind the fire company. Action should be improving any day and his favorite baits include ¼ ounce white jigs or No. 3 spinners for a mixed bag of fish.
Lake Ontario and tributaries
Karen Evarts with the Boat Doctors in Olcott reports that 18 Mile Creek and Burt Dam has been producing some trout on a mix of baits, and egg sacs and egg imitations are both working best right now. Some fish (trout and perch) are being caught in Olcott and Wilson Harbor. No reports on bullheads with the contest coming up, but there is a good chance that they are being caught along Lake Erie. At Oak Orchard River, flows are low and clear according to Ron Bierstine with Oak Orchard Tackle. Other area smaller tributaries have low and clear flows. Fishing pressure is light, fewer anglers near the dam and most efforts are concentrated around downstream riffle gravel spots and the adjacent deeper holes. Bierstine says you can choose to drift or swing for trout. You can still find some drop back or fresher staged fish in deeper holes or downstream flat water. Bierstine notes that there are plenty of suckers and smallmouths trickling in, too. Pierhead lakeshore casting and small boat trolling chances are up against the same low and clear water conditions as those found in the tributaries, so low light or overcast conditions work best. Capt. John DeLorenzo of Niagara Falls switched gears after finding the Niagara River tough to fish and headed east to Olcott for some shoreline trolling for brown trout over the weekend. He noted that trollers should look for a distinct mud line and he found one just east of Olcott off Keg Creek in 10-12 feet of water, working his 3.5-inch Challenger stickbait. The best color patterns were smelt and frog colors, running them 100 feet behind an Offshore in-line planer board. On one trip, Jon Sharipo of Toledo, Ohio, hooked a king salmon. According to DeLorenzo, fishing has been on and off in the lake. The Niagara County Bullhead Tournament starts Friday at 5 p.m. This is a shore fishing only event, with anglers vying for the best two bullheads total weight to win prizes. Weigh in will take place on Sunday at the Wilson Conservation Club from 9 a.m. to 1 p.m. For more information, call Eric at 628-6078. The tournament ends at 1 p.m. on Sunday. The net pens in Wilson and Olcott received their fish this week.
Capt. Mike Sperry with Chautauqua Reel Outdoors reports that the water temperature was around 46 degrees on Tuesday. Crappies are hitting in the canals off and on. He heard reports of some limits, but the cold nights push the bait back out into the lake. It should really pick up by the weekend with warmer day temperatures this week, offering more consistent fishing. There are yellow and white perch mixed in, too. Minnows, tube jigs, and other panfish baits are all working.