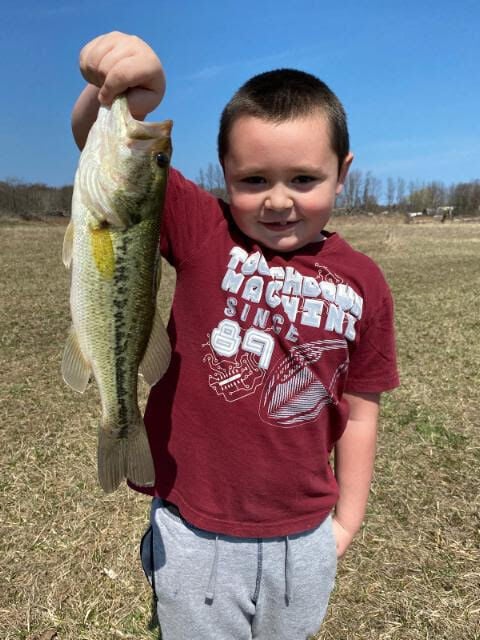 The countdown has started for the opening of walleye season on May 1. Get ready to rumble. Perch action in Lake Erie is continuing but not everyone is catching them. Pay attention to detail and fine-tune your presentation. White bass are starting to show up in the lower Niagara River and the first consistent king salmon fishing has arrived in Lake Ontario. Lots of options for Western New York anglers. The new 2021-22 Fishing Regulations Guide is now available at license-issuing agents across the state.
Lake Erie and tributaries
Cattaraugus Creek is holding plenty of smallmouth bass and they are being caught on gold and silver in-line spinners, according to Justin Stevens with Catt. Creek Bait and Tackle in Irving. Clear Creek has been busy with fishermen finding steelhead hidden in the deeper pools, with white and pink egg sacs working well. The 10-degree drop in water temperature has slowed the catfish bite on Cattaraugus Creek. There are reports of 25-pound catfish being caught along the Hamburg shoreline and at Woodlawn Beach. Night crawlers are working best, rigged with a peg float 1-foot off the bottom. The perch bite has been steady, and a good number of crews are reaching their limit within a few hours. Emeralds and golden shiners are working best in 50 to 60 feet of water. Steve Brzuszkiewicz of Marilla has been pounding perch every time out. On Saturday, he fished off Sturgeon Point and found a pack of 20-plus boats that were struggling. When he set down, after using his electronics to find a small pod of perch, he hit 28 big fish before he left and headed west. He finished his limit off Evangola. His secret? He focuses on sensitivity and stealth. He switched from spreaders to get rid of hardware the fish might sense at times especially after spawn. He now uses fluorocarbon leaders equivalent in diameter to 10-pound mono and snells No. 4 Aberdeen hooks to lines about 6 inches long and uses Palomar knots to attach them to a 36-inch leader far enough apart so they do not tangle, with the bottom hook about 2 inches off the bottom. His rod is a 5.5-foot Ugly Stik with a Mitchell 308 reel filled with 10-pound Nano braid that his friend Howie convinced him to use. The braid is so sensitive that you can feel when a perch starts to play with the minnow. Mike Schmitt Jr. of Eden with Erie County Bassmasters reports that he found good action on smallmouth bass along the breakwalls. He ended up down the river and caught fish up to 5 pounds, reeling in over 50 bass for the day. Bass action has been good in the lake when weather is right. Nearly all Schmitt's fish were caught on Ned rigs and he even got a few to hit a jerk bait. Any plastic dragging on the bottom will work according to Schmitt.
Capt. Matt Yablonsky of Youngstown fished the river on Monday, and he reported a decent bite in Devil's Hole for a mix of lake trout and steelhead. Minnows and MagLips were top baits, fished off 3-way rigs. There is still some smelt in the river, so fishing remains difficult. As water temperatures slowly increase, smallmouth bass action is starting to turn on throughout the river, both upper and lower. Try Ned rigs or swimbaits. You must use artificial lures when targeting bass during the catch and release season. The Mike and Mike Show was back at it this week and they report that white (silver) bass have shown up. Both Mike Rzucidlo and Mike Ziehm of Niagara Falls reported catching some, using 5-inch Zoom plastics on jigs and big No. 4 and No. 5 spinners. In addition to the white bass, they caught several big lake trout up to 15 pounds this week. Some muskies and sturgeons also were showing up. Musky season is closed, and sturgeon are a protected species. It is illegal to target these fish. According to Ziehm, water visibility was 5 to 7 feet and he caught some steelhead in the gorge, including some fresh fish. Water levels were low, making it more difficult. He was fishing with his son Corey. The NYPA fishing platform is open unless poor weather arrives like the snowstorm this week. If you want an update on whether it is open, call 286-6662. Canadian law enforcement means business on crossing into Canada from New York when fishing. Two Detroit River charter captains from Michigan were arrested recently for fishing in Canadian waters, receiving heavy fines for the infraction.
Lake Ontario and tributaries
Chris Schotz of Sanborn reported that he was on the water out of Wilson with Capt. Mike Johannes of Ransomville on Monday and they had a busy day in 70 to 80 feet of water fishing west between Six Mile Creek and the Niagara River, catching over 20 lake trout, a couple of  small kings and six cohos. All the lakers were caught on some "shiny, spinny things," according to Schotz (green cowbells with chartreuse spin-n-glows, as well as a shark flasher with a chartreuse peanut, according to Johannes) just off the bottom. "Dipsy Doodles" (Dipsy divers) were productive back 40 feet on some salmon with a silver coho flasher and green peanut fly. The salmon were in the top 20 feet of water, caught on purple and black spoons and chartreuse/orange stickbaits off riggers and planer boards. Capt. Bob Songin of Rochester fished Golden Hill to 30 Mile Point in 60 to 65 feet of water this week. There were kings and big lakers there, with his best bait being a white 2-face, 8-inch paddle with the A-Tom-Mik stud fly out 80 feet on wire divers as well as down 55 feet on the center rigger. His best spoon was a gold Forty-Second on riggers down 40 and 45 feet. He reported that he had good green water with what looked like schools of smelt on his electronics. The fish they kept also had smelt in their bellies along with 1-year-old alewives. Karen Evarts of the Boat Doctors in Olcott reports that largemouth and smallmouth bass are being caught in Eighteen Mile Creek, as well as catfish all the way to the dam. Both brown trout and smallmouth bass are being caught off the piers in Olcott and Wilson on minnows and in both harbors. Anglers are picking up yellow perch, bullhead and rock bass. Down at the Oak Orchard River, flows are slightly high and stained with about 1 to 2 feet of visibility, according to Ron Bierstine with Oak Orchard Tackle. There is limited pressure on steelhead despite the good chances due to cool water temperatures and good stained flows, according to Bierstine. This could be the last hurrah for steelhead as bass start moving in. Best chances are around the mid-river or lower river gravel spots and adjacent holes. The other area smaller tributaries have medium flows and slightly stained water color.
The crappie bite in the canals is still going but it is hit and miss, according to Capt. Mike Sperry with Chautauqua Reel Outdoors. The lake water temperature is slowing rising so fish should be on the beds soon. Try using a 1/32-ounce jig tipped with a minnow or plastic trailer under a slip bobber for success. Sperry anticipates another good walleye season starting May 1. There were plenty of fish up the creeks earlier this month on their spawning run. There have been some reports of yellow perch being caught, too, but many are smaller in size.