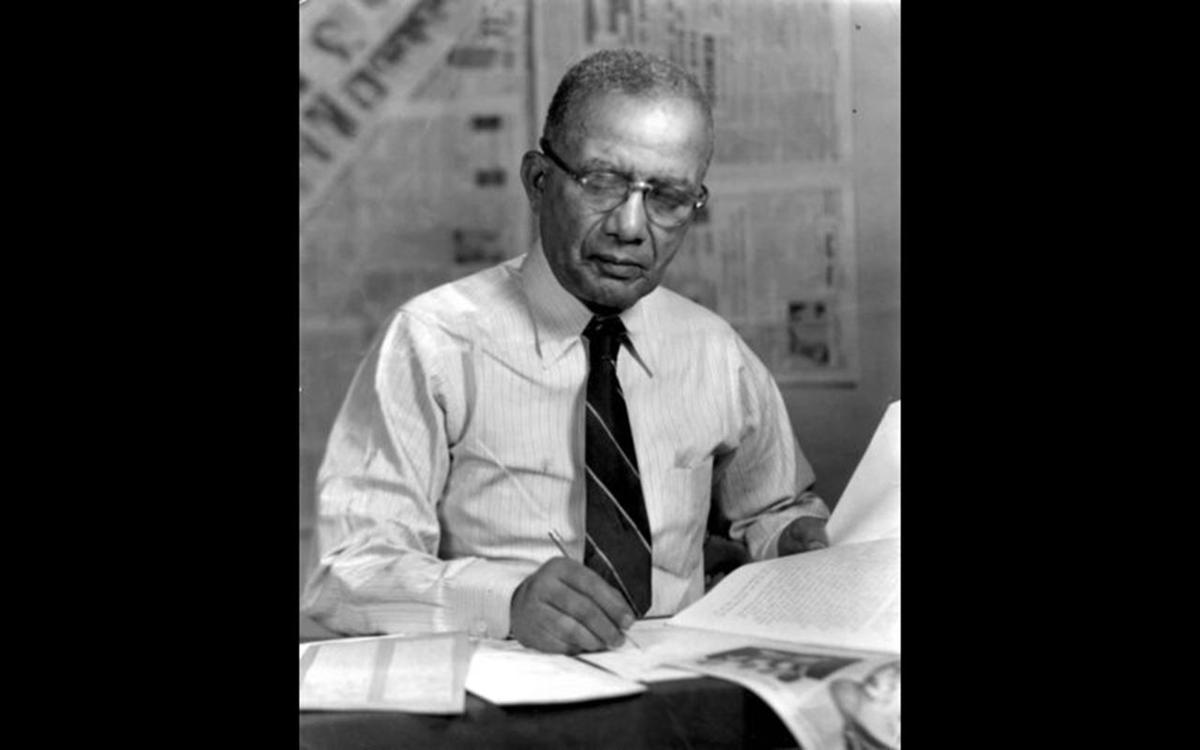 Who best represents the better angel side of Buffalo – A.J. Smitherman, a freedom fighter and former journalist who believed that Black Lives Mattered before such an idea became popular, or Millard Fillmore, who, as our 13th president, enforced the Fugitive Slave Act?
When I was 16, I worked in the office of the Empire Star. The editor was Andrew J. Smitherman. My job was to help Smitherman deliver newspapers to barbershops and other outlets each week.
In the office of the Empire Star, which was located on Broadway in Buffalo, had two other employees: Toussaint, his son, who managed the linotype machine, and Mary Lee Crosby Chappelle, who wrote columns and tutored me on writing mine. Smitherman lived on the premises and struggled to print his newspaper. Sometimes, when we were returning to the city after picking up the newspaper at a suburban printing plant, he'd fall asleep at the wheel.
The Star's backyard was full of papers and photographs. One showed a young smiling Smitherman squatting in front of a truck. A sign on the side read the Tulsa Star. I didn't make too much of it.
Years later, while researching Buffalo's Black history, I discovered that while Malcolm X preached armed self-defense. A.J. Smitherman practiced it.
A.J. Smitherman? This humble, mild-mannered man who spent hours in his office writing poetry, a firebrand? Unlike his light verse, Smitherman had written a poem about how armed Black men won a shootout with the would-be lynchers of Dick Rowland, a young man who was charged with assaulting a white girl named Sarah Page. She said that his bumping into her in an elevator was inadvertent, but the Tulsa Tribune played yellow journalism by hyping the encounter into an attempted rape with the headline, "Nab Negro for Attacking Girl in Elevator."
Because Rowland fled, knowing the fate of Black men caught close to a white woman, a mob gathered in front of the jail demanding that Sheriff Willard McCullough turn the youngster over to them even though Sarah Page backed Rowland's account of what happened. They might even have been lovers.
Rowland's mother, Damie Rowland Ford, says that when Rowland was exonerated, Page followed him to Kansas. But without the intervention of 30 armed Black men, he would have been lynched. Among them were veterans from World War I who went to assist the sheriff in fending off the mob. When the lynchers and the anti-lynchers confronted each other, a shot was fired. The shot set off a riot that ended with 300 Blacks dead.
Now the photo of a young Smitherman squatting before a truck marked the Tulsa Star made sense. Before attorney Smitherman published the Tulsa Star, he had published the Muskogee (Okla.) Star, where he insisted that Native Americans and Blacks not be denied their oil rights. Educated at LaSalle and Northwestern universities, Smitherman used the Tulsa Star to voice his opposition to lynching. The headline of the Tulsa Star on Jan. 4, 1919, was "Sixty-Two Lynchings During 1918! America's Disgrace."
His success at interrupting lynchings, sometimes armed and sometimes unarmed, aroused the hatred of the Klan and other white supremacists. In one spectacular blow against white supremacy, Smitherman's investigation of the torching of 20 African Americans in Dewey, Okla., resulted in the arrests of 36 men, including the mayor of the city of Dewey.
It was only a matter of time before the mob would retaliate against Smitherman. They found their chance when Rowland was held in prison and armed black men rose to defend him. Among them was Attorney J.B. Stradford, a graduate of Oberlin College and Indiana Law School. Smitherman was blamed for organizing the Black resistance to the lynching, or in the words of his enemies, "riling up Negoes."
When both Stradford and Smitherman were charged with inciting a riot, the Smithermans and Stradfords fled Tulsa. The mob burned down Smitherman's home and publishing company and Stradford's hotel. They lost everything.
The Smithermans settled in Boston first. Massachusetts refused Oklahoma's request that he be extradited. After Boston, the family moved to Buffalo. It was through the efforts of Stradford's descendants that both men were exonerated on Oct. 18, 1996. Since Smitherman and Stradford made sacrifices to challenge extra-legal lynchings, it's inexplicable that their heroism is omitted from the portrayal of the Tulsa catastrophe in the HBO series "Watchmen." Just like television and Hollywood – the special effects smother the story.
Millard Fillmore in 1856 sought a return to the White House as presidential nominee of the anti-Catholic, anti-immigrant Know-Nothing party, yet there is a statue to this president in front of City Hall.
Smitherman was an idealist, a man whom racists couldn't break, and a fugitive from mob justice. It is he who represents the best tradition of the city. The city that provided refuge for 50,000 slaves fleeing oppression, and refuge for a man who was indicted for interrupting lynchings. Why not a statue to commemorate his legacy?
Ishmael Reed is an essayist, poet and playwright with more than 20 books to his credit, including "Malcolm and Me," about meeting Malcolm X in Buffalo in 1962.