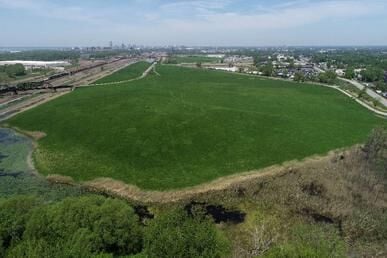 Late in his long life, Oliver Wendell Holmes wrote, "through our great good fortune, in our youth our hearts were touched with fire. It was given to us to learn at the outset that life is a profound and passionate thing."
The cauldron which formed my youth was far less violent than that of Holmes, who as a teenager served in America's Civil War. But coming of age 100 years later, during the turbulent 1960s, had on me a comparable effect. I learned the meaning and import of civic duty, admired those who dared to improve community, and vowed to pursue a similar path.
In furtherance of my youthful pledge, I've spent my adult life offering ideas and plans to help Buffalo become a vibrant city with a growing economy. One that equitably provides its citizens with social, cultural and educational opportunity.
My current project: restoration of a treasured Buffalo cultural space – Frederick Law Olmsted's South Park – by creating next door a public golf course designed by legendary champion, Jack Nicklaus.
The Nicklaus course will permit removal of an existing South Park golf course, and rehabilitation of Olmsted's famed arboretum. Binding these two new amenities will be an education center aimed at redressing inequity in opportunity for inner-city youth.
I devised the plan so our local Olmsted conservancy can achieve its long-sought goal of fully restoring the South Park arboretum, which it cannot do without removing the existing course. Our project is supported by the National Association for Olmsted Parks, the Buffalo chapter of the NAACP and Hispanics United of Buffalo.
Unfortunately, after six years of effort, by scores of citizens, our project has reached a make-or-break moment. Control of the land needed for the new golf course has come into question.
Last year, our charitable company entered into an option agreement with a private corporation relating to our land. Our purpose was to keep our project alive, while we strived to obtain donations, and responsibly provide an exit strategy should our efforts fall short. The company, Source Renewables, an energy finance firm, benefited from our continued ownership and responsibility for the land, while it sought capital to construct a solar panel farm.
This past autumn, we agreed that even if our public project succeeded, the finance company could option a portion of our land for its private use. In recognition of its time and patience, this pact assured the company of eventual profit.
Just as we approached our goal of a spring groundbreaking, Source Renewables reaped substantial profit from the sale of other solar assets. In turn, it adopted an aggressive posture, asserting that it possesses the right to not just a portion of our land, but its entirety.
The young men who run the solar energy firm are good and decent people. Their proposed project is worthy, and their right to profit we do not begrudge. Indeed, they are assured profit under our agreement to share the land.  That they obtained capital before we obtained donations is cause for rejoicing. But it is not an occasion to inflict harm on those without whom they would not have prospered.  
As with many legal documents, the option agreement is open to interpretation, and their lawyers are already marshaling muscular arguments.
But I have no interest in racing to a courthouse. Quarrel and dispute belie the spirit and purpose of our civic effort.
More important, I will not involve Jack Nicklaus, or Nicklaus Companies, in any conflict. There's a host of reasons why Jack is among the most recognized, respected figures in the world, chief among them his unparalleled character and integrity.
He combines that with extraordinary kindness which, along with his friendship, he has extended to me and our city. I cherish that friendship, and will do anything to protect it.
In the coming days, Source Renewables will receive an offer, one that allows both its project and ours to proceed, and ensures it substantial profit. I'm confident that the firm will not permit private enrichment to deny Buffalo citizens the public amenities which our project delivers.
In my civic life, I've been rather determined. With government reform and regional initiatives, I've been willing to put my ideas to the test of controversy. But I've always treated both allies and adversaries with dignity and respect. Just as I wouldn't know what to do with myself other than civic work, I know of no other manner than courtesy. 
Nevertheless, in seeking change, I've tested the patience of many, including those who lead Source Renewables. So our offer to them shall come not from me, but from a group of Buffalo leaders who have joined our cause.
The American Civil War began poorly for the Union. In search of an effective general, President Abraham Lincoln visited General George McClellan at his home. Lincoln waited several hours in the parlor while McClellan sat idly in his room. Asked why he would endure such treatment, Lincoln replied, "I'll hold McClellan's horse if he would only bring us success."
To any business leader who will now assist us in resolving our land issues, and give Buffalo the new public spaces it deserves, I will hold your briefcase. That is, I will gladly relinquish my position in the life of this project, if it ensures that it lives.
My crowded hours in civic service have been a privilege. I take a measure of pride that my work has not cost taxpayers anything, and that I've never asked for or received compensation. And I'm content to let the high court of history judge my efforts.
The poet, Robert Frost, wrote that the evening star "asks so little of us here. It asks of us a certain height." That is, the night sky merely asks that we persevere, and hold fast to the promise of the coming dawn.
That dawn is upon us. After suffering through a vengeful virus, our community and country will soon return to the uniquely American task of endless reinvention. I believe that Buffalo should lead the nation into the light of the new day, with a project that expresses hope and confidence in our future.
Kevin Gaughan is a civic leader and nationally known expert on community renewal. He introduced regional cooperation to upstate New York to increase governance efficiency and equity. A graduate of Harvard College and Georgetown University Law School, he is the author of "At First Light: Strengthening Buffalo Niagara in the New Century." His email is kevin@kevingaughan.com.