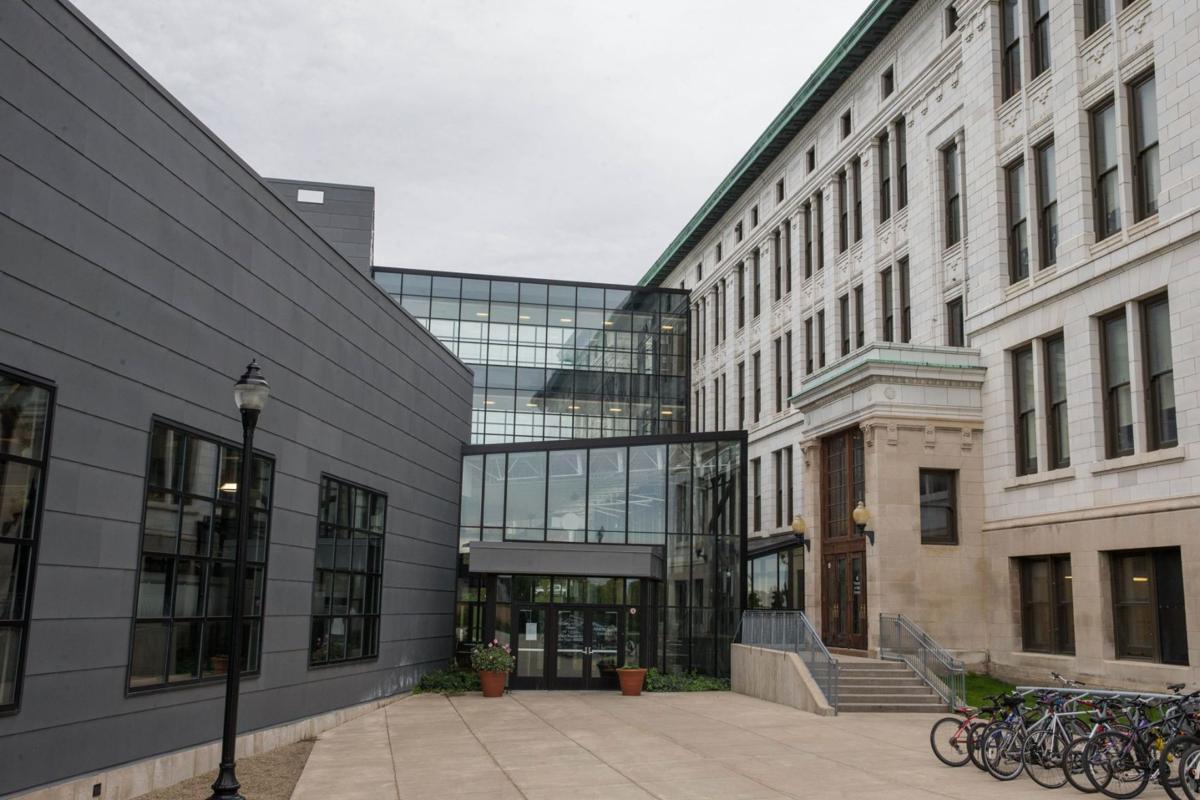 By Donald E. Grant Jr. and Shaun Nelms
The schools most of the children in our Buffalo neighborhoods attended were under-resourced, at best.
At worst, those schools serving students from the Langfield projects and Masten Park were breeding grounds for experiences that promoted low self-esteem, gang affiliation, drugs and violence.
So each morning, we boarded buses joining classmates from wealthier communities near the Amherst border and headed off to get an education our parents hoped might help us find a way out of the extreme poverty and other challenges that surrounded us.
We did, thanks in large part to the education and support we received during our time at City Honors School.
Every one of Buffalo's children deserves the same opportunity.
To this day, students – the vast majority of them white – travel from across the city to this campus on a hill between the Jefferson and Masten districts and the Fruit Belt, the historic landing site for black Americans moving to Buffalo throughout the 17th and 18th centuries.
That is, after all, the foundational purpose of a magnet school: to bring students from different backgrounds together, creating a community that is both inclusive of and welcoming to diversity. That was the intention when City Honors was founded in 1975, offering a specialized program that included rigorous college preparation designed to appeal to families from all walks of life.
But while the school maintains its strong academic reputation, it has deviated from its founding mission of inclusion.
Opportunities denied
The neighborhoods around the hilltop school remain home to the majority of the city's vibrant and resilient black residents. They also host some of the city's highest poverty and incarceration rates, statistics we can largely attribute to the lack of high-quality educational opportunities for too many residents. That includes the opportunity to attend City Honors.
Census data report that 37 percent of Buffalo residents identify as black and 45 percent as non-Hispanic whites. In the Buffalo Public Schools, 47 percent of students are black and 20 percent white, according to the most recent data reported by the New York State Education Department.
By contrast, state data reports show that just 17 percent of students at City Honors are black and 59 percent white, a gap that has widened even as the district attempts to address the civil rights lawsuit documented in a new book "Discrimination in Elite Public Schools: Investigating Buffalo."
People across social and print media are providing an array of responses to the decline in black student enrollment at City Honors. These responses range from vilifying the community where the school literally sits to supporting a racialized set of classist ideals congruent with the city's history and contemporary state of racial segregation.
These explanations demonstrate, at best, an attempt to cloud the impact of institutionalized under-education and racism and, at worst, a set of strategies that deliberately renders young black Buffalonians ineligible for one of the most impactful free educations the city has to offer. Buffalo must do better, and the solution must also embrace the principle of inclusivity the school was founded on.
Assess the assessment
Some would like us to believe that there are fewer black Buffalonians either able to pass or interested in taking the admissions exam for City Honors. But is the problem really lack of interest, or does the entrance exam really serve as a gatekeeping tool that effectively keeps black children from gaining admission? Has the entrance exam ever been evaluated to determine whether it includes content that is relevant to and resonates with non-white students?
The lack of culturally responsive curriculum, materials and assessments is an issue being discussed at all levels of our education system, from local school districts to the New York State Education Department. Buffalo School Superintendent Kriner Cash has vowed to have all of the city's teachers undergo training in culturally responsive teaching methods in the next few years.
That same commitment must also apply to the admissions assessment and requirements for City Honors. The district must create an inclusive entry process that includes academic performance, civic action and culturally relevant engagement that honors a multitude of cultural traditions.
The admissions process is just one piece of the puzzle, though. We also need to look at the retention and completion rates of those black students who do gain admission.
Even as black men with advanced degrees, both of us have often been in situations where our intelligence has been questioned and achievements scrutinized.
But this is nothing new. Our first experiences with this were at City Honors, where black children from all socioeconomic statuses have always paid a sort of "black tax," having to work far harder and perform at higher levels than our white classmates.
Those unable or unwilling to pay that tax were often "counseled out" to make room for "more desirable" students. We can think of several friends who suddenly disappeared after eighth-grade Moving Up Day. Students who were just as smart, just as worthy.
Funding multiculturalism
We share this memory because it underscores a deeper problem that must be addressed in order to create a truly inclusive environment at City Honors: the implicit – or in some cases – explicit, bias students encounter in the school culture.
City Honors has never been a utopia for black students. But in our day, there were several things we could count on.
Mr. James Duggan made sure that August Wilson's "Fences" was held to the same esteem as Thornton Wilder's "Our Town".
Mrs. Irene McVay made sure that there were MLK Day and Black History Month programs every year.
Mrs. Floetta Washington introduced you to Boo Radley and Walter Lee Younger.
Ensuring that elements of the curriculum are both rigorous and inclusive of anti-bias frameworks is critical.
When we look at the recruitment and retention of students, we also have to ensure that the environment we are inviting them into is not riddled with injuries that further disenfranchise them. That starts with the expectations.
The early exposure to high expectations set the foundation for our academic confidence and achievement, something often stolen from students who come from backgrounds like ours.
And inclusive practices benefit all students, not just those of color.
Research demonstrates that students who attend schools that lack diversity miss critical exposure to content and classroom experiences that are possible only in classes where students represent multiple cultures.
In addition, students not exposed to multiple perspectives exhibit a higher capacity to allow stereotypes to drive interpretations of and responses to their engagements with people who are different.
That works against them in college, careers and life, given that some of today's most competitive workplaces and higher education institutions host a wide array of multiculturalism and diversity.
Empower stakeholders
A school with the tools and talents that City Honors holds has a responsibility to engage its surrounding community in a way that is non-paternalistic.
That can start by building partnerships with other nearby elementary schools, which could help recruit a larger pool of black applicants. Partnerships can also dismantle the myths (or truths) about the exclusivity of the school, while also modeling that its rigor is achievable for people who have been convinced otherwise. Partnerships create opportunities for students.
Tapping into the expertise of community stakeholders is also critical for academic and developmental programs that aim to address the whole student. Engagement of such individuals and groups can also reduce the homogeneity of thought that often leads to declines in multiculturalism.
City Honors must make efforts to include community partners, business leaders, city officials, alumni, current staff and individuals with skill sets that are deemed valuable to the viability of the school and the sustainability of its mission. That can be done by convening advisory boards that help drive authentic change, while at the same time empowering members to contribute to one of Buffalo's biggest success stories.
That process will require school leaders to also be mindful of the gentrification that is now taking its hold on the community.
Any economic boom, such as the one being driven by the growth of the Buffalo Niagara Medical Campus and Buffalo's tech industry, runs parallel to another process that displaces residents from the streets they have called home for generations.
Gentrification is most often a process that lacks a lens of cultural empathy. As a city's priorities shift, so do resources, and it is imperative that a city's academic community support communities and families through these transitions.
The academic community doesn't always have the influence to imbue the process of gentrification with cultural empathy.
But it does have the responsibility to ensure equitable access to high-quality programs. Systems often adopt an "either/or" philosophy when the most ethical courses of action employ a "both/and" perspective.
An ethical responsibility
City Honors sits at the precipice of a significant opportunity – an opportunity that if taken can place the state's second-largest city at the epicenter of a sociocultural revolution happening in education.
The school has the opportunity to model a deliberate shift in the nepotism and lack of inclusion that is often part and parcel to elite education, becoming a model for districts all over the country struggling with this very issue.
It also has an ethical responsibility to provide access to elite education in a manner that honors the presence of a black population close to 40 percent.
This is critical not just from a social justice perspective, but an economic one, as Buffalo's future economy depends on all of its young people receiving a high-quality education.
As the old saying goes, "A rising tide lifts all ships."
Dr. Donald E. Grant Jr. is president and CEO of Mindful Training Solutions LLC. A 1995 graduate of City Honors, he previously served as a clinical psychologist and administrator in the country's largest child welfare district after a career as a public middle school teacher. Dr. Shaun Nelms is superintendent of the University of Rochester Educational Partnership at East and director of the university's Center for Urban Education Success. A 1994 graduate of City Honors, he previously served as deputy superintendent for the Greece Central School District and as an administrator in the Rochester School District.