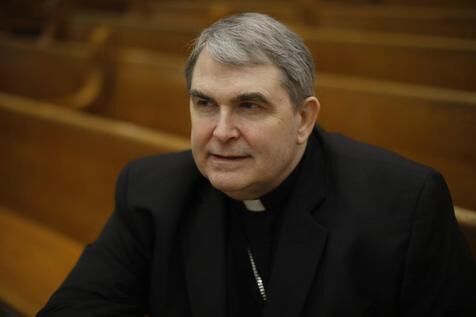 Some eight months ago, I arrived in Buffalo as a new and enthusiastic resident, with a new position and a clear mandate: to lead the Catholic Church of Western New York as its 15th bishop and to serve the faithful as a true pastor and shepherd.
I made it my first priority to listen and engage with the broadest cross section of those who have been so affected by what I consider and regularly describe as unconscionable crimes against the most vulnerable – the sexual abuse of minors by those who presented themselves as servants of the Gospel of Jesus Christ.
Since then, I have met with victim-survivors, lay Catholic leaders and parishioners, those of the Movement to Restore Trust, civic leaders, educators, members of the news media and priests, deacons and members of religious orders here in the Diocese. I have experienced their anger, their pain, their utter dismay and frustration, and, yes, their hope.
I have welcomed their ideas and advice for what we can and should do to restore trust and the credibility of Church leaders, and begin to write a new, more-promising chapter for Catholic faith and impact throughout our region. I am under no illusions. The road will be long and often difficult.
We have embarked on the "Road to Renewal" as a way to consider how we can better harness our collective resources to more effectively serve the considerable material and spiritual needs of those who depend on the good that the Church provides, while rediscovering zeal for the Gospel of Jesus and our mission to evangelize and minister. At the same time, we are working through the complexities of our Chapter 11 reorganization, precisely in order to achieve some level of restitution and sense of justice for the largest number of those who have been harmed however long ago, while also continuing the vital work of faith that serves so many critical needs in Buffalo and surrounding communities.
Ultimately, our commitment to ensuring that the crimes and sins of the past cannot be repeated in the present will be measured not by what we say, but by what we do. This requires a "zero-tolerance" policy for any member of the clergy, lay employee or volunteer who commits an act of abuse toward a minor or vulnerable person, or an act of harassment toward an adult.
It means deferring first to law enforcement authorities if and when there is an allegation of a crime; it means strict adherence to rigorous policies and protocols in dealing with behaviors that violate our clear Code of Conduct, regardless of rank or status; it means effective monitoring and regular independent auditing to ensure that our efforts to ensure safe, healthy and Christ-centered environments for young and old alike can withstand the harshest scrutiny.
This is what I pledge as bishop and how I personally expect to be held accountable. While I pray constantly for the healing of those who have had to carry the awful burden of abuse with them for however long, I accept that some will not be able to ever feel at home within the same Church where they were once betrayed.
Still, we must do everything within our power to demonstrate that they have been heard and their pain acknowledged. Only then do we have the right to ask forgiveness and dare to hope that, with the awesome grace of God, it might be granted.