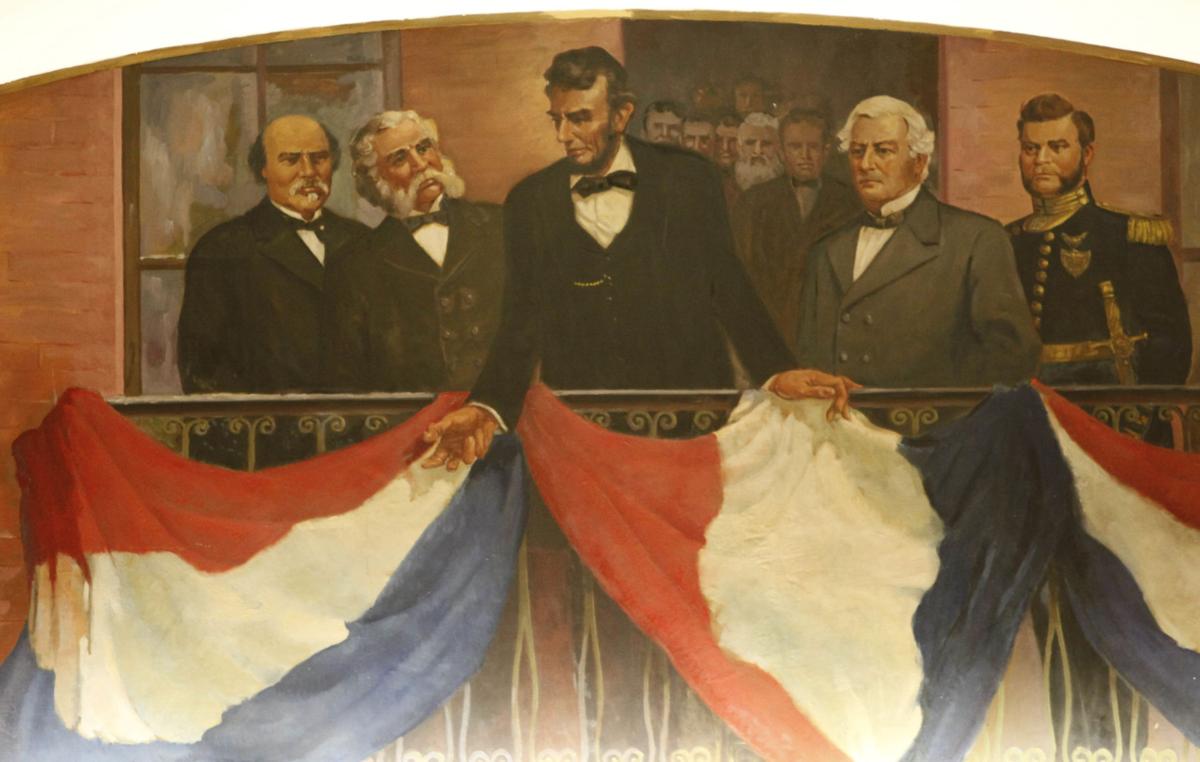 The Works Progress Administration lives on in the steep toboggan hill at Chestnut Ridge Park, the polar bear habitat in the Buffalo Zoo and Main Street in East Aurora.
Its presence is felt in the decorative cast-stone reliefs at A.D.
Price Courts on the East Side, the murals that adorn the walls of Angola Post Office and Barker High School and the art deco Buffalo school building that's now home to Frederick Law Olmsted students.
Because of the WPA, War Memorial Stadium and Memorial Auditorium were built, the Buffalo River was widened and straightened, and an unused portion of the Erie Canal was filled in.
In all, more than 300 WPA projects during the Great Depression transformed the Buffalo Niagara region while providing jobs and self-respect for 40,000 blue- and white-collar workers and artists from the relief rolls.
This year marks the WPA's 75th anniversary, and it arrives at a time when some say a massive public works program is once again needed to put people to work, rebuild aging infrastructure and pull the country back from economic calamity.
"The WPA gave us a tremendous shot in the arm economically, and it could have that impact now," said historian Mark Goldman, author of "City on the Lake."
Samuel L. Radford III, who serves on Buffalo's Citizen Planning Council, said a WPA-style program is desperately needed to fund infrastructure projects.
"What's approved are all crisis-management projects. There isn't enough money to do anything beyond that," he said.
Radford, vice president of the District Parent Coordinating Council, said another WPA-style jobs program would dramatically deter inner-city youth violence.
The WPA, which existed from 1935 to 1943, was the largest jobs program of several New Deal "alphabet" recovery initiatives, including the Civilian Conservation Corps (CCC) and the Farm Security Administration (FSA).
They were started by President Franklin D. Roosevelt to combat staggering unemployment that stood at nearly 25 percent when he assumed office in 1932.
The WPA has been credited with playing a crucial role in lessening the hardships of the Great Depression, which the United States emerged from in World War II.
"They were tough times," recalled Buffalo playwright Manny Fried, 97, who said acting with the WPA's Federal Theatre Project in New York City, for whom he appeared in "The Taming of the Shrew" at Sing Sing Prison in Ossining, was a lifesaver.
"Actors at that time had a soup kitchen at Actors Equity where you'd go to get a meal. The Works Progress Administration provided the food. It was the difference between eating and not eating," Fried said.
The WPA employed 8.5 million people, many of them laborers, in 1.4 million projects nationwide.
Over eight years, the WPA built 651,087 miles of highways, roads and streets, and constructed, repaired or improved 124,031 bridges, 125,110 public buildings, 8,192 parks and 853 airport landing fields.
The jobs program also recognized the importance of artists through the Federal Arts, Theater, Music and Writer Projects, and the Historical Records Survey.
Some 30 million spectators saw a play or puppet show put on by the Federal Theatre Project. That included, locally, 702,948 who attended 668 engagements by the Buffalo Historical Marionettes from mid-1937 to mid-1938.
The impact of the WPA in Buffalo and Western New York, at a time of such crushing poverty and unemployment, was enormous.
By 1936, the WPA was pumping $60,000 a day into Buffalo projects, employing about half the eligible workers at a time when one in four Buffalonians was on relief or doing make work.
Many of the projects left no visible signs behind decades later. That includes the most costly -- millions spent on 53 sewer projects citywide -- and the largest for women and girls -- the Sewing Project that employed 2,200 in 1936.
Some 150,000 winter garments and bedding were manufactured for families on relief, including 8,000 school dresses.
Public artwork, especially murals, remain visible throughout Western New York.
Canvasses are in post offices in Springville, Orchard Park, Akron and Attica, in Bennett and Riverside high schools, at Fort Niagara in Youngstown and in the Buffalo History Museum.
"Before the project, the only place people put art was in the churches," artist Carlo Nisita recalled decades later in the Buffalo Courier. "After the [Federal Arts] Project, there was art in the schools and paintings in the public buildings, any public building."
The Buffalo Historical Marionettes, with the all-black Jubilee Singers, was representative of the artistic vitality of the period.
More than 200 people were employed in its heyday, from scene designers, tailors and costume makers to puppet makers and drivers.
Several shows were produced and performed in schools, nursing homes, public parks, civic organizations and, on one occasion, Attica Prison.
The racial politics were unusual for the time, said Paul Rachleff, a Macalester College history professor in St. Paul, Minn.
"You had invisible black performers operating white puppets in blackface, singing songs written by white people that claimed to be black songs," Rachleff said. "Who knows how conscious people were that they were subverting conventional racial stereotypes?"
Another example, he said, was the staging of "Uncle Tom's Cabin." In their adaptation, President Abraham Lincoln came on stage in the last scene to recite the Emancipation Proclamation over Uncle Tom's body.
"It's understandable that to some people the arts are the first thing to go in hard times because they don't seem essential," said Michael Hirsch, a University at Buffalo professor and senior research scholar in the Department of American Studies.
"But the lesson of the '30s is that it's exactly those times that they can be the most important to a community, and when we need them the most."
Conservatives were opposed to the WPA, warning of inefficiencies and waste, the raising of the deficit and creeping socialism, which has a familiar ring now.
President Obama hasn't called for a new WPA, and his $787 billion stimulus plan in early 2009 wasn't meant to be one.
But on Tuesday, Republican leaders immediately denounced his relatively modest $50 billion program for rail, highway and runway improvements, predicting its failure.
Former Clinton Labor Secretary Robert Reich, Princeton Nobel Prize-winning economist Paul Krugman, Yale economist Robert J. Shiller and filmmaker Michael Moore are also among those who think a contemporary WPA program is needed to reduce high unemployment and stabilize consumer demand.
Tax breaks, reducing deficit spending, shrinking government and loosening regulations on corporations can't do that, they say.
Aaron Bartley, executive director of People United for Sustainable Housing, also believes the time is now for a WPA-style program that can address old housing stock, green energy, transportation and Buffalo's aging sewer system.
"We see pressing needs that have gone unmet because there is no capital to meet them. But what the '30s show us is that often times the most pressing human needs are best met in times of crisis."
Howard Stanger, Canisius College professor of management and history at the Wehle School of Business, said the importance of the WPA at such a critical time in the nation's history cannot be underestimated.
"I tell students that so much of the basic infrastructure of our daily lives was created during the New Deal's WPA and other lettered programs," Stanger said.