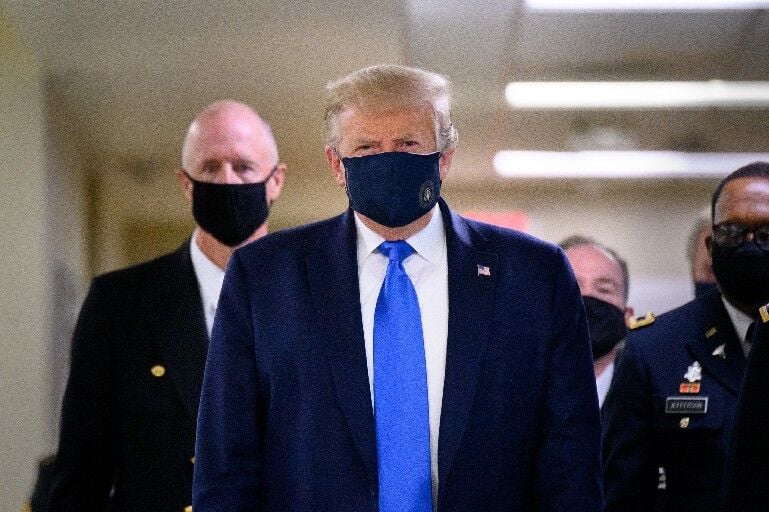 It was enough to break your heart. And to make you furious. What does it take for Americans to realize that wearing masks saves lives?
For WGRZ meteorologist Patrick Hammer, it was the death of his mother.
"If someone had worn a mask, she'd be alive," Hammer told News columnist Alan Pergament this week. His mother's unnecessary death opened his eyes to the fact that inconvenience and discomfort are irresponsible considerations in the midst of a lethal pandemic.
Before Covid-19 killed his mother, Hammer acknowledged that he was no advocate for masks, which he found to be irritating. But that's like saying seat belts are uncomfortable or that thunder is loud. So what?
Hammer deserves credit for coming forward at some risk of embarrassment. He gave a moving eulogy for his mother on Monday's broadcast of Daybreak, Channel 2's morning program. Maybe it will help to make a difference.
So might President Trump's about face on masks. For months, he dismissed the importance of masks, making his refusal an article of faith for those who reflexively follow his lead. He continued to diminish their importance, even as Covid-19 killed Americans by the thousands.
That changed on Tuesday when, in a nationally televised presentation, the president suddenly supported wearing masks and, in another turnabout, acknowledged the obvious truth that pandemic conditions in this country would get worse before they get better. Now, he says, wearing a mask is patriotic. It is – and it was.
Skeptics will conclude that Trump's new approach has more to do with reviving his re-election hopes than a genuine change of heart, but that's politics. What is critical is public health and American lives.
This week, for the first time since early June, more than 1,000 Americans died from Covid-19 in a single day. Lacking leadership and a realistic plan, the United States this week also recorded 1 million new cases of Covid-19 in the space of just two weeks. It's already late, but it is critical for the federal government to get real about the risks that Americans face from this virus and how they can diminish them.
As a general observation, New Yorkers have done a remarkable job in constraining the novel coronavirus. Once the global ground zero of Covid-19, the state is now an example of how to control it.
It's among the reasons that residents of this state can be proud that Gov. Andrew M. Cuomo is sharing both experience and, critically, supplies in out-of-state areas where they are needed. Other states did that for us and it's helpful – essential, really – for New York to return the favor.
Nevertheless, it is improper for the state to withhold information about the costs of the state's generosity and the range of supplies that will be held in reserve against a new spike in infections. That's public information. Assuming the governor is continuing his informed leadership on this issue, its dissemination will only instill more pride and confidence in New Yorkers.
Other states need to follow our lead and those New Yorkers who remain doubtful need to wise up. The president did. Wear a mask.
What's your opinion? Send it to us at lettertoeditor@buffnews.com. Letters should be a maximum of 300 words and must convey an opinion. The column does not print poetry, announcements of community events or thank you letters. A writer or household may appear only once every 30 days. All letters are subject to fact-checking and editing.
Concerned about COVID-19?
Sign up now to get the most recent coronavirus headlines and other important local and national news sent to your email inbox daily.