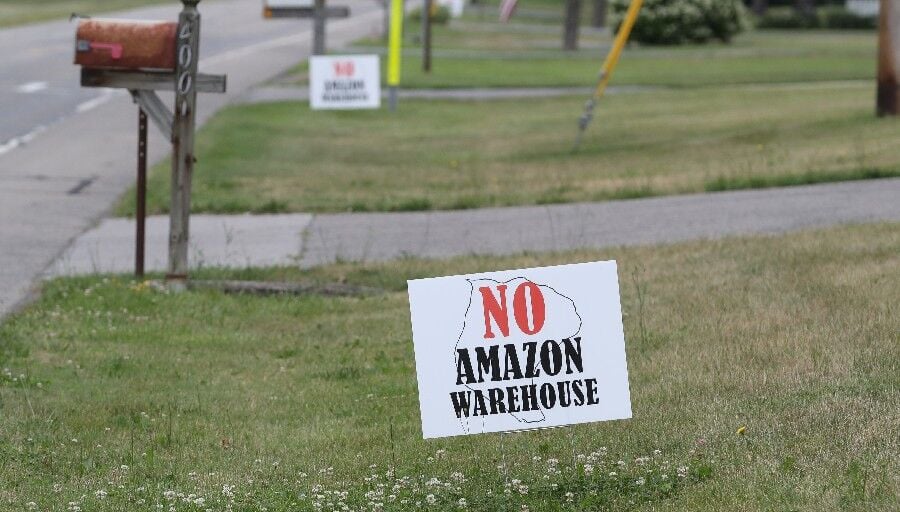 Benjamin Franklin wrote that, in this world, "nothing is certain except death and taxes." Those certainties are all too familiar to Western New Yorkers, but for our region we would add a third: People here don't like change. Too often, that resistance hinders the necessary efforts to attract new businesses and increase our population.
The status quo is fine in some cases. We want Buffalo Niagara to preserve and celebrate the best of its history and heritage, its architecture and other aspects of its culture.
However, standing in the way of progress can work to our detriment. A case in point is the proposal to build a gigantic warehouse and distribution center on Grand Island, presumably to be operated by the e-retailing giant Amazon. Opponents of the planned facility on Long Road served notice last week that they have not yet begun to fight.
"We're just getting started," said Cathy Rayhill, the co-founder of a group opposed to the project whose code name is Project Olive.
Grand Island residents have legitimate concerns about the facility, including the possibility of new traffic congestion, particularly on the island's bridges. As we have noted before, Amazon is in the logistics business, in addition to retailing. The company would be foolish to create traffic bottlenecks that trap its own vehicles and slow the completion of its deliveries. The developer pitching the project, Trammell Crow, is negotiating with Grand Island officials over tax incentives and funding improvements to benefit the town. Traffic flow solutions figure to be in whatever agreements are reached.
Island residents are right to advocate for their interests as property owners, but trying to kill the project won't serve the town or the region in the long term. The Project Olive facility would employ from 1,000 to 1,800 individuals daily, and would add to Grand Island's tax rolls. A "just say no" approach sacrifices economic benefits for the sake of convenience or resistance to change. It's a reflex this region has seen many times in the past.
Buffalo Niagara's economic sustainability depends on creating jobs and encouraging more people to move here. Those don't happen without creating an environment that welcomes new enterprise, rather than driving it away.
Not all development is desirable, of course. And negotiations between businesses, government officials and citizen groups can shape new projects in a positive way. At other times, though, opponents deprive our cities and towns of opportunities.
Westwood: The eight-year effort to redevelop the site of the former Westwood Country Club in Amherst has been a tug of war among various stakeholders, including neighbors of the site, many of whom posted lawn signs saying "Keep Westwood Green." The plans have evolved to where the former golf course will stay green as a nature park, while clearing the way for new commercial development on the north side of Maple Road, near Audubon Golf Course.
Negotiations among various parties shaped the Westwood plans, which represent a promising way to bring more recreational space to Amherst residents and create room for new business ventures in the heart of the town.
Lighthouse Wind: Five years of opposition from local residents, town officials and outside activists has apparently stopped the plans by Apex Clean Energy to build a major wind energy project in the Lake Ontario towns of Somerset and Yates. The company proposed building 47 wind turbines, each 591 feet tall.
The News reported on Wednesday that Apex removed its last meteorological tower from Lower Lake Road, which Somerset Supervisor Jeffrey M. Dewart said indicates that the Lighthouse Wind project is dead. Apex denies that is the case, but bringing the project into being appears a long shot.
Whether or not Lighthouse Wind should be built there is not for us to referee, but it seems that whenever a wind turbine project or solar farm is proposed in our region, opponents rise up to knock it down. The argument favoring such projects is not the employment created by building wind turbines, but the long-term sustainability of our region if we do not make the transition to renewable energy sources. Fossil fuels are a major culprit in our changing climate that is causing global temperatures to rise and more unpredictable weather patterns.
Other obstructions include efforts to halt redevelopment of the former Women's and Children's Hospital in the Elmwood Village. Ironically enough, public opposition helped shoot down the first attempt to build a new children's hospital, 21 years ago. Go figure.
Citizen advocacy can produce great things. Buffalo's Canalside would not have developed to the same extent had not local opponents stopped the plan in the 2000s to use $35 million in government incentives to bring a Bass Pro shop to our waterfront.
At the same time, the reflex to reject new business projects – particularly with the beating that Covid-19 has inflicted on our economy – will stop our region from solving the slow draining of Buffalo Niagara's greatest resource: its people.
Catch the latest in Opinion
Get opinion pieces, letters and editorials sent directly to your inbox weekly!