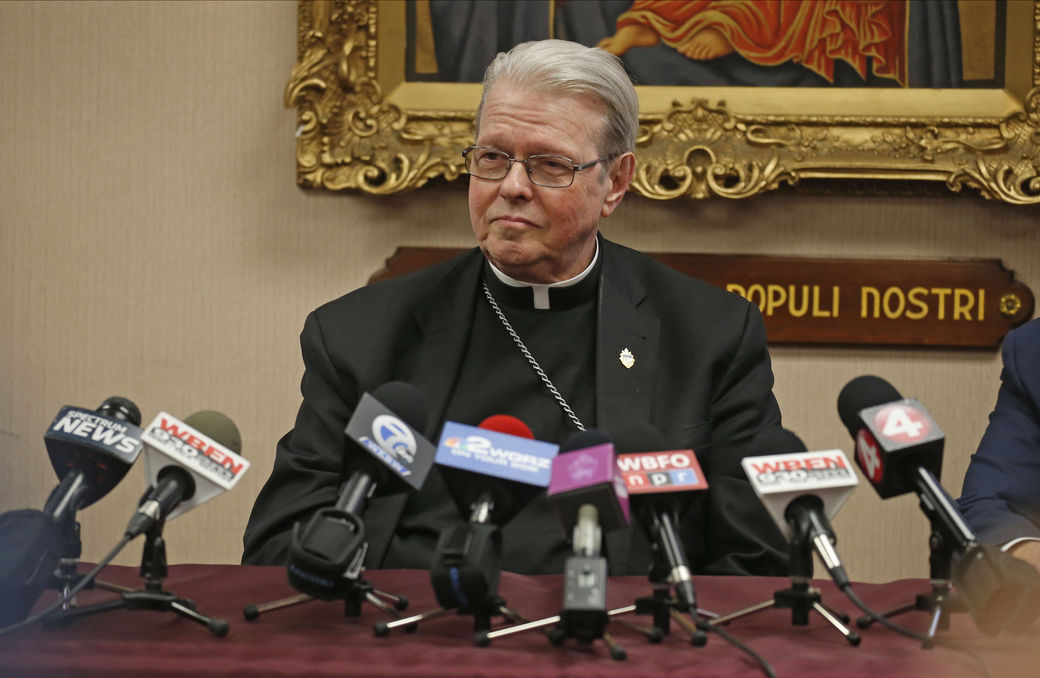 It's now been well established that the Catholic Church here in Western New York is facing unprecedented challenges that strike at the heart of its credibility, its ability to serve so many critical needs and, yes, its viability as a force for good. 
Those in church leadership must admit that many of these challenges are a result of woeful failings over many years that have caused devoted Catholics to question the fundamentals of their faith and identity.
Other challenges are a result of broader trends not unique to this diocese – shifting cultural sensibilities and accepted societal norms, and the dominance of secularism that permeates all aspects of life, both within and outside the community of faith.
All the more reason that the church – and this Catholic diocese, now 173 years old – is not excused from the requirement to make clear why we exist, what it is we offer and who it is we serve, and why it is we are still deserving of the trust and confidence of our members and the broader public in the present age.
The first of those decisions could come "within months, if not weeks" after diocese officials reach out to Catholics throughout the diocese, the bishop said.
The added burden of financial hardship currently confronting the diocese and many of our parishes – and exacerbated by the Covid-19 threat – is one that necessitates that we rethink how we are organized and how we can better utilize resources parish-to-parish, such that the impact of the good we seek to accomplish adds up to more than the sum of our many parts.
Toward this end, the Catholic faithful, priests, deacons, religious, parish administrators and school leaders of the Diocese of Buffalo have embarked on a journey to reinvigorate Catholic faith, to optimize more fully parish and diocesan resources, and, importantly, increase the reach and impact of our varied ministries throughout Western New York.
This past summer, I formed a Diocesan Renewal Task Force to look at best practices regionally and nationally, to learn how others have faced or are facing similar challenges with regard to diminished financial resources and reduced church and school attendance, but who nonetheless have been successful in promoting a culture of co-responsibility among laity, clergy and religious in carrying out the work of evangelization, education and service.
Never has what we offer been more needed, particularly in light of the devastating, ongoing effects of the Covid-19 threat. As families struggle with the uncertainty of prolonged financial hardship, parish communities must be that place where those struggling to access basic resources have a place to turn, where there is always a shoulder to lean on and where no one is left to walk alone.
The work of redefining our purpose and mission, and with it a more sustainable structure for our parishes and schools, will necessitate making choices. Relying on the guidance provided by the "The Pastoral Conversion of the Parish Community in the Service of the Evangelising Mission of the Church," issued this past June by the Vatican's Congregation of the Clergy, we must accept that it's no longer an option for parishes and schools teetering on the brink of insolvency to maintain the status quo.
As we look at other examples around the country, we must be willing to admit that traditional ways of thinking about parishes – as defined territory, property and buildings – is an obstacle to reimagining and reinvigorating Catholic life and ministry:
"… the Parish territory is no longer a geographical space only, but also the context in which people express their lives in terms of relationships, reciprocal service and ancient traditions. It is in this 'existential territory' where the challenges facing the Church in the midst of the community are played out.
"As a result, any pastoral action that is limited to the territory of the Parish is outdated, which is something the parishioners themselves observe when their Parish appears to be more interested in preserving a nostalgia of former times as opposed to looking to the future with courage." (The Pastoral Conversion of the Parish Community #16 – Congregation for the Clergy.)
This is not to suggest that a parish can merely be disbanded or eliminated. As a "Family of Faith" defined by a legacy of sacramental life, which has nurtured a distinctly Catholic identity and where life's most profound moments have been shared and celebrated, a parish community reflects the very soul of those who belong to it. As such, we are intent on determining how best to preserve that identity as a "Family of Families" – regardless of decisions that may change the way any one parish family is organized and experiences the fullness of Catholic life.
Much as the disciples had their hope renewed after breaking bread with the Risen Lord following their unsuspecting walk with him on the long road to Emmaus, we are on a similar journey.
Like those first followers of Jesus, we are traveling together, supporting one another, listening and learning, seeking a spirit of renewed purpose and determination, and united by our common faith in the one whose work it is we must ultimately accomplish, and who alone is capable of making all things new.