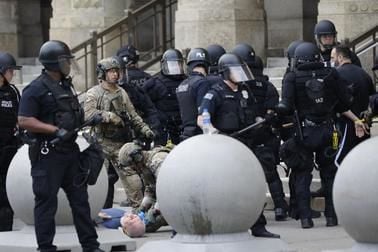 Julia Ioffe reported in GQ on Oct. 20 that "a military official inquired about deploying (directed energy weapons) against protesters" in Washington, D.C. The event was doubtless the president's photo op incident on June 1. The rest of her article discusses the bizarre and sometime permanent harm to American diplomats caused by these infernal weapons.
That the military would consider using these weapons on Americans is way beyond the pale.
I am the 75-year-old that was injured in front of City Hall June 4. The video of that event went viral and was seen all over. But so many people engaged in Black Lives Matter protests across the country have been assaulted, illegally, by the police. Each of these was a crime, with no regrets, at least in the public mind.
The notion that people who complain about social inequities are criminals is untrue, and must be corrected, and must be corrected from the top. It is very unlikely to expect that people at the bottom of a hierarchy will oppose an illegal order that seems to have been approved all the way up the chain of command. The Stanley Milgram experiments in 1963 demonstrated this conclusively.
The only fix I can see is to hold responsible those at the top. I hope they can see the very dangerous condition that exists and be willing to "take one for the team" to send a message. We're all in this together.
Catch the latest in Opinion
Get opinion pieces, letters and editorials sent directly to your inbox weekly!