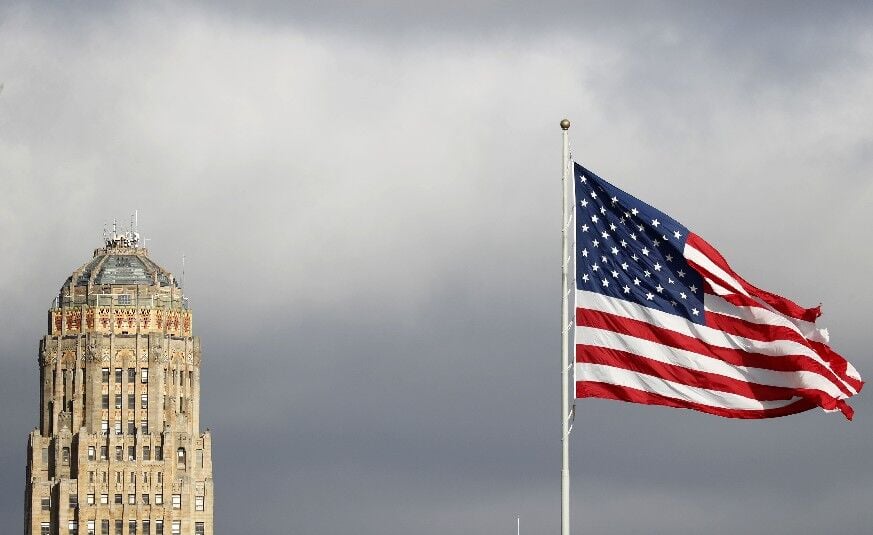 The Buffalo Common Council wants to implement a system for tracking the deluge of federal money the city is pocketing as part of the federal American Rescue Plan. It's not just a wise idea, it's an essential one: People can get sticky fingers for much less than the $330 million coming to Buffalo, let alone the $823 million coming to the eight counties of Western New York.
Governments around the region should take note.
It's not just the prospect of pilferage, though it will be a temptation. By their nature, bureaucracies provide opportunities for confusion, miscommunication, misunderstanding and inattention. The risks go up with the dollar signs. How do you ensure that this torrent of money is spent in compliance with both federal law and local decisions on how it will be directed?
The simple answer is by accounting. Someone needs to be watching – closely. But it's more complex than that. Any oversight system will have to be sufficiently sophisticated if it is to track the disbursement of a flood of dollars coming at a unique moment.
The need for accounting may be most urgent in Buffalo and the city school district, which is getting another $233 million in federal stimulus funds. As the top recipients of this federal largesse, they offer the greatest opportunities for carelessness and mischief.
But all entities in Western New York need to establish rigorous systems for tracking and publicly reporting how this money is spent. Absent that oversight, it's all but guaranteed that some portion will be misused. That will rank somewhere on a scale of tragedy.
While much of this money is appropriately meant to help stabilize public entities that lost revenue because of the coronavirus pandemic, much of it will be available for projects that ought to be historic and transformational. That opportunity should not be lost to lack of focus on planning, implementation, tracking and public reporting.
Examples of the risks are easy to identify. Last year, as the federal government first responded to the Covid-19 pandemic, two programs in particular were subject to what one official recently called an unprecedented level of fraud – Economic Injury Disaster Loans and the Paycheck Protection Program.
"In terms of the monetary value, the amount of fraud in these Covid relief programs is going to be larger than any government program that came before it," Hannibal "Mike" Ware, the inspector general of the Small Business Administration, recently told ABC News.
It's not just pandemic response. The Buffalo Billion economic development program initiated by former Gov. Andrew M. Cuomo was marred by bid-rigging that tarnished its legitimacy. In 19th century New York City, William "Boss" Tweed made himself rich by feeding on public money. The defects of human nature are with us always.
Public entities receiving the latest influx of federal dollars need to do better. Every county, municipality and school district should commit to a verifiable, publicly accessible system of tracking this money, reporting how it is intended to be spent, how and when it was actually spent and who received it. The information should be routinely updated, in real time, when possible.
That's the way to build public trust. Indeed, any lack of transparency in these matters should otherwise be viewed as suspicious.
It will help matters to the extent that the State Comptroller's Office can monitor the use of this money, though its role may be restricted to spending specifically tied to government budgets. While the office's usual influence is retroactive – auditing monies already spent – it could still help if local public officials know that someone with clout is watching. If the state can focus their attention, the possibilities for loss will be diminished. The Comptroller's Office and the U.S. Department of the Treasury have each issued documents explaining the responsibilities of local governments in accounting for the use of these funds.
"Fraudsters are going to do what fraudsters are going to do," Ware said in his interview with ABC News. "But the upfront controls mitigate exposure to fraud, and doing so would have saved taxpayers a whole lot of heartache on the back end. Unfortunately, the heartache was not avoided because of the way these programs were implemented up front."
That's a warning for those in charge of managing the windfall from the American Rescue Plan. It's getting late, but those controls need to be in place as this avalanche of money is spent over the next few years. Without close monitoring, some share of this money will evaporate without leaving the lasting mark that taxpayers expect and deserve.
What's your opinion? Send it to us at lettertoeditor@buffnews.com. Letters should be a maximum of 300 words and must convey an opinion. The column does not print poetry, announcements of community events or thank you letters. A writer or household may appear only once every 30 days. All letters are subject to fact-checking and editing.