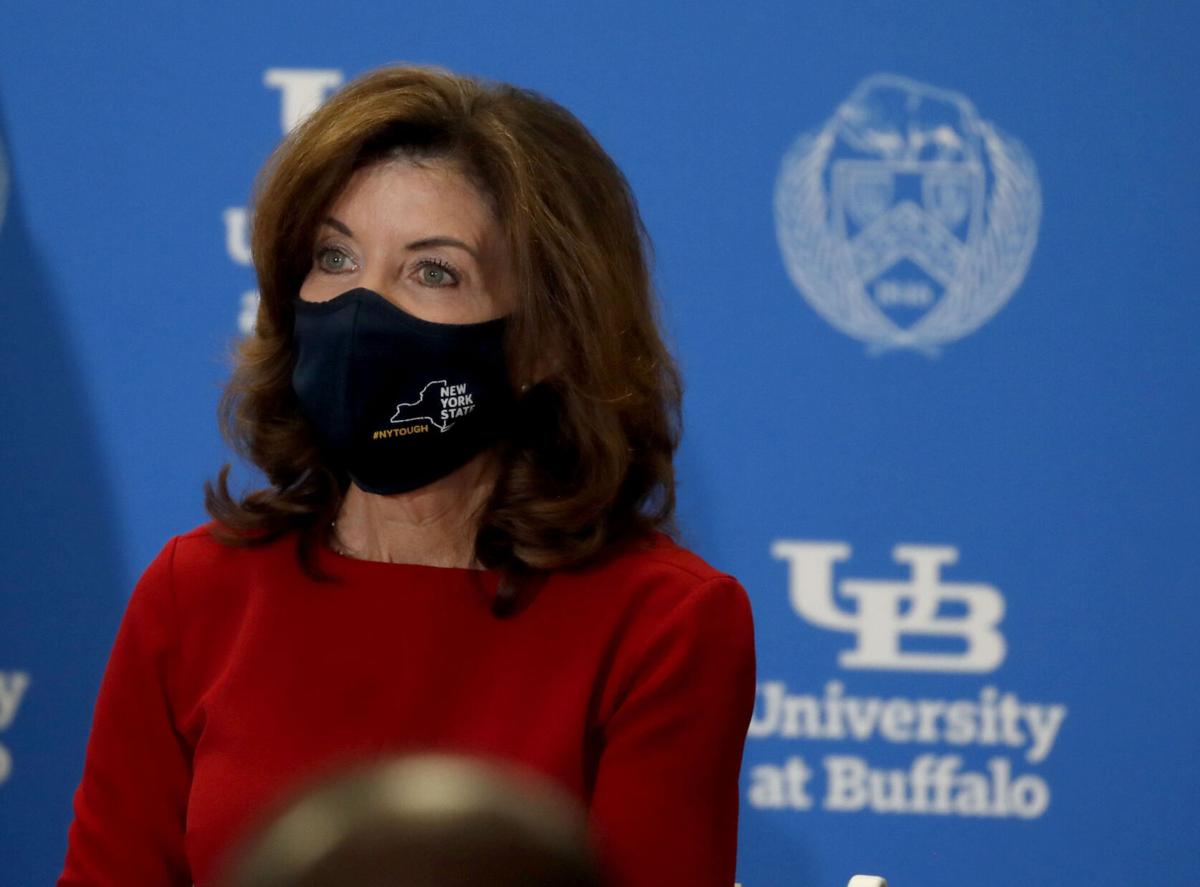 If anyone needed proof that New York's governor is new in more than just name and gender, they got it on Tuesday as Gov. Kathy Hochul laid out some of her differences with Andrew Cuomo, then called a special session of the Legislature to implement them.
Lawmakers were back in session a day later, looking to protect renters from eviction, to begin the long work of implementing the state's legalization of recreational marijuana and to expand the state's open meetings law. We hope they'll also look for ways to mandate vaccines in schools and other congregate places of state oversight.
Protection for renters and landlords is urgent in light of a recent ruling by the U.S. Supreme Court. The intrusion into private-sector dealings may, in most cases, be unwanted and unwise, but it has helped prevent the crisis of the pandemic from morphing into an even worse catastrophe. And, thanks to those who refuse to be vaccinated, the public health emergency is still with us. Because of that, normal eviction practices – for renters or homeowners – need to be restricted.
As this page noted on Tuesday, federal money is available to help renters, landlords and utility companies. But the program, which offers the best solution to this problem, has been mismanaged in New York and some other states. Until those issues are resolved, New York needs to create new protections that will survive Supreme Court scrutiny. That, alone, is justification for a rare special session of the Legislature.
Earlier Tuesday, Hochul made clear that she differs from her predecessor in at least one fundamental way: She says she will not micromanage the Covid response of the state's local governments. Cuomo was a famous micromanager – sometimes to the state's benefit, it's fair to say – but based on her comments Tuesday, Hochul has more nuanced ideas of when to apply the big foot.
"I'll be there to assist," she said in a speech at the University at Buffalo's Jacobs School of Medicine and Biomedical Sciences. "I'll give guidance. I'll give direction. In some cases, I'll give mandates."
Theoretically, it's a wise approach. The test will be for Hochul to know when mandates are important and when localities should have the flexibility to make their own decisions. But this much is indisputable: In the continuing midst of a deadly pandemic that is indifferent to municipal, state or national boundaries, broad-based controls will be necessary more often than in normal times.
Hochul seems to understand that. On the day she took office last week, she said school mask mandates would be coming – and they did. She also said she would be looking for ways to require vaccinations among school personnel, later allowing for the alternative possibility of routine testing. Both are important and both suggest she understands the essential role of gubernatorial authority at a time that remains fraught with risk.
As much as New Yorkers – and the rest of the world – had hoped the vaccines would put the pandemic behind us, it remains a hazard, largely because too many people are refusing the shot, allowing the virus to mutate and spread.
In states led by indifferent leaders – think Florida and Texas – hospitalizations have risen to dangerous levels. In Florida, cases of Covid and deaths have reached their highest levels yet. In Houston, a decorated Army veteran died from a treatable case of gallstones. With Covid cases crowding the hospitals, no intensive care beds were available.
New York is fortunate to have had two governors willing to act in the interests of the state's residents. Without that kind of leadership, this state could also see a rise in infections, hospitalizations and deaths as fall approaches and people again move indoors – where air conditioning draws southerners now.
Already, there is reason for concern. Western New York's seven-day positive test rate was 4.1% on Monday and, while Hochul said hospitalization rates remain manageable, she noted with concern that Monday's one-day positive test rate for this region was 5.6%, a sign that infection levels remain high.
"I don't like those numbers, my friends," she said.
No one should. More people need to be vaccinated and, because they're not, New Yorkers continue to need strong and focused leadership. They seem to have it.
What's your opinion? Send it to us at lettertoeditor@buffnews.com. Letters should be a maximum of 300 words and must convey an opinion. The column does not print poetry, announcements of community events or thank you letters. A writer or household may appear only once every 30 days. All letters are subject to fact-checking and editing.