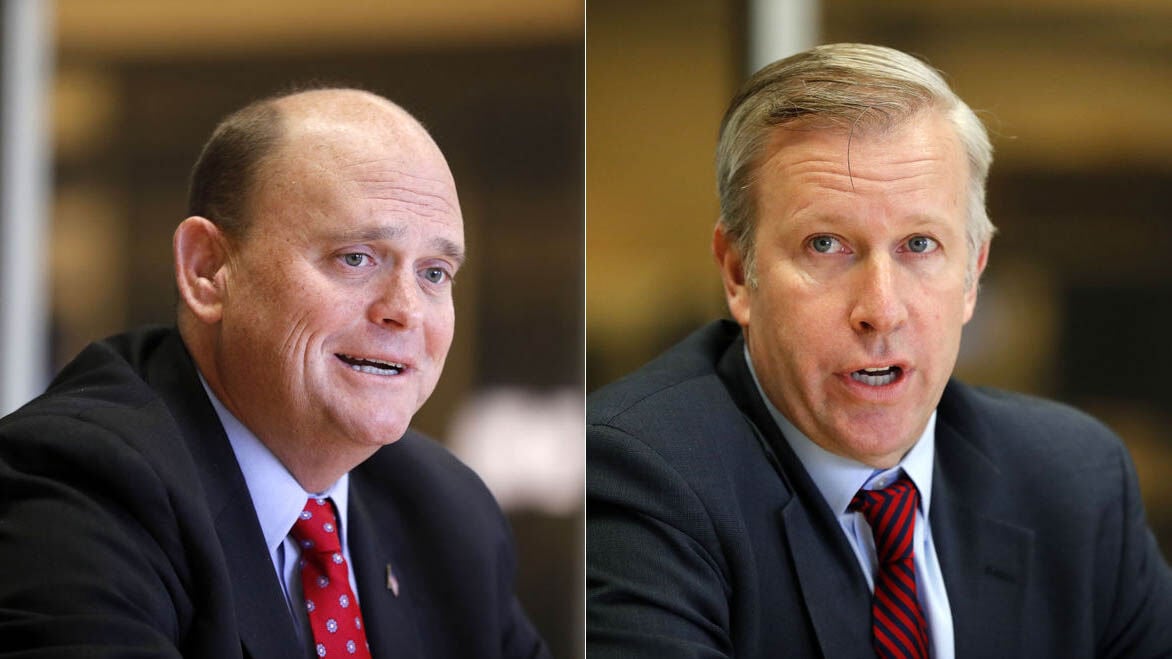 In what may be the one of the last good deeds Tom Reed does for his congressional district, the Corning Republican last week voted for the $1 trillion infrastructure bill that the majority of his caucus would have cheerfully suffocated in its cradle.
Reed, who has announced he will not run for re-election next year, may have felt freer than others to buck his party's madness but, make no mistake: Madness is the word.
Only 13 of the House's 213 Republicans broke with their party to support a measure that will transform large swaths of the country with upgraded roads, bridges, sewer projects and other long-needed improvements. Among the areas that will almost certainly benefit is Reed's 23rd Congressional District.
The good news for this state is that two other New Yorkers were among the 13 Republicans who supported the bill, with Reps. Andrew Garbarino and John Katko joining Reed. Sadly, Rep. Chris Jacobs, R-Orchard Park, didn't have the nerve to stand up for his 27th Congressional District.
Like the majority of his party's political schemers, Jacobs kowtowed to the demands of House leader Kevin McCarthy and voted against the needs of his own voters, for no better reason than to deny Democrats anything they can portray as a "win." So did Rep. Elise Stefanik of New York's North Country. Perhaps she thinks her region's infrastructure needs no improvements or wants local taxpayers to fund it on their own.
Governors know better, Republicans among them. In Arkansas, Gov. Asa Hutchinson praised the measure "for setting aside partisan differences to pass a bill that works for the American people." Not just Democratic or Republican Americans, mind you – all Americans. There was a time when that mattered to congressional Republicans. Not anymore.
But while Republicans were the bill's principal would-be saboteurs, they weren't alone. The six members of "The Squad," a small group of Democrats led by Rep. Alexandria Ocasio-Cortez – another New Yorker – also sought to kill the measure, in their case because it didn't provide everything they wanted. They are the Democratic reflection of the Republican Freedom Caucus – zealots who want what they want when they want it and would happily tear down the edifice if they don't get it.
This is a lesson that Democrats should have learned a long time ago. After his push for national health insurance failed in the 1970s, Sen. Edward Kennedy of Massachusetts said that his "greatest regret" was that he refused to compromise with President Richard Nixon, who also wanted to expand the availability of health insurance. But Kennedy rejected it. He wanted it all – a single-payer plan – and as a result of his stubbornness, no substantive change occurred in health care until President Obama signed the Affordable Care Act in 2010 – seven months after Kennedy died.
That all-or-nothing approach has infected American politics for decades, accelerating with the ascension of former Rep. Newt Gingrich into the role of House Speaker. It's a fundamental denial of the role of Congress, which is to focus debate and accomplish what is possible.
With his vote last week, Reed did that. He served the country, his state and his district. Others should learn from that example.
What's your opinion? Send it to us at lettertoeditor@buffnews.com. Letters should be a maximum of 300 words and must convey an opinion. The column does not print poetry, announcements of community events or thank you letters. A writer or household may appear only once every 30 days. All letters are subject to fact-checking and editing.