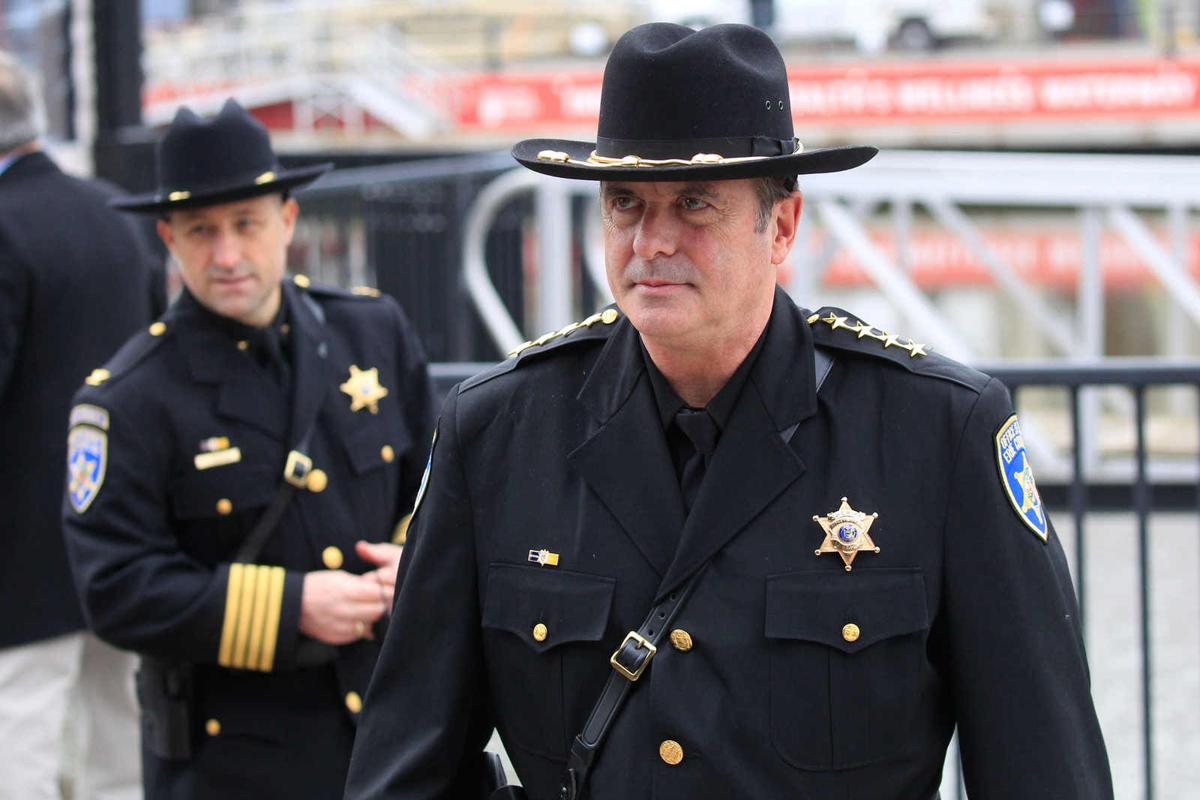 Only days after raising eyebrows by appointing a union chief as head of internal affairs, Erie County Sheriff John C. Garcia II raised them further by announcing the arrests of two deputies.
Taxpayers aren't used to that.
With the action, Garcia demonstrated serious intent to make good on his promise to change the culture of the Sheriff's Office, where, under the leadership of Timothy Howard, deputies could violate rules and even break laws with seeming impunity.
We make these observations without prejudging the guilt or innocence of the deputies arrested – Jason Stachowski and Robert M. Dee – but simply to note that after less than a week on the job, Garcia began making the case that he meant what he said.
Some observers, including this page, were concerned when, before he even took office, he announced that the head of the deputies union, Timothy Donovan, would lead the division that investigates misconduct by deputies. It seemed a chancy move and possibly a payoff to the union that supported his candidacy.
We're still not sure it will turn out to be Garcia's best decision, but among the leaders at his side when he made the announcement was Donovan. And Garcia was clear about his insistence on standards.
"These are not the people that represent the Erie County Sheriff's Office, nor do I want people like Mr. Stachowski representing the Erie County Sheriff's Office in the future," he said. The statement offered a welcome change of tone in this long-mismanaged operation.
Stachowski, 48, of Buffalo, is a correctional officer at Erie County Correctional Facility in Alden. He was already suspended on an unrelated internal matter when an anonymous tipster said he may have provided a cellphone and charger to an inmate. Investigators said they found a cellphone, charger and a small amount of marijuana in the inmate's possession.
On Tuesday evening, deputies pulled Stachowski over on I-190 to arrest him. District Attorney John Flynn said Stachowski was "confrontational" with the deputies and tried to flee, at which point a deputy subdued him with a Taser.
Dee, 40, was arrested the same night. A deputy at the Erie County Holding Center in Buffalo, he had been ordered to stay away from a woman after being arrested on a domestic violence charge. But deputies allegedly found Dee with her Tuesday night, prompting his arrest on a criminal contempt charge.
Dee, like, Stachowski, was suspended without pay.
It's difficult to imagine Garcia's predecessor even being interested in calling such conduct to account. Howard publicly backed a deputy who broke the nose of a Bills fan and falsely arrested him, then lied about the incident in an official report. At least tacitly, he endorsed false reports on jail incidents, including one in which an inmate died after a spit mask was tied too tightly around his face. Dee was one of the jail deputies who played a role in that fatal episode.
Garcia, like his opponents, campaigned on a promise to change the culture of an organization that had fallen far – low enough that the state Commission of Correction, which oversees jails in New York, identified Erie County's facilities as among the worst in the state. Howard never seemed to care. Garcia, based on this week's arrests, is offering some preliminary proof that he does.
The new sheriff has much more work to do to reassure residents who have come to expect the worst. It's not a one-and-done effort.
But with Tuesday's arrests, Garcia has served notice to both the troublemakers in his office and the professionals who are tired of having their names sullied by the misconduct of others. And for the public, there is finally some reason for optimism.
What's your opinion? Send it to us at lettertoeditor@buffnews.com. Letters should be a maximum of 300 words and must convey an opinion. The column does not print poetry, announcements of community events or thank you letters. A writer or household may appear only once every 30 days. All letters are subject to fact-checking and editing.