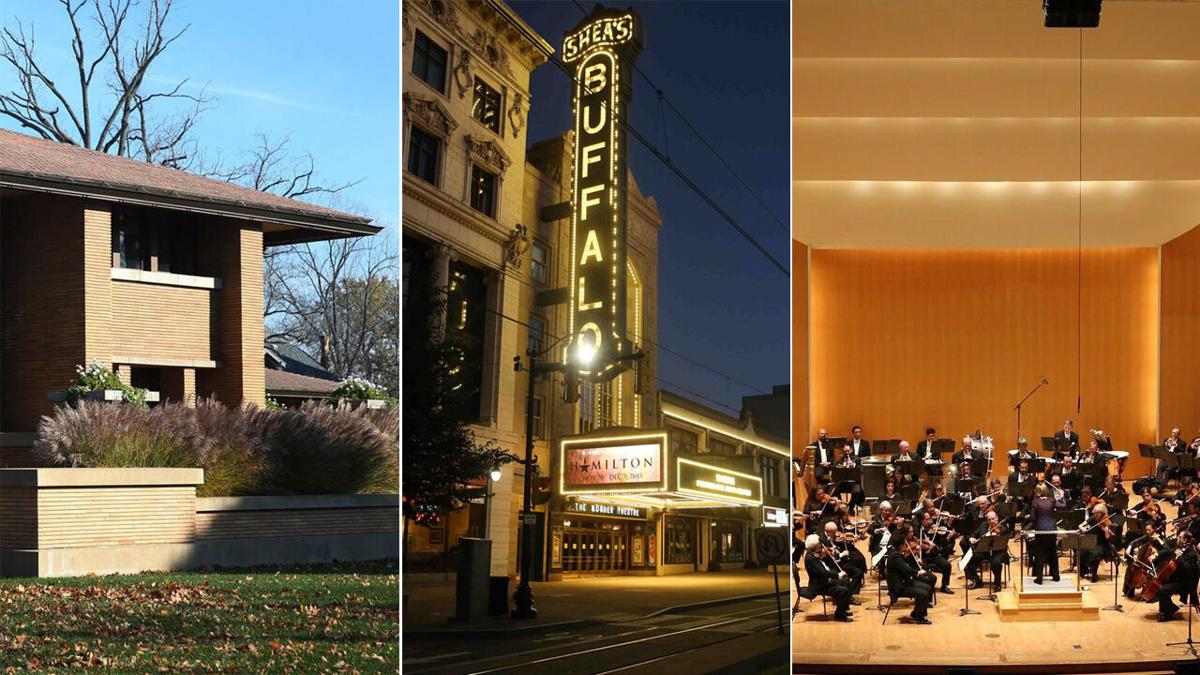 In 1994, the Buffalo Philharmonic Orchestra was reeling at the cliff, on the verge of bankruptcy. Before that, Shea's Performing Arts Center had a date with the wrecking ball. The Darwin Martin House, built by Frank Lloyd Wright, was abandoned and partly demolished.
All were saved and began again to thrive as essential assets – fundamental components of the Queen City's culture. But it was a long, rough patch and, somewhere in the city's psyche, that living nightmare left a nagging question: Could it happen again?
Up until Wednesday, the answer was "probably not." But that changed Thursday. With the momentous commitment by The Ralph C. Wilson Jr. Foundation to fund 11 Buffalo institutions in perpetuity, the answer became "remote." Included are the Philharmonic, Shea's and the Martin House.
Generous seems too feeble a word.
Wilson, of course, is the late owner of the Buffalo Bills and he came to love this city. His estate has provided $1 billion – maybe more, depending on the stock market – to invest in Buffalo and his hometown of Detroit. The foundation has been busy – planning, for example, to spend at least $80 million to remake LaSalle Park on the city's waterfront.
But even that project was dwarfed by Thursday's announcement that a $100 million fund will help to support these institutions – not for a year or a decade or a century – but forever.
The program provides these institutions new bedrock to steady their finances. The Philharmonic will receive $500,000 a year. So will the Albright-Knox Art Gallery, now in the midst of a rebirth, courtesy of Jeffrey Gundlach, a Western New York native who donated $62.5 million to the project. Shea's and the Darwin Martin house will get $100,000 each. So will the Michigan Street African American Heritage Corridor. It's dizzying.
The foundation announced a similar donation in Detroit.
It makes you feel a little like Scarlett O'Hara who swore that, as God was her witness, she'd never go hungry again. Except that Scarlett, of "Gone with the Wind" fame, was prepared "to lie, steal, cheat or kill" to achieve her nutritional goals. Buffalo has been spared that unfortunate necessity. There will be rules for the use of this money, as there should be, and continued fund-raising will be necessary, but barring some unforeseen calamity, these cultural mainstays will have a steady diet. In perpetuity.
That's a boon to more than those individual enterprises. As the foundation's president and CEO, David Egner, observed, "Arts are economic development."
Visitors come from miles away to see a play, visit a museum, or check out Buffalo's trove of architectural treasures. While they're here, they eat at restaurants. They shop. They buy gas. So do those who live here. They help to drive the regional economy.
But it's more than that, too. As Egner also noted, "Nobody wants to live in a place without arts and culture." Attracting and retaining talent requires more than a decent paycheck. Schools matter. Neighborhoods matter. And so does culture. Assets like Shea's, the Philharmonic, the Buffalo Museum of Science and the Burchfield Penny Art Center are magnets. They tell businesses and their prospects that this is a special place.
It's funny, in a way, because for a long time Buffalo was fixated on finding a silver bullet – an economic savior who would swoop in and change everything. At one time, that was the Rigas family which, before the law caught up, was going to build a skyscraper at what is now Canalside. Later, Bass Pro Shops was going to make a success of the waterfront. Neither, it turned out, was necessary. We just needed some ingenuity and a girl with a shark's head.
But now, here comes the spirit of Ralph Wilson, the man who not only bequeathed Buffalo the enduring gift of the Bills, but who, seven years in his grave, has given us not just one silver bullet, but a handful of them.
That should stop the nightmares.
What's your opinion? Send it to us at lettertoeditor@buffnews.com. Letters should be a maximum of 300 words and must convey an opinion. The column does not print poetry, announcements of community events or thank you letters. A writer or household may appear only once every 30 days. All letters are subject to fact-checking and editing.