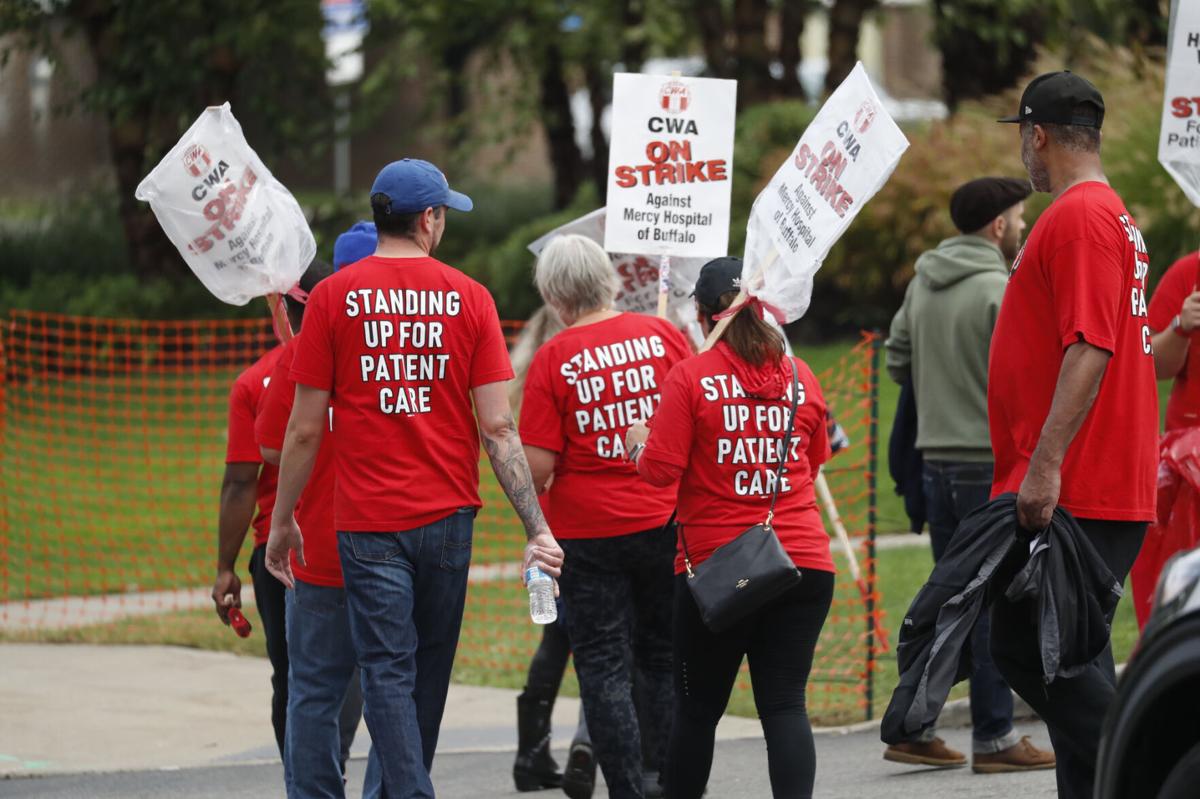 Nurses and other health care professionals are enjoying a new sense of worker empowerment in Western New York.
In the new labor contract that Catholic Health Systems negotiated with the union representing about 2,500 of its workers, the company agreed to new staffing ratios. The implementation of those is to begin in January 2023, the same time when New York State's "safe staffing" law enacts similar minimum staffing requirements for hospitals around the state.
The Catholic Health contract and its staffing provisions, negotiated to end a 35-day worker strike, will echo across labor negotiations for other hospital systems. That includes Kaleida Health, which has about 7,300 union employees whose contracts expire at the end of next May.
A key question for health care consumers – which includes almost everyone – is whether higher minimum staffing levels will lead to better health outcomes, and at what cost? That, ultimately, will be the test of this contract and others to come.
The United States spends more on health care than all other comparable democracies in the world, yet life expectancy here trails behind that in other wealthy nations.
JAMA, a medical journal, published a study in 2019 that found about 20% to 25% of American health care spending is wasteful. The estimated total waste is $760 billion per year, the authors said, more than the country's annual military spending.
The largest source of waste in the system, according to the study, is administrative costs, including costs for billing and coding, reporting to insurers and to public health programs. Squeezing a significant amount of administrative costs out of our market-driven health care system is no easy task.
The state Legislature passed separate "safe staffing" bills for hospitals and nursing homes, with regulations that begin to kick in next year. We have opposed state staffing mandates in this space, on the grounds that they can restrict the best-run institutions and hamper their ability to innovate by dictating how they allocate resources. Now, the laws are a done deal.
Can patients expect better care as the mandates kick in? The evidence is mixed.
A study funded by nurses' organizations and a health economics institute concluded that health outcomes would improve and hospitals would save money with higher staffing levels.
The journal Medical Care, published by the American Public Health Association, printed "an observational study" in May of this year in which the authors examined the effects of variability in nurse staffing across hospitals in New York State. The study was funded by the National Council of State Boards of Nursing, the Leonard Davis Institute of Health Economics at the University of Pennsylvania and the National Institute of Nursing Research.
The study examined data from a total of 417,861 Medicare medical and surgical patients from across 116 acute care hospitals in the state. The authors concluded that their data showed "higher odds of in-hospital mortality and 30-day readmission, and longer lengths of stay for medical and surgical patients in hospitals where nurses care for more patients each."
If New York hospitals had a 4:1 ratio of medical-surgical nurses to patients, the authors wrote, "we project there would have been 4,370 fewer in-hospital deaths in the two-year period among Medicare patients. With roughly 388,160 fewer hospital days annually, we project $658 million in cost savings to hospitals annually from shortened lengths of stay." They also projected fewer 30-day readmissions among medical and surgical patients, with an annual estimated savings of roughly $61.5 million.
With the Legislature debating staffing minimums in 2019, New York State's Health Department undertook a large study on the pros and cons of nurse-to-patient staffing ratios, working with the Schools of Human Ecology and Industrial and Labor Relations at Cornell University. The Health Department's report concluded that mandatory staffing minimums could produce some positive outcomes for nurses and patients, but that "the Covid-19 pandemic has only highlighted the need to maintain workforce flexibility," as opposed to mandates. "The team-based approach to health care that fundamentally requires flexible staffing solutions is essential to a sustainable system that can support an effective pandemic response."
Staffing mandates are one part of the puzzle for health care providers and insurers seeking to find patient-centered approaches. The insurer payment models based on volume, which cause primary care doctors to churn through patients, are being replaced by models that reward health outcomes, giving physicians more time to have meaningful conversations with their patients.
A challenge for hospital systems will be meeting the added costs of the new staffing mandates, finding enough trained nurses and aides to fill the jobs, and realizing some of the savings promised in the Medical Care study.
No one ever said health care economics was easy.
What's your opinion? Send it to us at lettertoeditor@buffnews.com. Letters should be a maximum of 300 words and must convey an opinion. The column does not print poetry, announcements of community events or thank you letters. A writer or household may appear only once every 30 days. All letters are subject to fact-checking and editing.