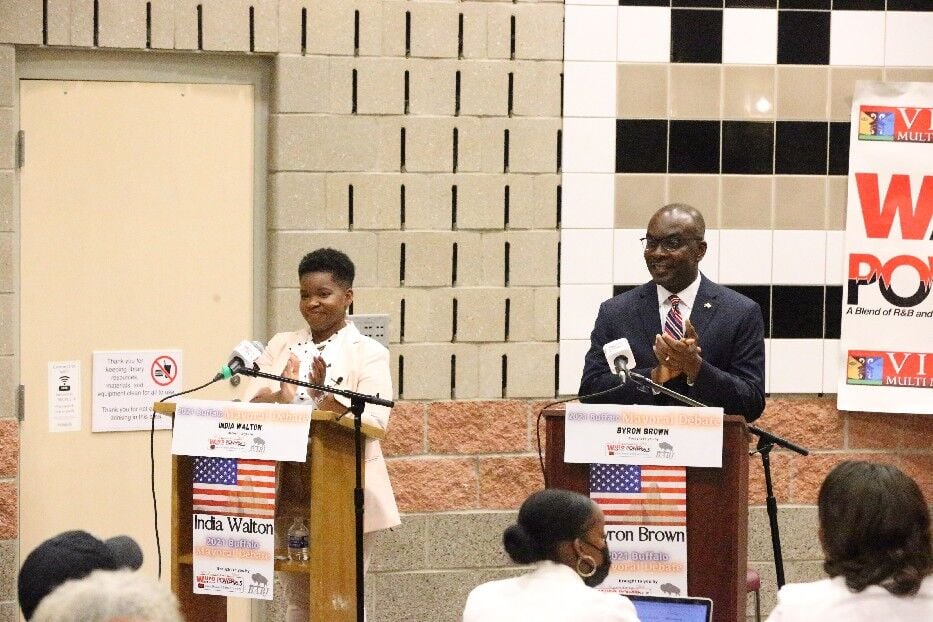 "Let's tell the truth. Mr. Reagan will raise taxes, and so will I. He won't tell you. I just did." – 1984 Democratic presidential nominee Walter Mondale in a debate against incumbent President Ronald Reagan, who was overwhelmingly re-elected
This isn't 1984, of course, and the issues in Buffalo are different from those of 37 years ago. Nevertheless, observers of the Buffalo mayoral debate last week may have been surprised when Democratic nominee and primary victor India B. Walton declared that she would raise city taxes.
In a high-tax state like this one, that's a risky plan, both economically and politically, but Walton deserves the chance to make her case. Citizens want services, after all, and they cost money. High-needs neighborhoods, in particular, need attention.
Walton says that in her door-to-door campaigning, many homeowners voiced support for the 3% tax hike she is proposing. Her focus, she says, is on increasing homeownership, reducing poverty and promoting jobs with a "decent living wage." Anyone should be able to acknowledge the worthiness of those goals, especially in one of the country's poorest big cities.
Nevertheless, we're doubtful. It's unwise to ignore the overarching fact that this is New York, with high-cost governments at all levels. In that economically pressured environment, raising taxes further carries potential penalties, both to taxpayers and to the economy, generally. If Walton wants to pursue this line, she will have to convince a majority of voters that giving more money to City Hall is worth the coinciding losses. Why shouldn't the mayor – whoever that is – just spend the existing tax levy better?
Mayor Byron W. Brown explained to the debate audience at the Frank J. Merriweather Jr. Library what it would mean for someone with a home valued at $100,000: It would be assessed an additional $300 a year. "It's a shell game with Ms. Walton," he argued. "It doesn't add up."
The median home price in Buffalo last month was $165,000, according to Realtor.com.
A 3% increase isn't pocket change for those who are struggling. It might be a car payment or health care. Indeed, several residents who attended public meetings a couple of years ago on the Buffalo's first citywide reevaluation since 2001 feared the effect of increased assessments. These were not moneyed individuals. They were average folks trying to pay the bills.
Several exemptions are already in place for longtime senior residents, low-income seniors and others And, of course, Buffalo has more lower-income residents than most big cities. Those individuals might benefit from an effort such as Walton's but, for renters, their landlords are unlikely simply to swallow the higher taxes. They'll raise the rent.
Brown often cites the several years in which he either "held the line" on city taxes or cut them during his 16 years in office. Walton, who still sees grinding poverty and yawning gaps between the poor and well-to-do, is not convinced that the years of tax reduction helped those at the bottom rungs of the socioeconomic ladder.
Still, Walton needs to consider the risks of raising taxes by any significant amount. Buffalo's economic revival, though hindered by the pandemic, is still underway. It's real. All of the candidates for mayor – and there are other write-in candidates seeking the office – must convince voters that they have a viable plan to improve the conditions of the entire city. Brown has proposed a series of improvements, much of it being funded by the federal dollars associated with the American Rescue Plan.
Walton, on the other hand, has boldly ventured into tax raising territory which is commonly considered a third rail in politics. As the Democratic nominee for mayor – she defeated Brown in June's primary – she deserves a hearing, though many voters are sure to come into it with a high degree of skepticism.
What's your opinion? Send it to us at lettertoeditor@buffnews.com. Letters should be a maximum of 300 words and must convey an opinion. The column does not print poetry, announcements of community events or thank-you letters. A writer or household may appear only once every 30 days. All letters are subject to fact-checking and editing.