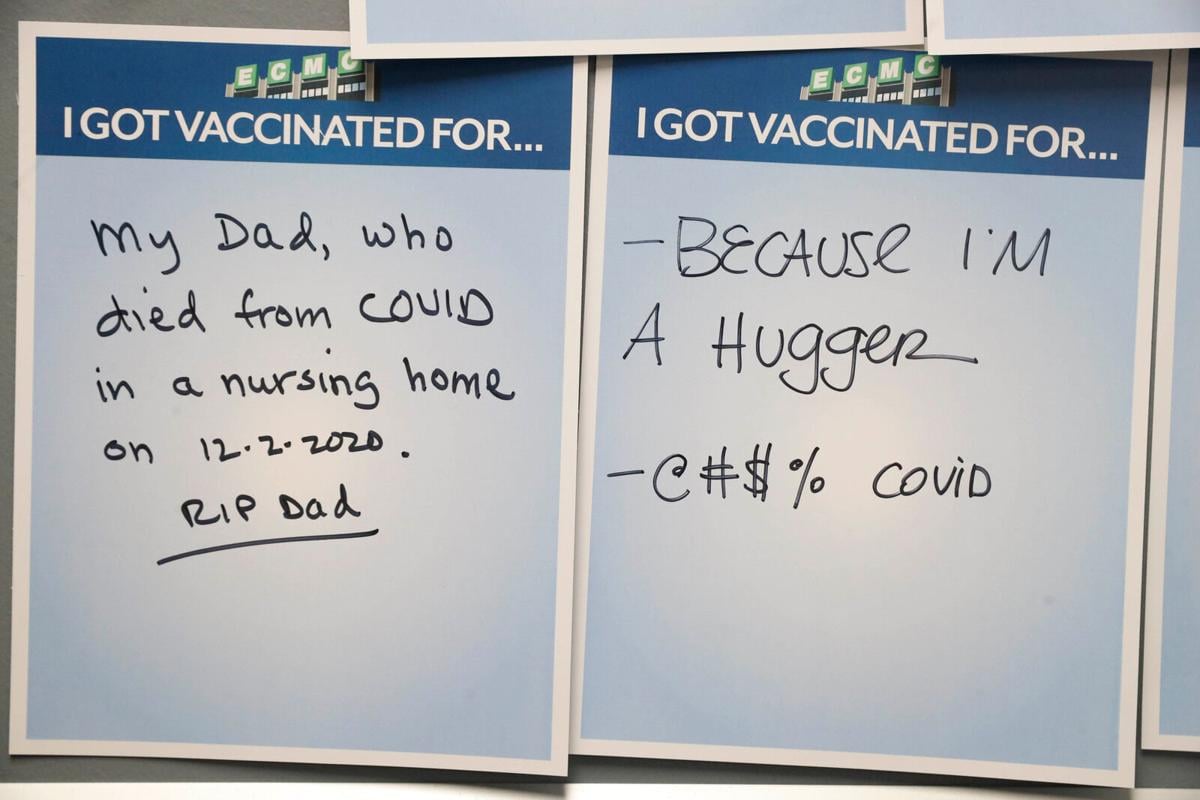 As vaccination mandates usefully spread around Western New York, residents are faced with the confounding problem of health care workers who refuse to be immunized against a virus that is still killing people – largely because too many people are refusing to be vaccinated. Their resistance will have radiating consequences.
Some share of that population – it's uncertain how large – are nonmedical staff: cooks, cleaners and so on. That's bad enough. Despite the volume of information available on the vaccines' safety and effectiveness, those critical workers refuse to meet their obligation to their families, their colleagues and their community.
But it gets worse, because the rest of those refuseniks are health care professionals – experts who are trained in science and medicine and are still determined to put the world around them at risk.
Fortunately, most health professionals in the region are making the right call. They've been vaccinated, and some still might. But with the state appropriately mandating vaccinations for health care professionals, some hospitals are having to make undesirable contingency plans to account for the social malpractice within their staffs.
Among them is Erie County Medical Center, which expects to lose about 400 workers next week when the state requirement for health professionals takes effect. It comes at a time when admissions are spiking. Ironically – and tragically – that increase is partly because of rising numbers of Covid-19 infections. It doesn't take a Ph.D. to understand the lesson in that self-perpetuating cycle.
In response, ECMC is planning to restrict admissions, move personnel from outpatient duties, stop elective procedures and refuse ICU transfers from other hospitals.
ECMC is a top-level trauma center. The hospital believes service will continue at a high level, and the community must surely hope it does. But there has to be an impact.
ECMC isn't alone. Other hospitals are grappling with the same life-and-death problems brought on by the pandemic and the irresponsibility of some staff members. Kaleida Health reports that 91% of its hospital staff and direct care providers are vaccinated, while the Catholic Health system says 78% of hospital staff are vaccinated. ECMC believes it will reach a 90% rate come Monday, after some of the resisters rethink the wisdom of their position.
Some of the resisters are claiming religious exemption, which a judge has at least temporarily barred the state from rejecting. But religious exemptions for school vaccines are no longer allowed in New York. They surely shouldn't be permitted in health care facilities. Virtually no major religion prohibits vaccination and, to some, it is an obligation. It is, after all, pro-life.
Perhaps some of those resisters are also season ticket holders for the Bills. After Erie County, in cooperation with the team-owning Pegulas, announced last week that anyone attending any event in Highmark Stadium would have to be vaccinated, 762 people turned in their tickets. The same policy will apply to KeyBank Stadium, home of the NHL Sabres, also owned by the Pegulas.
The policy was announced after the Food and Drug Administration gave formal approval to the Pfizer vaccine, which, like the other vaccines in use, was previously offered under emergency authorization. The Pfizer shot is expected to be authorized soon for children ages 5 to 11 and also as a booster shot for at-risk populations that are already vaccinated.
The Bills and Sabres appeared to kick down the door of business hesitancy here. Since that announcement, the University at Buffalo implemented its own vaccine requirement, as did Shea's for all its Buffalo theaters. In that, it is following the lead of New York City's Broadway theaters, which also require patrons to be vaccinated.
Some places allow proof of a recent negative test to substitute for a vaccination, but with the formal authorization of the Pfizer vaccine – and other approvals likely – tolerance for those alternatives seems to be waning. It's not a substitute for the Bills, Sabres, UB, Shea's or any health facility. For them, it's vaccination only. It's the way out of this mess.
Still, how that plays out needs to be monitored. It's one thing if a sports team or theatrical event has to absorb some empty seats in the name of safety and continued business. But if too many health professionals are willing to put patients at risk, some further action may be necessary.
But not yet. Deadlines have a way of focusing attention. The potential loss of income may cause some portion of the health care resisters to reconsider.
We hope they do, for the sake of the Western New Yorkers who need their care, as well as their families and friends and their own continued good health.
What's your opinion? Send it to us at lettertoeditor@buffnews.com. Letters should be a maximum of 300 words and must convey an opinion. The column does not print poetry, announcements of community events or thank you letters. A writer or household may appear only once every 30 days. All letters are subject to fact-checking and editing.