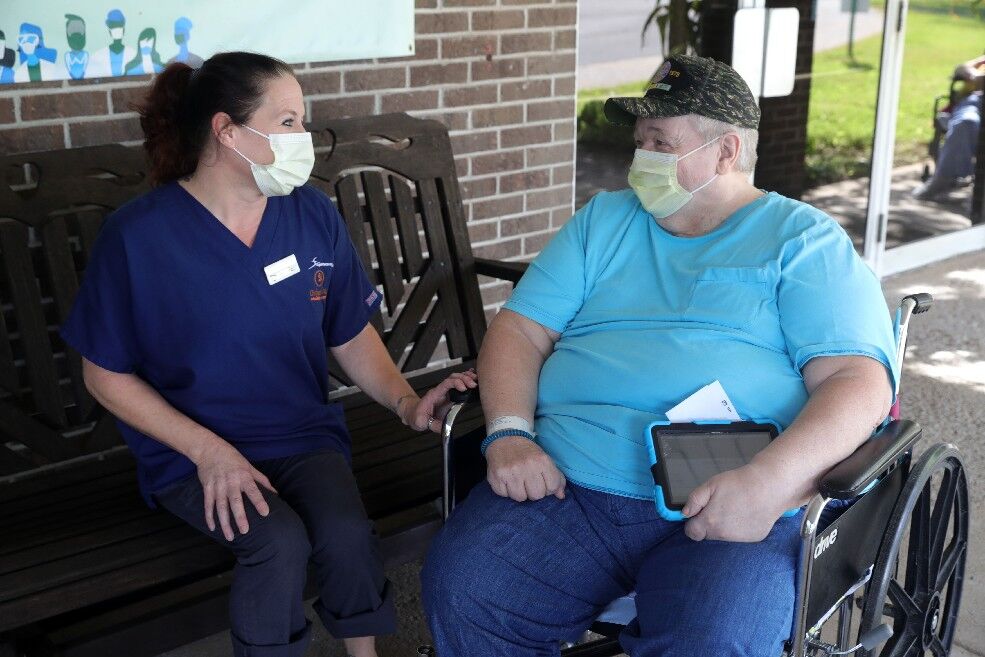 There's been a storm on the horizon of New York's nursing homes for years. In some, the storm broke this week, threatening the well-being of residents who are already subject to poor levels of care.
The signs are all around, from substandard care in many facilities to low Medicaid reimbursement rates to the punishments of the Covid-19 pandemic. But the threat approached crisis stage this week in the region's poorest performing nursing homes.
As a recent News analysis showed, those facilities have been staffed by larger percentages of unvaccinated workers. With Monday's state-imposed deadline for health care workers to be immunized, any who continued to refuse a safe and effective vaccine were shut out of their jobs, possibly losing them.
At a time when all businesses are struggling to fill vacancies, who will replace them in positions that are always challenging and frequently low-paying? What will be the price paid by residents who can't go anywhere else but whose care is likely to go from bad to worse?
Something needs to change, but it won't happen soon enough to protect those who are at greater risk today than they were even a week ago.
In hospitals, at least, the vaccination rate rose around the state, including Western New York, as the mandate took effect. What is unknown is what drove the increase: Was it more immunization, the dismissal of unvaccinated workers or – likely – some combination of the two?
The crucial implementation of the requirement is causing predictable responses in hospitals, including limits on elective surgeries and, at Erie County Medical Center, a decision to accept only critical trauma transfers.
So far, hospitals seem to be managing the challenge. What is happening in nursing homes is less certain.
Some critics, misreading the situation, will insist that nursing home workers – and other health care providers – never should have been required to be vaccinated. But the lack of a vaccine helped to create a cataclysm in the state's nursing homes, whose staff members often worked in more than one facility to make ends meet, spreading infection among residents who were already at heightened risk of serious illness or death. Mandated vaccination was the only practical – not to mention moral – course, even if it hastened the industry's looming crisis.
Albany, in what seems to have been an honest effort to improve care, undermined the cause this year when it passed minimum staffing requirements for nursing homes. Aimed in part at disreputable operators who buy nursing homes and prioritize profits over care, the law was aimed at a serious problem, but its one-size-fits-all approach can hardly help but backfire.
Consider poorer communities, where nursing home residents lack the money to pay their own way. In such facilities, Medicaid is usually the principal payer, but Medicaid reimburses those facilities for less than the cost of the care they provide. If those nursing homes aren't already losing money, they're on the edge. Many of them surely need more employees to deliver a decent standard of care, but even if their owners agree – not always the case – where is that money coming from?
Under normal capitalist theory, companies that can't make ends meet simply fold. But when those businesses are delivering urgent care to some of the state's most vulnerable residents, what happens to them – especially in poor communities that are less likely to attract owners who can navigate the unforgiving Medicaid landscape?
Because of the pandemic, and the refusal of some people to be vaccinated, the pressures on nursing homes are rising quickly – especially on those that lack any financial cushion or whose owners are in it for the wrong reasons.
Some nursing homes are thriving and providing top-flight care. They tend to have a contingent of self-paying residents whose dollars help to defray Medicaid losses. But many, either because of financial pressures or the indifference of their owners, are underperforming, sometimes dangerously.
The system needs to be reconsidered and maybe reconfigured. Because the federal and state governments jointly fund Medicaid, both will have to be part of the solution.
Today, that solution is unknown, but the crisis is on the doorstep. It's late. We need to act.
What's your opinion? Send it to us at lettertoeditor@buffnews.com. Letters should be a maximum of 300 words and must convey an opinion. The column does not print poetry, announcements of community events or thank you letters. A writer or household may appear only once every 30 days. All letters are subject to fact-checking and editing.